15K Monthly Electricity Bill With 5 AC Units And More, Naging Zero Because Of Solar Panels

This homeowner makes the most of his solar panels and makes big savings, but the capital doesn't come cheap.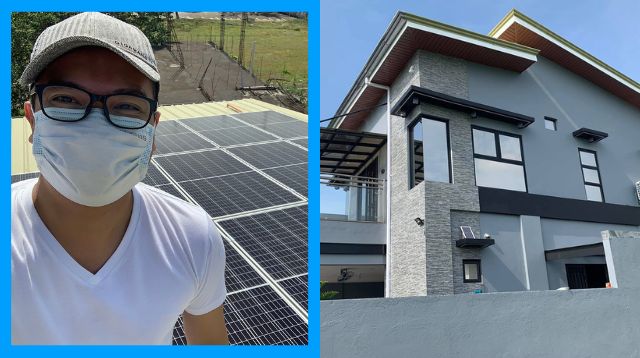 Given the rising cost of diesel and gasoline prices, electricity rates are likewise spiking. Homeowners are on the lookout for ways to save on electricity especially since more price hikes are expected in the coming months.

Perhaps this is the reason why many homeowners are not only looking into switching to inverter appliances but also considering investing in solar panels. In a post on the Home Buddies Facebook group, homeowner Paul Carlo Baes shares how going solar has benefitted his family.

"Since all stocks are currently down, gas prices are on the rise, and grocery items [are] costing us more…solar investment is still one of the best options we have in our tropical Philippines," part of his post reads.

In an interview with Realliving.com.ph, Paul, who is also an engineer, reveals that working in France made him realize about the potential of renewable energy. "They were happy with the solar harvest even though it's just for three months. Most of my French colleagues don't know that we have longer summer times in the Philippines and they were also surprised that only a few (to no one) are maximizing the sun's potential," he explains.

When is the best time to install solar panels?

The Baes family had the solar panels planned and installed the same time they were constructing their new house. This proved to be ideal as they were able to take into consideration the required structural footings, electrical loads, and trusses reinforcement for the provision of a full-roof solar panel setup.

ADVERTISEMENT - CONTINUE READING BELOW

"The solar design was embedded on our house blueprint, saving us twice the cost of the required application for LGU and Meralco. The full solar setup requires at least two inches electrical pipes and conduits and there is no other best time to conceal those wires other than the construction period," Paul shares.

Paul says that "house size isn't a direct factor." The number of appliances using up electricity must be considered.

It helps to have a contractor who is knowledgeable about solar power as he or she can help analyze which setup best suits the home. "Purchasing the solar package is easy as you just need to determine you saving goal – is it to have zero bill or do you want to have electricity during blackouts?" the homeowner adds.

For the setup used in their home, Paul says that 15 solar panels cost around Php100,000. "It's Php200,000 for the complete package including inverters, wiring, grounding system, and net meter application," he explains.

RELATED: Nagtitipid sa gas? Here's why gassing up your car 'tingi-tingi' is damaging it.

What factors must be considered when installing solar panels?

While some assume that the size of the house comes into play, Paul says that "house size isn't a direct factor." The number of appliances using up electricity must be considered. In the case of the Baes family home, they opted to have a 10kWh setup to power the following:

5 AC units

2 inverter refrigerators

2 water heaters and boosters

A front-load washing machine

An automated gate system

CCTV cameras

Computers and routers

LED lights 

"[I] would recommend including the panel load in the house blueprint…the panel load represents the maximum allowed capacity that can be drawn from sunlight as energy. Solar energy is being converted to electrical energy for the appliances' consumption. The higher the capacity, the more usage potential for your appliances without the public utility grid," the homeowner further explains.

CONTINUE READING BELOW

Recommended Videos

Do you need to inform Meralco if you're installing solar panels?

"This means that the solar panel setup harvests more energy than your monthly usage... Potentially, you can eliminate all of your monthly electric costs."

Many homeowners are curious if Meralco needs to know when you're going solar. According to Paul, you don't need to inform them unless you're opting for net metering. "Most off-grid systems work independently and the consumer does not need to connect to Meralco," he says. "If you opt for net metering, then you need to apply it with them. It's the default understanding for on-grid that your personal harvest is the priority consumption. Meralco would serve as the back-up energy provider," Paul adds.

The Baes's home runs on the grid-tie system with net metering, hence the costs incurred for net meter application. Solaric's website explains this system as follows, "when you produce more power than you consume, the excess or surplus power generated can be exported to the grid using the net metering program of the utility company. The exported power is paid via credits, which can be used later on."

This can be better understood by looking at the Meralco bill he shared on Home Buddies:

 

PHOTO BY

FACEBOOK/Paul Carlo Baes

ADVERTISEMENT - CONTINUE READING BELOW

 

The export energy or the usable energy harvested by the solar panel system is at 668kWh. Meanwhile, the import energy or the energy consumed by the house is only at 277kWh. This means that the Baes's have an excess energy of 391kWh which translates to Php4,131.71.

"This means that the solar panel setup harvests more energy than your monthly usage. This only guarantees your due credits for the succeeding months. It offsets electricity you take from the utility in the future. Potentially, you can eliminate all of your monthly electric costs," Paul further explains.

What happens to solar panels when it rains?

It's a common misconception that when it's raining, solar panels won't be able to harvest energy and power up the home. According to Solaric, "highest energy production typically happens around noon, when the sun is brightest." However, on cloudy days, they still do operate when rays of sun shine through the clouds.

How do you find a reliable solar panel supplier?

Given the rise in popularity of solar panels and the amount of savings it promises, various suppliers have been popping up on social media – promising to delivering results. As enticing as a package could be, don't just go for the most affordable option. Do your research, look up reviews, and if you can, schedule a meeting with the supplier.

"The supplier should be easy to communicate with and doesn't shy away from oculars and on the spot assessment. They should also be on time as this means they value you as a client. Pick a good company profile and background, plus, the installers should have a license. You can also ask for referrals from friends and relatives," suggests Paul.

ADVERTISEMENT - CONTINUE READING BELOW

RELATED: Want more tipid hacks from moms? 'Wag daw mag-washing machine at AC nang sabay!

If you are ready to invest in solar panels, Paul shares the following reminders:

1. The initial capital and investment needed do not come cheap. You need to save money for this asset as it's also another medium to further diversify your finances.

2. Inverter appliances can help you reach your zero-bill goal without further increasing your load cap.

3. Even though keeping the AC on 24/7 is achievable with this system, it's still better to save on energy and use only what you need.

4. Solar setup is an investment so don't fall for too good to be true offers.

5. Research and compare packages. Make sure the packages you review include safety features.
 
To get started on your search for a reliable solar panel supplier, click here.

This story originally appeared on RealLiving.com.ph. Minor edits have been made by the SmartParenting.com.ph editors.




Celebrate your pregnancy milestones!


Enter your details below and receive weekly email guides on your baby's weight and height in cute illustration of Filipino fruits. PLUS get helpful tips from experts, freebies and more!

You're almost there! Check your inbox.


We sent a verification email. Can't find it? Check your spam, junk, and promotions folder.
Trending in Summit Network