Get Your Hands on a Hydrovacuum Without the P100,000 Price Tag

Here's how you can use it at home without the hefty price tag.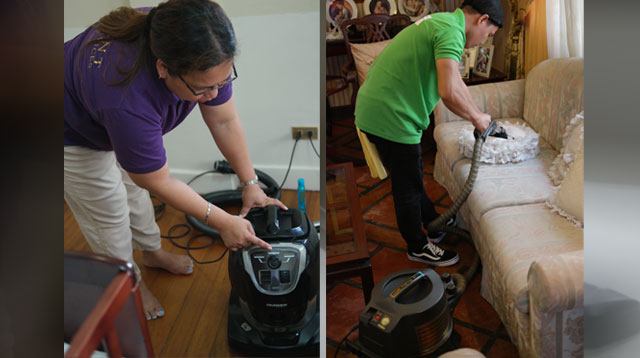 Most first-time moms will agree: With the sheer number of products marketed as "must-buys" for their babies, deciding on which ones are really worth the investment can get quite overwhelming.

One big-ticket item that has stirred the curiosity of many mamas is the air sanitizer. With the growing number of owners raving about the benefits (from babies having less allergy attacks to toddlers overcoming asthma) of having one at home, it's no wonder more and more moms are looking into buying their own unit.

The only setback? Its price tag. Most of the popular air sanitizers are actually hydrovacuums that double as air purifying devices. And these vacuums are priced at P80,000 to P160,000, depending on the brand and model.
Hyrdo-what? Let us break it down for you.

What other parents are reading

THE BASICS
"Regular vacuum cleaners rely on filters or bags to trap dirt in," says Duday Camus Dancel, president of Rainbow Cleaners. "Smaller dust particles tend to pass through the filters and settle back into the room. You can compare it to using a broom where you only gather dirt into a dustpan but you can still see that small dust particles remain in the area you've just swept," she adds.

Dancel says that hydrovacuums, on the other hand, use a dual filtration system: Water and high efficiency particulate assistance (HEPA) filter. "Dust will first pass through water where even microscopic particles tend to stick, and whatever gets away is trapped into a HEPA filter. These vacuums also have a stronger machine for suctioning so more particles get siphoned in," she explains.

Various nozzles can be attached to the hydrovacuum, allowing it to clean different items and parts of the house, from sofas and mattresses to window screens and bathroom tiles.  

ADVERTISEMENT - CONTINUE READING BELOW

What other parents are reading

THE CLAIM
The hydrovacuum is also said to function as an air purifier. "By removing the vacuum hose and leaving the machine running, it sucks air in and traps tiny dust particles into the dual filters. The air then comes out free of dust," says Dancel. "Drops of air purifying solutions or oils can be added to the water basin before turning on the vacuum to diffuse the solution into a room," she continues.

"Proper cleaning of the home and air sanitizing helps address indoor air pollution, and cuts your risk of exposure to dust and harmful compounds that could otherwise trigger allergies or other reactions," agrees Donna De Los Santos, manager at Delmont Enterprises.

THE TRIAL
It's easy to see the most popular hydrovacuums (like Rainbow, Hyla, and Gruenheim) in action in your home. Just book the services of a home cleaning company that uses it for housekeeping services. While it is not a free trial, these home cleaning services are reasonably priced. You see how the hydrovaccum works (to help you decide whether it's worth purchasing) while your house actually gets cleaned. Here's what happened when I booked with two reputable service providers:

Cleaning company: Rainbow Cleaners
Service availed: Deep cleaning
Area of the home cleaned: Living room
Rate: P2,300 (minimum charge for below 55sqm); P45/sqm (for 55sqm and up)
Hydrovacuum used: Rainbow Hydrovacuum System



Rainbow Cleaners is one of the first home cleaning service providers in Manila, and their experience and expertise show in the quality of work they deliver. I opted for their deep cleaning service and saw right away that I would be getting good value for my money.

A pair of pro cleaners divided the tasks that needed to be done in our living room. One started with a meticulous wiping of the walls and ceiling, using non-toxic, coconut oil-based cleansers to get rid of accumulated dust and dirt.

The other whipped out the star of this session: The Rainbow hydrovacuum system. He then proceeded to use the Rainbow to suck out the film of dust that had settled into the window screens. After that quick yet thorough step, he replaced the nozzle attached to the vacuum with one that sprays water at a high pressure. The best thing about this two-step process? The screens were completely cleaned without having to unscrew them from the windows!

CONTINUE READING BELOW

Recommended Videos



The curtains, sofas, and floor got a good vacuuming, too, with every nook and cranny easily reached with just a change of attachment to the Rainbow's nozzle.

Our glass-paneled door, tables, tabletop accessories, and light fixture were also dusted and wiped with all-natural cleaning solutions.

The entire session took two and a half hours to complete. The grand finale? Five minutes of the Rainbow vacuum running on air sanitizing mode. A few drops of air purifying solution was added to the water, which gave off that distinct yet non-overpowering freshly cleaned scent. Ending the deep cleaning service with this step is said to help further remove dust particles while promoting the circulation of cleaner air. 

What you'll love: Rainbow Cleaners offers customizable services to match your needs, from one area of your home (think window screens or light coves) to façade and roof cleaning to post-construction cleanup. The monthly housekeeping package (currently available to clients in Makati and Ortigas) starts at P2,400, a great deal that includes weekly basic cleaning and once a month Rainbow vacuuming. Call 775-7883 / 0917-5844564.

ADVERTISEMENT - CONTINUE READING BELOW

What other parents are reading

Cleaning company: Delmont Cleaning Services
Service availed: Shampoo and steam cleaning
Item cleaned: Mattress 
Rate: starts at P1,200 (for queen-sized mattress); P500 (for standard crib mattress)
Hydrovacuum used: Gruenheim Vacuum Cleaning & Steam Cleaning System



One of Delmont's most requested services is their mattress cleaning -- and for good reason. The process is meticulous (you can even expect Donna, the mompreneur behind the company to be present during cleaning appointments to make sure everything goes well), and the price tag is reasonable. 

Stains on mattresses are first removed by manually scrubbing them with a safe and gentle, yet effective solution. The Gruenheim GHV1 vacuum, fitted with the upholstery nozzle, is then used to suck out all debris that have settled into your mattress (like dust particles, hair, and dead skin cells). A crevice nozzle is also used, especially for mattresses with patterns and designs that create hard-to-reach areas. 



The mattress is flipped over to vacuum the other side before starting with the steam cleaning process. The use of a steamer machine -- in this case, the Gruenheim GHS1 Steam Cleaner -- is said to be an effective way to disinfect, eliminate bacteria, and neutralize odor from the mattress, thanks to the large amount of steam and high temperature that the appliance produces.

The entire process ends by vacuuming the area under your bed to get rid of all traces of dust and dirt. If you book the deep cleaning service, the session finishes off with the Gruenheim vacuum set on its airclean mode for a minimum of five minutes. This setting is supposed to exhaust unpleasant smells and dust particles from the room's air by absorbing these through the water tank; freshly cleaned air is said to then pass through the vacuum'sflow exit grids. Like other hydrovacuums that do double duty as air purifiers, scented oils can also be added to the water tank.

What you'll love: Delmont Cleaning is also an authorized dealer of the Gruenheim vacuum and steam cleaning systems, so if you're interested, you can directly purchase your units them. The basic set can be upgraded with other accessories, depending on your needs and preference. Call 710-7697 / 0998-8538505. 

ADVERTISEMENT - CONTINUE READING BELOW

What other parents are reading

THE VERDICT
So the question remains: Are these hyrdovacuums that double as air sanitizers really worth the investment? It's worth mentioning that a number of medical journals published in the US National Library of Medicine have found that while HEPA filters can help alleviate symptoms of allergies, particularly to pets, there is still no sufficient evidence they are effective for dust mite or mold allergy. Some studies, on the other hand, focused on asthmatic adult and child patients, with results that point towards a decrease in asthma symptoms. No studies, however, have proven the benefits for non-asthmatic children or babies.

But experts do agree: A proven way to keep allergy and asthma symptoms even the regular sniffles at bay is to keep the house clean. And for me, this is where these hydrovacuums come in handy. They really do an awesome job at eliminating the small, deep-seated dust particles that regular sweeping and mopping leave behind.

The bottomline: If you have the extra money to spare, make the purchase. Just keep in mind that a hydrovacuum (together with its accessories and complementing appliances like the steamer) requires extra storage space. Handling them will also mean having to use additional equipment (including ladders and extension cords) and dedicating time and manpower from your household staff (and if you have none then this means you) to extensive housekeeping.

My vote is to hire these home cleaning service providers on a regular basis. Many do a superb job at leaving your home spotless. The thorough cleaning they deliver is the main benefit; air sanitizing is the bonus. You really can't put a price tag on that satisfying feeling of coming home to a squeaky-clean space. 

ADVERTISEMENT - CONTINUE READING BELOW

What other parents are reading

Celebrate your pregnancy milestones!


Enter your details below and receive weekly email guides on your baby's weight and height in cute illustration of Filipino fruits. PLUS get helpful tips from experts, freebies and more!

You're almost there! Check your inbox.


We sent a verification email. Can't find it? Check your spam, junk, and promotions folder.

Trending in Summit Network