Dad Shares How Two Yayas Almost Got Away With Hurting His Child

He is sharing his family's story because he doesn't want a child or parent to suffer the same fate.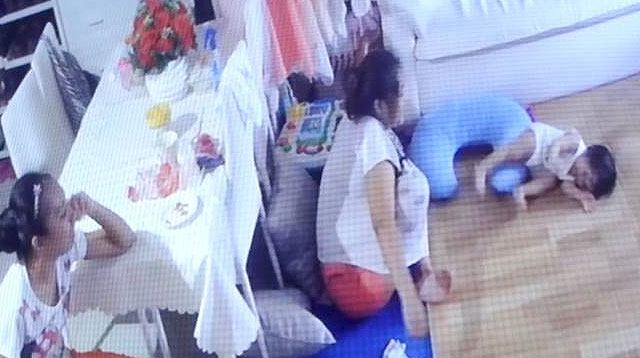 No parent wants a yaya horror story that involves his child being hurt. Unfortunately, it happens far too often than we would like. Dad Nathan Javier knows this firsthand. He has filed charges against his daughter's yayas after a CCTV camera caught them hurting his 1-year-old child, Adriana. 

We first found out about Nathan's story via a viral Facebook post he made that showed photos and videos of the alleged nanny abuse. It was painful and devastating to watch, to say the least (you can see the video below but warning some of you may find it disturbing). SmartParenting.com.ph reached out to Nathan via Facebook to know more about the incident. 

According to Nathan's account and from the CCTV clips he posted, the two yayas, identified as July Cantela Garcia and Anna Margaret Zamora, initially scared the child by throwing a "headless" doll in her direction. Upon seeing it, Adriana lost her balance and fell head first against the floor. The yayas didn't bother to pick her up; in fact, seeing Adriana's reaction made them laugh and seemed to encourage them to scare her more, even if they saw their ward genuinely frightened and helpless. As shown in the CCTV clips, they used the headless doll or its severed head to scare her, leaving her crying, whimpering, and unable to move while her yayas laughed at her hysterically. Adrianna was also seen sitting in a corner, banging her head repeatedly or slapping her head several times. 

What other parents are reading

The other CCTV clips showed the yayas pinching Adriana, hitting her hand, and twisting her fingers until she cried out in pain. Zamora also covered the little girl's face and mouth to prevent her from crying. Afterward, they flicked her arm with what could be described as a blunt force. The yayas did all of these in the guise of play, so if you don't watch closely, you may not notice what they were doing.  

ADVERTISEMENT - CONTINUE READING BELOW

Nathan shares below what they've learned from this experience and help other parents.  

1. CCTVs can help you monitor the nanny and your child, but it has its flaws.
Nathan said they specifically installed CCTV cameras in their condo to monitor Adrianna's safety. "I watched them live daily on CCTV through my iPad when I'm in the office. That being said, it's very difficult to watch them closely while working at the same time. I admit I couldn't 100% monitor the footage at all times," he shared. 

The yayas were aware of the CCTV, but as Nathan wrote on his Facebook post, they would cover it with the "sinampay," so it would appear they didn't mean to cover it. It seemed they also knew how to make it appear like they were just playing with Adriana until one looked closely and reviewed clips repeatedly.

What other parents are reading

2. Observe your child's behavior carefully.
Nathan's wife, Sheila, felt something was amiss because of Adriana's lack of attachment to her yaya. "My wife felt that Yaya Anna could be secretly hurting or pinching Adriana. We noticed Adriana was well-behaved around her yaya, and she would just always sit beside her while her Yaya Anna was watching TV. This wasn't the case whenever we come home from work," Nathan recalled.

"Adriana is very hyperactive and a happy baby whenever we are around. She loves to play and walk around until 11 p.m.! She didn't want to be held by Anna anymore if we were home," he added.

CONTINUE READING BELOW

Recommended Videos

What other parents are reading

3. Strictly screen applicants when hiring help.
Nathan shared that Zamora joined their household last November 2016 as an all-around maid. When Adrianna's then yaya resigned, she applied for the position. Zamora then asked her husband's niece, Garcia, if she could apply and hire her as an all-around maid. 

"Bago tayo kumuha ng kasama natin [sa bahay], dapat kilatisin... As much as possible, pakuha natin ng mga clearances, police clearance at NBI clearance," suggested Vanessa Deseo, a police senior inspector at the Women and Children's Protection Division of Taguig PNP told GMA's 24 Oras. (The news program featured Nathan's story, which aired last June 19).

4. Hold yaya accountable for their wrongdoings.
Nathan and Sheila initially just thought of firing the two yayas, but they changed their mind and filed charges. "We realized that we couldn't just let them go. I told my wife that this cruelty needs to be taken seriously. If we don't do something, another child and parent will suffer from their abuse," Nathan said.

Under Republic Act No. 10361, or the Batas Kasambahay, you can terminate your employment relationship with yaya for the following reasons: misconduct or willful disobedience, neglect or inefficiency, fraud or breach of trust, crimes against the employer or a member of the household.

What other parents are reading

Upon sharing their horrible experience on social media (it has almost 10,000 shares), Nathan and Sheila received support in spreading awareness on the cruel yayas. There were some people, however, who implied on the comments section that they deserved it. How? Because the couple was too dependent on the yaya, treated their help unjustly, or they overreacted. 

ADVERTISEMENT - CONTINUE READING BELOW

In response, Nathan told us, "Nakakalungkot na there's a level of callousness in our society where people seemed to accept this behavior and treat it as normal. The two yayas confessed to the police that they were secretly and intentionally hurting our baby and even did it several times before."

As for the alleged mistreatment of the yayas in their hands, Nathan said, "We have shown [the yayas] kindness and compassion and treated them with respect. They were properly compensated and could even avail of salary advances. We never expected they could mistreat and hurt our baby," Nathan said.

Nathan and Sheila consulted a pediatric psychologist to make sure their daughter could recover from her traumatic experience. While Adriana is doing okay and the doctor is confident of her recovery, she has signs of psychological trauma. "She will cry and act scared for no reasons at times. She gets nightmares, too," Nathan shared. 

What other parents are reading

Celebrate your pregnancy milestones!


Enter your details below and receive weekly email guides on your baby's weight and height in cute illustration of Filipino fruits. PLUS get helpful tips from experts, freebies and more!

You're almost there! Check your inbox.


We sent a verification email. Can't find it? Check your spam, junk, and promotions folder.

Trending in Summit Network