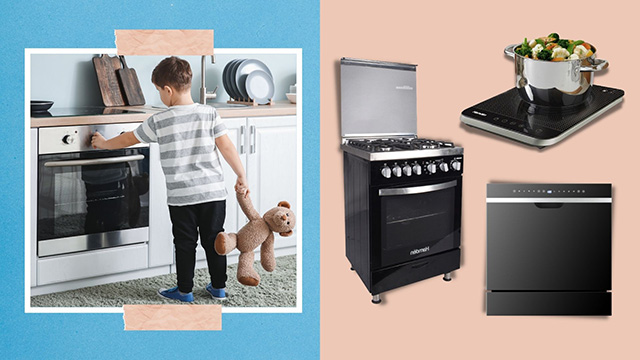 As the most used area in the home, the kitchen is probably one of the riskiest places for kids.
When children start to learn how to walk and become more curious to explore almost every corner of the home, parents need to childproof the kitchen and make it a safe place for them.
To keep the kids out of harm's way when in the kitchen, make sure to choose safe and quality home appliances. And Hamden is the ideal partner in helping keep your children safe while also creating a seamless cooking experience.
Hamden is a high-end brand that offers top-notch residential appliances ranging from gas burners and ovens to range hoods and induction hobs. You can cook comfortably, efficiently, and hassle-free as it provides reliable, quality products with safety features.
Having Hamden in your kitchen is worthy of your investment because it helps make you feel secure that your children are doing okay even when you're not near to keep an eye on them.
Here are the recommended Hamden kitchen appliances to help you create a safe home for your children:
Hamden induction hobs
Hamden induction hobs are equipped with intelligent features needed for an optimal and safe cooking experience.
They have an advanced child-lock safety that can prevent children from accidentally switching on the cooking zones when the induction hob is not in use. These induction hobs are also designed with a residual heat indicator, auto-pan detection, stop-and-go function, individual timer, automatic shut-off, overflow protection, safe-to-touch, and no flame, no carbon dioxide emission.
Hamden gas hobs
Hamden gas hobs are designed with an excellent flame failure device. This safety feature stops the flow of gas to the burner when the flame has been extinguished suddenly. It helps prevent the buildup of harmful gas in the kitchen, which can significantly reduce the risk of your child inhaling kitchen fumes.
These gas hobs are developed with high-performing world-renowned burners that have an excellent flame distribution. With their easy and instant temperature adjustments, these gas burners offer precise heat distribution, making cooking quick and even.
The cast iron pan support is sturdy, heavy-duty, and versatile, able to steadily support the cookware while cooking. Hamden gas burners are also equipped with a modern-looking black, four-layer, steel explosion-proof glass that can resist heat and shock.
Hamden ovens
Hamden ovens are built using high-grade stainless steel and tempered glass for efficient cleaning and have a durable body for a long-lasting cooking experience.
They are also designed with a cavity-cooling system that keeps the handles and knobs cool. Even if the oven is installed within a toddler's reach, you can keep your children from burning themselves because Hamden ovens feature cool-to-touch doors. This three-layer glass door helps make the exterior safe to touch.
Start baking the most delectable desserts easily and move around the kitchen freely with Hamden ovens.
Hamden range hood
A range hood is an essential kitchen appliance that offers protection to everyone in the household, especially to your kids. Acting as filters, range hoods are designed to improve the air quality and keep your kitchen area smelling fresh, healthy, and clean.
Hamden carries different types of styles and designs of range hoods such as wall-mounted, island, under-cabinet, canopy, slide-out, and chimney-type made with innovative technology.
Under-cabinet range hoods have one or two layers of charcoal filters that are designed to capture grease and odor and to neutralize smells when cooking. The other range hoods are equipped with one to five aluminum filters to catch debris and toxic pollutants and prevent them from getting into the system. These filters are detachable for easy cleaning, making them sustainable.
Keep the air clean and safe with the help of Hamden range hoods.
Hamden dishwasher
Hamden dishwashers can save you from tiresome cleaning after cooking and eating. They provide an intensive washing option for dishes and utensils that have sticky, burnt, or dried food remnants. These dishwashers also have triple filtration features that prevent dirt and residue from clogging the drainage pump.
All Hamden dishwashers have a child-lock safety feature that helps prevent kids from accidentally pressing or changing the mode of the appliance. The locking system can be activated to make sure that sharp utensils or breakables like dishes and glasses are not accessible to your children during the cleaning process.
Hamden dishwashers also have an ECO cleaning mode that helps save water and electricity without compromising the cleaning process.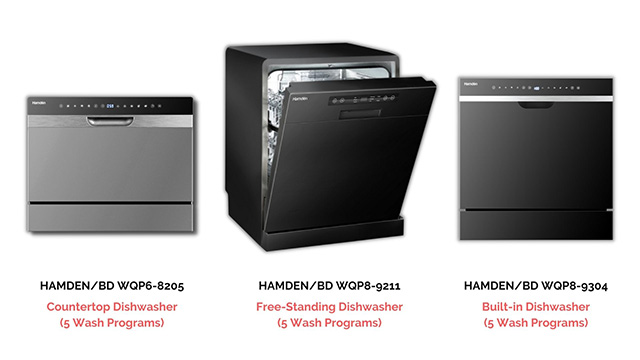 Parenting may be challenging for quite some time, but childproofing your kitchen to protect your family from harm is easy and possible when you have the ideal partner. Keep the kitchen safe for your kids and turn it into an enjoyable space for the whole family with Hamden kitchen appliances.
Hamden kitchen appliances are exclusively available at Wilcon Depot. Shop at Wilcon's 67 store locations nationwide or online at https://shop.wilcon.com.ph and the Wilcon Flagship Store on LazMall https://bit.ly/WilconDepotLazMall.
To learn more about these products and what Wilcon Depot has to offer, visit www.wilcon.com.ph and follow Wilcon Depot's social media accounts on Facebook and Instagram. You may also subscribe to Wilcon Depot's Viber community or check out its LinkedIn and YouTube.
This article was created by
Summit Storylabs
in partnership with WILCON DEPOT INC..