On My Mind: I'm a Housewife Who Gets a Salary for Household Chores

"Good work needs to be compensated," says this former corporate executive, not with an allowance, but a salary.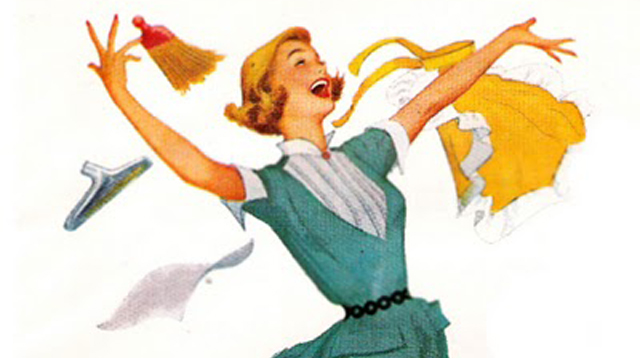 When I tell people, "I'm a housewife and I get paid a salary for doing chores," they are shocked. They either don't believe me or they are incredulous that I have the audacity to ask my husband to pay me for something a married woman is expected to do.

We don't have a maid. I do everything inside the house. When my husband comes home, a restaurant-quality dinner, plating and all, is waiting for him. On top of my household chores, I'm his personal business consultant and financial planner, two things I can really do well because I used to be a marketing manager for a multinational company. 

During the first couple of months of our marriage, my husband would announce, "Hon, I deposited your allowance. Please check your account." I always corrected him. "You mean you deposited my salary in my payroll account." In a way, I don't feel so dependent on my husband when I receive salary for my housework. 

I take pride in the work I do at home, and I believe that good work needs to be compensated. Housewives and stay-at-home moms do so much work, and yet the work is either unpaid or undervalued. In America, one of the most progressive countries in the world, Melinda Gates points outs in this article that women spend an extra 500 hours every year on unpaid household work. 

Despite the initiatives taken by the government to improve gender equality in the workplace, there is still a core assumption that women are responsible for bulk of the home, family, and childcare work. We are still in charge of cooking, shopping, cleaning, and caring for others. If the yaya quits or the kid gets sick, it is almost always the mom who takes a leave from work. Women are still the stars of laundry commercials! 


ADVERTISEMENT - CONTINUE READING BELOW

Religious institutions, the media, and our society still subliminally reinforce gender stereotypes--mothers should take care of the children while fathers are the main breadwinners. For me (and I don't think I'm alone in thinking this), it explains why women in the Philippines still have lower employment rates than men despite having the same access to education. According to the Philippine Commission on Women, the number of employed and unemployed Filipinos in October 2013 were estimated at 37.7 million and 2.6 million respectively. Female employment was estimated at 14.8 million compared to 22.9 million male, giving rise to a gender-gap of 28.3 percentage points in the employment rate.

At my former company, my department's management committee had seven members: five of us were women and two were men, who incidentally were key leaders. Nevertheless, I was earning more than most of the male employees in the organization. The Philippines is the only country in Southeast Asia where women have fully closed the gap and even exceeded the income of their male counterparts. There has also been a steady increase in the number of women in executive positions in the country. 

At some point, however, working moms find themselves choosing between work and family especially when careers become successful that it begins to eat a huge chunk from family quality time. It leaves me to wonder whether this is the reason why Forbes Philippines' report show that only 10% of chairpersons in the country's top 100 companies are women. 


What other parents are reading

In my case, after 11 years in the corporate world, I temporarily placed my career on pause so that I can prove to my in-laws, husband, and even to myself that I can be a homemaker, too. My previous job didn't give me much time to do anything else outside of work. I worked from 8 a.m. to 6 p.m. And thanks to traffic, I got home by 7:30 p.m. By then, I was too tired to talk, listen, cook, and do other chores. I didn't have any option to work less hours or take on less demanding roles. 

I think it's a loss for companies if highly skilled and experienced women leave the work force so that that they can spend more time raising their children and managing their homes. The bigger challenge is, however, not just to achieve equal opportunities for employment and compensation, but for society to slowly change its views on gender roles and responsibilities. Frankly, society still has a long way to go.

For now, I continue with my career pause, and I focus on my new job as a home manager. In one month, I am adding motherhood in my job scope. Should I ask for a raise?

CONTINUE READING BELOW

Recommended Videos

L. Sy  spent a decade as a marketing professional in one of the country's top multinational companies. She is currently on a career sabbatical and chronicles her life as a full-time and paid domestic manager in her blog Me On Pause.


What other parents are reading
Celebrate your pregnancy milestones!

Enter your details below and receive weekly email guides on your baby's weight and height in cute illustration of Filipino fruits. PLUS get helpful tips from experts, freebies and more!
You're almost there! Check your inbox.

We sent a verification email. Can't find it? Check your spam, junk, and promotions folder.
Trending in Summit Network