Clear the Clutter in Your Home With Easy Feng Shui

Get rid of clutter with nega vibes--no feng shui tool or charm necessary!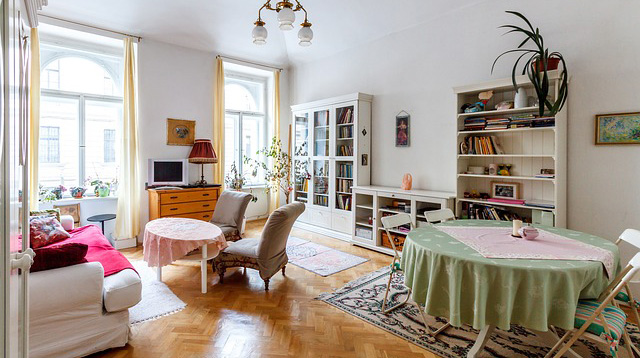 No one likes a cluttered home but, unfortunately, clutter can be difficult to get rid of once it's there. We just discovered that feng shui could help. 

According to Karen Kingston in her book Clear Your Clutter with Feng Shui, Feng Shui is "the art of balancing and harmonizing the flow of natural energies in our surroundings to create beneficial effects in our lives." Which is why, she says, that clutter can very drastically change the energy in a home. It blocks the flow of energy, leaving us drained and irritable. 

Understanding feng shui and the role energy plays in ourselves and our belongings can help us clear the clutter from our lives, says Kingston. In her book, she elaborates on how one can do this from all aspects of living: the physical, mental, emotional and spiritual. 

Focusing on clearing clutter from the home, here are a few points from her we liked the most:

1. Things we love have a positive energy 
Think of the things in your home you love the most. Don't they make you feel happier whenever you see them? Kingston says this is because things you love, use and appreciate have strong vibrant energies that allow energy to flow through them. She adds that because you are energetically connected by everything you own, the energy from the things you love will also flow through you and becomes "an incredible source of support and nourishment for you." 

Our takeaway: Things with positive energy we keep! 

ADVERTISEMENT - CONTINUE READING BELOW

What other parents are reading

2. Clutter is an energy blocker.
Kingston says clutter is "stuck energy." It feels hard to budge and difficult to get rid of. It also drains you of energy and can make you feel tired. "The clutter stagnates your energy, and makes it difficult to get yourself to do anything," she writes. It can also make it difficult to invite friends over (because who wants to show friends their mess), can cause tension in the home and can make you disorganized. 

Our takeaway: How do you figure out if you have this type of clutter? If it literally gets in the way (like boxes in the hallway of...old clothes you've been planning to sort) or distracts you from doing important things (a work table you can barely find beneath all the junk), that's clutter you need to get rid of. 

3. Clutter isn't just unwanted stuff. 
For Kingston, clutter is not just a disorganized pile of stuff, however. Clutter constitutes things that you do not use anymore--it's just occupying space that's often too small to begin with. She says that if you have too much stuff in a given amount of space, it makes you feel like there's no room to breathe, and you start to feel constricted.

Another type clutter is anything unfinished, which lingers in your life and constantly drains your energy. It can be small things like putting off fixing a broken drawer and unanswered emails. It can also be big things like redecorating the house.

Our takeaway: Perhaps we don't notice it immediately, but we do this thing with DIY that we refer to as "start-stop." We get excited about a project--make your own herb garden, do a mosaic from old plates--and purchase materials in order to do them. And one month later we have the unfinished projects at pile at a corner in the backyard. We can't throw them because we say we will finish it, and we feel guilty. Yet years pass, and they are left untouched. These things block the flow of energy.   

CONTINUE READING BELOW

Recommended Videos

What other parents are reading

4. Get rid of clutter by looking with new eyes.
Sometimes, it can be difficult to figure out which belongings are really just clutter and which you truly need. It may be harsh, but the trick is to be ruthless. Kingston says to ask yourself: "Which objects no longer fit with my life or with the directions I want it to take?" 

Our takeaway: Another approach is to look at your home as if you weren't the one living in it. What do you think of her home? What assumptions can you make about her through her home? Kingston advises taking photos of each room in your home to give you more objectivity.  

5. Teach kids to be clutter-free. 
Parents know all too well of just how fast a home can fill up with clutter with every addition of a new family member. Once your child is old enough, teach her how to be clutter-conscious, says Kingston. "Start by teaching your children to pick up after themselves," she advises. "When they get a new toy, decide together where its storage place will be so they know exactly where to put it away when they're done playing."  

Our takeaway: Encourage your kids to periodically make decisions on which toys they want to keep and give away. You can do it together, but let your child have the final say. "Something that may look to you as if it's died and gone to heaven may still have huge importance and years of usefulness for your child," says Kingston.

ADVERTISEMENT - CONTINUE READING BELOW

Find Karen Kingston's Clear Your Clutter with Feng Shui in National Book Store branches for P629.

What other parents are reading

Celebrate your pregnancy milestones!


Enter your details below and receive weekly email guides on your baby's weight and height in cute illustration of Filipino fruits. PLUS get helpful tips from experts, freebies and more!

You're almost there! Check your inbox.


We sent a verification email. Can't find it? Check your spam, junk, and promotions folder.
Trending in Summit Network