How I Furnished My Living and Dining Rooms for 19,000 Pesos

This mom managed to do it with resourcefulness and a lot of bargain-hunting.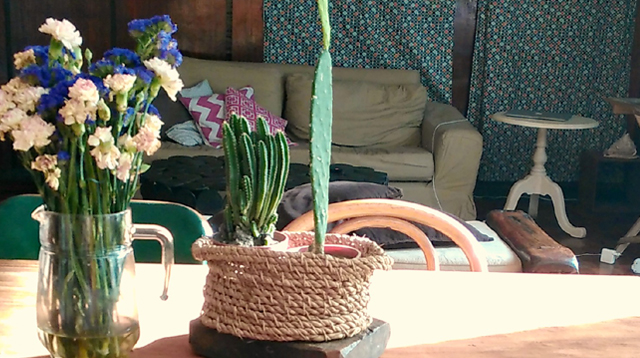 I used to be editor of a home decor magazine and predictably adored accumulating. I had too much furniture, and I possessed bowls, vases, paintings, throws,  and baubles by the shelves. Some girls spent their money on shoes; I emptied my wallet on primitive-style furniture and hand-thrown bowls.

These days, things have changed. After quitting the magazine job, resettling in Europe, and, after more than 10 years, moving back to Manila, I have learned that I'd rather be living and not just acquiring. Home for my family is currently a 70s-era bungalow,  whose living and dining areas I furnished for just under P19,000 (or about US$400).

IMAGE Apol Massebieau

I managed to keep it that low partly because I still had a few items in storage. There was my heavy coffee table, a mahogany bench, and a narra dining table. Then I went thrifting. In my 20s and living on my own in various apartments from Quezon City to Mandaluyong, I was a staple of Metro Manila's secondhand shops and, back then, you went to Evangelista Street in Makati's Bangkal area. That's where I did my thrifting this time as well.

ADVERTISEMENT - CONTINUE READING BELOW

What other parents are reading
Prices were higher than before, but I still managed to get some deals. There was a three-seater sofa crowding one tiny shop that I bought for P1,500. The upholstery was an intense burnt sienna. Not a bad color, but I wanted a lighter tone. So I bought upholstery fabric from the Kamuning market, and I had it sewn into a slipcover by an upholsterer. I paid P2,400 for material and labor combined. I also had a cover made for the long rectangular cushion on the mahogany bench. The fabric  cost about P500, plus another P500 for the sewing. I spent P400 for five yards of the fabric that went into making my polka-dotted curtains.
To the narra dining table, I added a set of five bent rattan dining chairs. I found them in a secondhand Japanese goods store. They sold the lot to me for P5,000, and, after I asked, tossed in a green-leather office chair for free.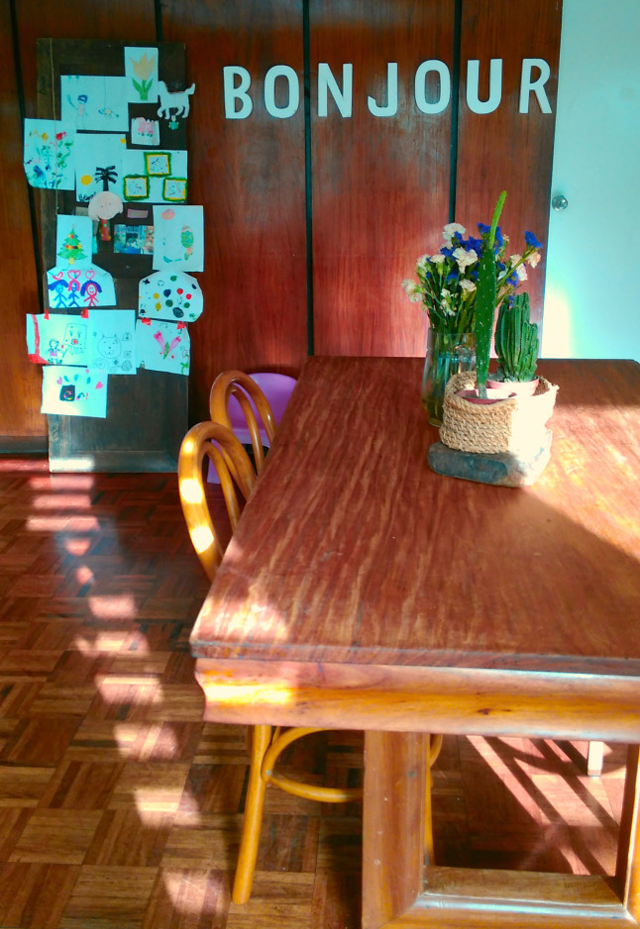 CONTINUE READING BELOW
Recommended Videos
IMAGE Apol Massebieau
My home office table is this slim narra piece that I also found in Bangkal for P1,500. It was a steal, but not my cheapest piece of furniture. That honor belongs to the palochina folding table that holds the TV. My husband bought it from an itinerant vendor for P700. 

Here's a breakdown of what I spent:
Office table P1,500
Couch P1,500
Slipcover P2,700
Woven floor mat from Samar P2,500
New bench cover P1,000
TV table P700
5 dining room chairs P5,000
Display case P2,500
Curtains P400
Curtain rod P800
Total P18,600
As you can see from the photos, my house is quite utilitarian. Almost every piece is used--and used often. I prefer old and durable wooden pieces. They stand up well to daily life with a dog, two cats, a 6-year-old, and her skateboard. I like to think that with the addition of small touches like fresh flowers, an old rustic door (free!) to display my child's art projects, even using real cloth napkins at mealtimes, I manage to make our home a comfortable space without having to spend a big amount of money. 
Apol Massebieau blogs about minimalism and the DIY life at La Pomme Living. She runs La Pomme, which hand-makes toys and DIY kits for kids. She is currently based in the Philippines and lives with her husband Pierre and daughter Lilou.  
Trending in Summit Network