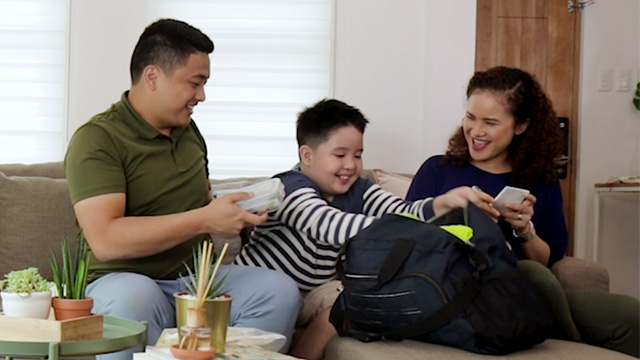 This In the Loop article is a press release paid for and posted by our brand partner. The views, thoughts, and opinions expressed in this article are those of the advertiser and do not necessarily reflect those of the website and its editors.
As parents, you always try to do the best for your children. You go to great lengths to give them everything they need, and work hard to provide them with a happy life and a better future. While there's certainly no fault in that, you should remember that it's often the simplest gestures that make the biggest difference in your kids' lives.
Children are incredibly observant. They notice and cherish the little things you do—like cook for them and wash their clothes. Take 9-year-old Jenny, a third-grader who loves to play dress-up. She says, "I love wearing my dresses because Mommy makes them smell nice all the time. She makes me feel like a princess!"
You can do the same for your kids with the Samsung AddWash Front Load Washing Machine. It features a secondary door that lets you add forgotten clothes or delicate fabrics mid-cycle, so you can always have their favorite Sunday dress clean, crisp, and ready to wear. The Samsung AddWash is also equipped with a Super Speed setting that cuts down laundry time to just 59 minutes. Imagine all the extra time you'll have to bond with your little ones.
For 5-year-old James, an energetic preschooler, nothing beats being able to sleep at his parents' room. "I like it when Mommy makes me sleep beside her and Daddy because their room is so cold," he says. "I have the best sleep there."
Make bedtime more pleasant for your children, too, with the Samsung Wind-Free™ Air Conditioner. It's built with multiple micro-holes that evenly distribute cool air without the unpleasant feeling of direct air blow, and a two-step cooling mode that maintains a comfortable temperature in any room.
Meanwhile, 8-year-old Hannah, a budding foodie, loves that her mom keeps her favorite food in stock. "Mommy always buys the food we like and keeps them in our fridge," she says. "It's like we have our own supermarket at home!"
Like Hannah's mom, you can stock up on groceries with the Samsung Twin Cooling Refrigerator. Built with two separate evaporators for the fridge and freezer, it retains up to 70-percent humidity, providing enough cool air to keep food fresh for up to two times longer. It also has the Smart Conversion feature, which allows you to choose among five different freezer-fridge modes depending on your needs. Among them: the Fridge Max mode, which converts your freezer into a fridge to give you more storage space.
For 7-year-old Josh, a future basketball superstar, post-game mealtime is the best time, especially when his dad takes over the kitchen. "Daddy is the best chef," he says. "One time, he made chicken and it smelled so good and tasted so delicious. He also made cake—he can cook anything!"
You can impress your own kids in the kitchen with the Samsung Smart Oven. It's equipped with the Hot Blast™ technology, which blows hot air onto food via multiple air-holes, ensuring quick and evenly cooked dishes that are crispy on the outside, juicy on the inside. It's also built with multiple innovative functions that allow you to bake your own pastries, grill your favorite steak, and even make your own homemade yogurt.
These kids show how meaningful such small acts of love can be, and with the help of Samsung Digital Appliances, you can do the same things for your own family, too. Imagine the possibilities with the perfect partners for you and your kids.
For more information regarding Samsung Digital Appliances, visit the website here.
About Samsung Electronics Co., Ltd.
Samsung inspires the world and shapes the future with transformative ideas and technologies. The company is redefining the worlds of TVs, smartphones, wearable devices, tablets, digital appliances, network systems, and memory, system LSI, foundry, and LED solutions. For the latest news, visit the Samsung Newsroom here.
This article is sponsored by Samsung Digital Appliances.