These Tips by Organizing Guru Marie Kondo Can Help Save Your Marriage

Aside from banishing clutter, her new show can help spark joy in your life!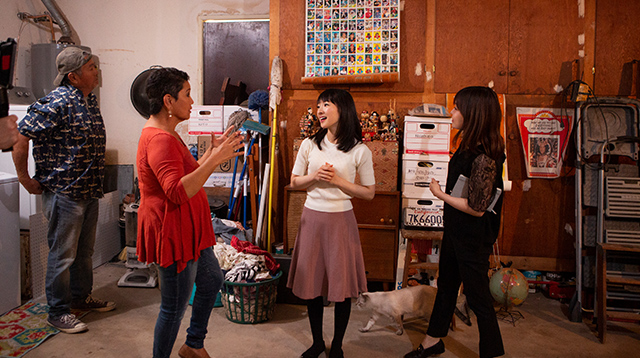 One of the hottest shows on live streaming service Netflix isn't a choose-your-ending thriller, but it's Tidying Up With Marie Kondo, the world-famous author of the bestselling book The Life-Changing Magic of Tidying Up. In the series, Kondo — cute as a button and delivering her spiel in a Muji-tastic living room — visits homeowners and uses her effective KonMari method to help them purge and organize.

If you're looking for dramatic, Extreme Makeover-style before-and-afters and Hoarders-type homes, look elsewhere. The featured homes are quite beautiful, save for bits of clutter here and there. And unlike other organizing shows, don't expect Marie Kondo herself to buckle down and remove the clutter herself. She does pay each home a visit to assess the situation and chat with the family, but the actual purging is done by the family members themselves.

But aside from the expected minimalist home and neatly folded clothes in the end, another takeaway from this show is couples whose relationships have come under strain of the stress associated with keeping up with the clutter can benefit from the emotional process of Kondo's purging and organization.

ADVERTISEMENT - CONTINUE READING BELOW

Marie Kondo (center) has become known all over the world by telling folks it's time to let go of things that do not spark joy.

PHOTO BY

courtesy of Netflix

What other parents are reading

Here are some KonMari tips gleaned from the show that could save your marriage

1. Greet your house with respect

One of the first things that Kondo does before giving a home the KonMari treatment is to kneel down in a quiet space to "greet the house."  This gesture makes the couple realize that in spite of being cluttered, their home has sheltered them and kept them safe. After this greeting, they can start the process of purging and giving the home the respect it deserves.

2. Agree on the ultimate goal of creating a clean and comfortable space

Both husband and wife have to agree that the end goal of the KonMari method is to cooperate in clearing your space. In Episode 6 ("Breaking Free from a Mountain of Stuff"), the Mattisons couldn't come to terms because while the husband wanted to throw everything away, Sehnita couldn't part with a single item. The husband had to convince her that in order to move on, they had to share the same goal.

3. Consider what kind of future you'd want in your home

The Mattisons always thought about having a third child, but put off that dream because they thought they didn't have any more space for a baby. "I just didn't want to put the bassinet on top of a pile of junk!" she exclaimed. Once they cleared out their house, they finally decided that they could have another baby.

ADVERTISEMENT - CONTINUE READING BELOW

4. Admit that the house is a shared responsibility

With the Mersier family in Episode 3 ("The Downsizers"), the mother Katrina was exhausted all day, because each family member depended on her to find every little thing, from coffee cups to their favorite shirt. Kondo encouraged all the family members to take responsibility of their belongings and their space, from the purging to the organizing and cleaning.

5. Take the sentimental items out of hiding and put it where you can see it

Marie Kondo always encourages to keep items that "spark joy." In the pilot episode, "Tidying Up With Toddlers," the Friends kept their wedding photos in a box inside the garage and discovering it let out a floodgate of fond memories. Putting the wedding photos back inside the house where they could see them every day celebrates the union that they have.

 

PHOTO BY

courtesy of Netflix

ADVERTISEMENT - CONTINUE READING BELOW

6. Realize that you don't need a lot of things to be happy

In Episode 6, Sehnita remembered that what had brought she and Aaron together in the beginning of their relationship was that they both didn't need material possessions to be happy. She came to this realization when she saw the piles of belongings—Kondo encourages putting everything in a pile prior to purging to make the homeowner realize how much stuff he or she has. Seeing all this made her finally let go of these things.

Rachelle Medina is a mom of one and a freelance writer/editor. Before diving into the exciting world of freelancing, she was the editor-in-chief of Real Living. Rachelle now creates content that tackles home, design, and culture, to name a few. When she's not busy, she loves visiting heritage spots and documenting the amazing drawings of her 7-year-old son.

Trending in Summit Network