Mommy Makeover Project: A Bright and Inspiring Kiddie Room

See how one mom transformed a dark and cluttered bedroom into a charming space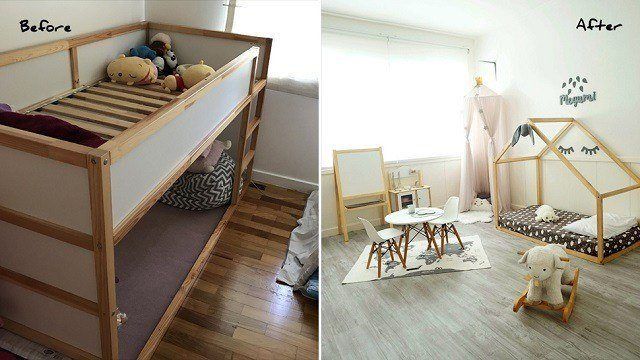 Parents only want the best for their children and as seen in this makeover, they're willing to go the extra mile to create a beautiful and special space where the young ones can sleep, play and feel safe. "[My daughter's room] was too cluttered and dark that's why it became dormant. She never slept there and she didn't even want to play there. She preferred staying in our room," says Madoka, one of our followers on Facebook.

Prior to the makeover, her daughter Megumi's 20-sqm bedroom has a bed, a teepee, and a play nook. While the room has enough floor area, the lack of color and the right pieces make it seem uninviting. "My makeover project was long overdue for almost two years. It was delayed for so many reasons—budget, lack of inspiration and resources, to name a few," shares the doting mom. However, thanks to the popular mobile app Design Home, Madoka finally got the spark she needed to turn her virtual design into reality. "It was also timely that my daughter's birthday was coming up, so I thought it will be a perfect birthday gift to surprise her with a bedroom makeover," she adds.

The final result was a dreamlike bedroom any little girl would love to call her own. Madoka's chosen pieces and color scheme created a Scandinavian-inspired aesthetic that's bright, charming and Pinterest-worthy. It's equal parts homey, chic, and relaxing with quaint nooks that Megumi will definitely enjoy. Discover more about this transformation and learn a few tips from Madoka below:

ADVERTISEMENT - CONTINUE READING BELOW

(Above) Megumi's bedroom before the transformation. 

What other parents are reading

The Scandinavian-inspired look revolved around a Scandinavian house bed that was used during a family portrait shoot. "Megumi fell in love with the bed, and she kept on asking me to get that dream bed for her," shares Madoka. Since the said piece of furniture was to be the room's focal point, Madoka started looking for pegs on Pinterest as well as on Instagram. "I checked out other moms' [projects through] the #kidsroominspo hashtag on Instagram. There were a lot! I was motivated," she exclaimed.




CONTINUE READING BELOW

Recommended Videos

Reader tip: Deciding on a key piece can help you finalize the look of a space. Since her daughter loved the dream house bed, Madoka opted to work on a Scandinavian theme. Once you're set on the theme, it will be easier to proceed.

Stick to a simple color scheme.
To achieve the look she wanted, Madoka opted to work with white and gray with pink as accent color. The room looks cohesive because she brought in pieces that follow her chosen color scheme. "When buying decor or furniture, no matter how nice it is, if it's not within your palette, let go of it. Learn to be consistent with the colors you chose," she says.

What other parents are reading
Madoka didn't work with a design professional in transforming the space.
ADVERTISEMENT - CONTINUE READING BELOW
The best thing about this makeover project: it was a hundred percent labor of love. Madoka simply trusted her guts in styling the space and choosing the pieces that complemented the room's color scheme. "The only person I hired was the one who installed the vinyl flooring. It was originally dark hardwood, but I felt that I couldn't pull off the bright and airy Scandinavian look if I didn't change it," she explains. She went for light gray oak vinyl flooring, which was easy to install, low-maintenance, and budget-friendly, too. Find similar materials at Wilcon Depot.
Reader tip: Go for a balance of function and aesthetics. "My daughter used to have a bunk bed. I bought it because I thought that it was too cute, but she never slept on it even once. Why? It was too high, and she was just a toddler then. The house bed was perfect for her age," shares Madoka.
What other parents are reading
Decluttering proved to be a challenging step that Madoka had to face. 
ADVERTISEMENT - CONTINUE READING BELOW
"The biggest challenge for me was decluttering all her toys. It was a lot. It was a perfect opportunity to teach my daughter how to let go of some of her toys and donate it. Honestly, this process took me three days to finish than the actual designing," she shares. See the result below. 
What other parents are reading
Most of the pieces were sourced through Instagram.
When looking for the right pieces for your space, patience is key. It takes time to spot the perfect chair or bed, and browsing through Instagram definitely helped Madoka. The only items retained from the old room are the rocking sheep from Pottery Barn Kids and the beanbag from @pottlyntubby. Here's a rundown of the new pieces added to the room and where she got each:
ADVERTISEMENT - CONTINUE READING BELOW
Cute bed linen from @sleepbyannmurphy
Wooden name script and Scandi wooden kitchen playset from @littlestsetter
Easel board from @moblerph | Visit Mobler at #199 Wilson Street corner P. Guevarra Street, San Juan, Metro Manila.
ADVERTISEMENT - CONTINUE READING BELOW
Table and chairs from @furnituresourcephils
World map area rug from H&M Home. Visit H&M Home,ÂG/F, SM Makati, Hotel Drive, Makati City.
ADVERTISEMENT - CONTINUE READING BELOW
Star, cloud, heart pillows and sleepy hamper from @funnestph
The makeover paved the way for Megumi to learn to sleep in her own room.
After Madoka surprised her daughter, it was the first time that Megumi was able to sleep in her room. "She said she loved what I did in her room, and she no longer wanted to sleep with us. I learned that a bright and clutter-free room can make a child focus more during study time. She also loves storytelling and because of the reading nook I made, it excites and encourages her more to love reading," shares Madoka.
The pink canopy is Megumi's favorite spot.
ADVERTISEMENT - CONTINUE READING BELOW
To make this reading nook extra special, Madoka added fairy lights as extra accents. It looks magical at night!
Reader tip: Take into consideration your child's interests when designing his or her room and make sure you incorporate it into the final look. "My daughter loves books and storytelling so much so I made a beautiful reading nook. If your son loves cars, you can buy a road map carpet or a road decal. For the artists, you can include an artwork corner," Madoka suggests.
This story originally appeared on Realliving.com.ph.
* Minor edits have been made by the SmartParenting.com.ph editors.
What other parents are reading

Trending in Summit Network