Your Baby's Sleep Space Will Need This Type of Curtains

Make sure the nursery is truly sleep-inducing space for your little one!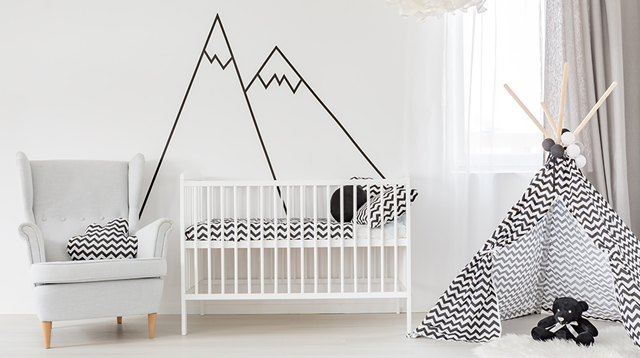 Preparing for the arrival of a new baby is definitely exciting, not only because it signifies a brand new addition to the family, but also because it is an opportunity for moms and dads to be creative, especially when deciding the baby's room! If you are in the process of putting together your little one's space, here are some helpful tips to keep in mind.

Choose a theme

When it comes to designing your little one's room, don't be afraid to get creative! Having a single theme can help guide you in deciding how to design the space so that it looks cohesive and well-thought-out, and so that it also reflects your style and preference. You can go for the classic baby animals, flowers, or automobiles, or you can try something completely different. Have fun!

What other parents are reading

Stick to a relaxing palette

One of the most exciting parts of designing a nursery is deciding on what color palette to use. Soothing pastels have been popular choices for many parents, embellished with adorable little touches like stuffed toys and other accessories because who can resist looking at those Pinterest-worthy spaces?

However, according to experts, it is best to decorate a nursery with light and dark colors, like black and white, in bold patterns, like stripes. This kind of bedroom décor will help stimulate and develop a baby's color vision. Monochromatic hues like black, white, and gray actually register powerfully in a baby's retina and help send strong visual signals to his brain. So why not consider going for a simple color palette for your little one's room?

Keep the nursery dim

To create a genuinely sleep-inducing space for your baby, trying to replicate the environment inside the womb is helpful, according to Sarah Ockwell-Smith, author of The Gentle Sleep Book. One way you can achieve that is by limiting the sources of light inside the nursery.

You can try investing in blackout shades or heavy curtains for the windows, especially if the room typically receives plenty of sunlight. As for light fixtures, you may opt to install a dimmer for overhead lighting fixtures, or a small lamp or nightlight that you can use during storybook-reading time or during late-night feedings.

ADVERTISEMENT - CONTINUE READING BELOW

What other parents are reading

Add some background noise

Another way to try to recreate the environment inside the womb in your baby's nursery is by adding a white noise machine to the room. The noises this small machine makes can help remind baby of the sounds he heard while he was still in your tummy.

If you don't have a white noise machine, you may also choose to turn on some gentle nature sounds. The primary goal is to drown out the noises coming from the other parts of your home, so that your baby can sleep peacefully without any interruption.

Provide lots of storage

When putting together your child's room, it's important to make sure that you have everything you need in quick and easy access, so that you won't have to leave the baby alone if ever you need to get anything. This includes diapers, burp cloths, extra clothes, pacifiers, etc. Provide these essentials a home by investing in storage units like bins, baskets, or shelves. At the same time, make sure to set a disposal system for dirty clothes and used diapers.

If you have enough space, you can try purchasing furniture that you can use even after baby grows up. For example, you may want to invest in a dresser that you can use both as a storage unit and as a diaper changing station, or a bookshelf that can also be used to keep supplies like medicine, lotions, etc.

What other parents are reading

Organize everything

You don't want to ruin your baby's sleep by alarming him with noises of you bumping into supplies and toys left strewn all over the floor, do you? To keep that from happening, make sure that all the items you'll be storing inside the nursery are appropriately stored. Be wary of supplies that need to be kept out of baby's reach, such as thermometers and nail clippers. Don't forget to cover all outlets, tuck away cords, and secure pieces of furniture.

Create a cozy nook

ADVERTISEMENT - CONTINUE READING BELOW

Aside from baby, you and your partner will likely be spending lots of time inside the nursery as well. This makes it very important to create a little area in the room that you can use for feeding sessions and cuddle time with your little one. Invest in a rocking chair or a cozy one-seater sofa. Keep a small lamp close by. You can also put your chair near the area where you keep the supplies so you can access whatever you need at any given time.

Trending in Summit Network