Urban Farming Is Possible Even With Limited Space At Home: 5 Tips From An Expert

Prof. Vern Compas is known as Mr. Organic among his partner farmers and organic farming advocates.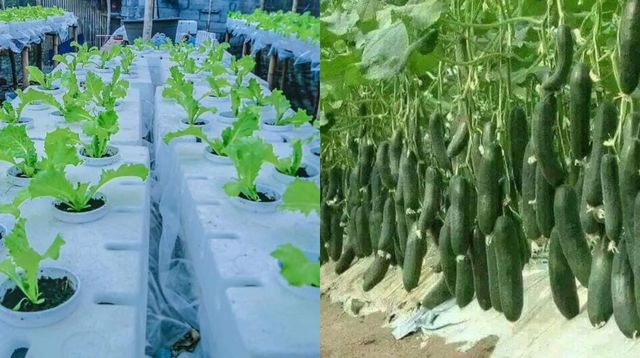 If you've always wanted to grow your own vegetable garden but you're held back by a nonexistent back or frontyard, don't lose hope just yet.

Prof. Vern Compas, also known as Mr. Organic among his partner farmers and organic farming advocates, says it is possible to get into urban farming even with limited space at home.

In fact, he's on a mission to "raising the interest of Filipino people living in an urban setting to become self-sufficient and generates healthy food and income through their skills in urban farming technology."

Prof. Compas has designed trainings and service-oriented programs and lobbied several local ordinances. He likewise continually organizes forums and conferences related to organic farming, agribusiness, and agro-tourism, and population and development.

PHOTO BY

Courtesy of Vern Compas

The professor, who also served as director at the Asia Pacific Christian College and Seminary for a decade, is the founder of Kalinga Organic Farming Advocates Movement (KOFAM). It serves as a platform for his advocacy and programs.

ADVERTISEMENT - CONTINUE READING BELOW

He shares his knowledge and advocacy as the author of four books: Way To Low-Cost Farming, Uniquely Shaped, Virus Detected, and the latest, Crafting An Innovative Urban Organic Garden, published by Bank of China.

Growing your own vegetable garden at home

Prof. Compas gives five tips here on urban farming for those with limited spaces at home, as culled from Crafting An Innovative Urban Organic Garden.

Choose your space whether indoor or outdoor

1. For the outdoor garden, choose areas where the morning sunlight can reach your plants. If not, then just put some net to provide shade from the heat of direct sunlight to minimize the heat and moisture.

2. For an indoor garden, choose a space inside your house or office and set up your preferred garden models.

3. If you plan to create a hydroponics garden, then it is best to support it with grow lights particularly "full light spectrum." The grow light contains some colors that are helpful to indoor plants. It produces chlorophyll and supports plants' germination and growth development.

Choose which type of urban farming you want to set up

There are different kinds of urban farming you can set up based on your available spaces and resources.

You may want to set up hydroponics using the Kratky method or Nutrient Film Technique (NFT) planting lettuce in a vertical design. You may also try container gardening using recycled bottles, containers, and jars, or a small raised bed garden.

So, it depends on what gardening models you want to set up and the plants you desire to produce. It can all be done with the right technology and skills, available resources, and your commitment as an urban farmer.

ADVERTISEMENT - CONTINUE READING BELOW

Recommended Videos

Proper watering system

Every plant needs water to grow and produce the right yield or harvest. In the case of urban farming, whether you adopt soil-based farming or water-system farming, the amount of water should be based on the need of the plants.

You as an urban farmer shall do some extra research on the nature and behavior of every plant. Some plants, whether herbs, edible or ornamental, each one has different requirements for water.

In the case of lettuce production through a hydroponics system, much water is required on a certain level based on the method and technique used. But, in soil-based lettuce urban farming production, the drip system making sure that the soil has enough moisture is just perfect, so check the soil moisture regularly. You can buy a soil-moisture tester for your soil.

There are available soil-tester, moisture-tester, and water-tester in the market for you to use in determining the level of moisture, acidity, and alkalinity of your growing media.

PHOTO BY

Courtesy of Vern Compas

ADVERTISEMENT - CONTINUE READING BELOW

Proper fertilization system

Each plant needs fertilization to ensure better growth development, color, and higher yield. However, the use of synthetic fertilizers or synthetic nutrient solutions is not recommended.

Instead, you may use an organic nutrient solution as it is also available in the market. However, it is highly recommended that you must learn how to produce your own concoctions from your kitchen waste.

You can produce Fish Amino Acids (FAA) from fish intestines or bones, as well as Fermented Fruit Juice (FFJ), or Fermented Plant Juice (FPJ) right from your kitchen waste.

Details in creating your own concoctions can be accessed online or with the nearest agricultural office in your town. There are also available materials for creating your own concoctions at the office of the Department of Agriculture or TESDA Centers.

Prof. Compas suggests you explore and learn the procedures for creating your own organic nutrient solution for your plants. On the other hand, for convenience of time, you can just order your organic nutrient solution through the available agricultural supply in your town or through the online market.

Effective pest management system

Prof. Compas says fertilization has its own section in his latest book. He points out that the use of organic nutrients solution has an ingredient that protects the plants from insects, fungus, and diseases.

When the plant's health is sustained, then the plants will be protected from the attacks of insects, fungus, or any plant diseases. Never ever use chemical-based pesticides or insecticides as they will contaminate your plant, the soil or water, and the air and environment. It is also harmful to you as a gardener and to your whole family and the community.

ADVERTISEMENT - CONTINUE READING BELOW

Prof. Compas says doing urban farming in your small spaces shall ensure healthy food for you and your family. It can also be a new business for you to explore, when your neighbors notice your garden and start buying vegetables from you.

He adds that you don't need a big capital to start your urban farming. Start small and expand as you scale up, involve your family, and let it be an avenue for relationship building and family livelihood. And yes, he says, "Happy gardening!"

PHOTO BY

Courtesy of Vern Compas

Read also: This Community Turn A Football Field Into A Vegetable Garden

Celebrate your pregnancy milestones!


Enter your details below and receive weekly email guides on your baby's weight and height in cute illustration of Filipino fruits. PLUS get helpful tips from experts, freebies and more!

You're almost there! Check your inbox.


We sent a verification email. Can't find it? Check your spam, junk, and promotions folder.

Trending in Summit Network