This Work-At-Home Mom Runs Two Businesses In Her Multi-Tasking Home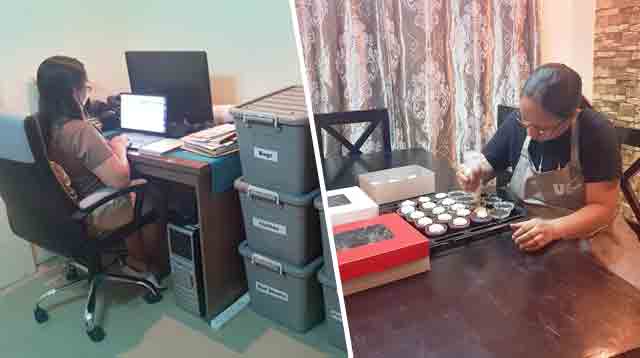 Many working moms sacrifice their time most of the day and even the weekends to earn a living, while stay-at-home moms may get burned out quickly. So, do work-at-home moms have the best of both worlds? Yes, but not quite. 

One mom of two went from being a working mom to stay-at-home to a work-at-home mom. Eaye Cano worked in administration and information technology when she and her family were still in Dubai.

She became a stay-at-home mom when they came home to the Philippines after finding out their son has autism. Treatment was more affordable here, and Eaye needed the time to focus on her kids. It was not an easy shift from two-income to a one-income family.

"Initially, I decided to put up my two businesses as hobbies to have extra income," Eaye tells Smartparenting.com.ph.  She loves to shop and bake, so she runs Boutique.Mnl.Ph, a one-stop online shop for clothes, PJs, bedsheets, jewelry, bags, etc., and her customized cake business Blissful Bites.

ADVERTISEMENT - CONTINUE READING BELOW

What other parents are reading

Online is the easiest way to attract and reach customers, and Eaye can do it in the comfort of her home. "But I'm heavily dependent on a smartphone, laptop, and an excellent internet connection," she shared. Her business also gives her control of her own time. 

There is no specific time or place to work at home

They don't employ a yaya, so Eaye cooks, brings her kids to and from school, while her husband works full-time. After dropping off the kids in school, she meets her suppliers, replies to queries, goes to banks or payment centers and courier services, uploads photos, among others.

"There is really no definite time to do the things I need to do for my online businesses," Eaye shared. She has no home office, too – just a table, which she only uses when she needs to work on spreadsheets. "Mas madalas nakahilata sa kama gamit mobile," Eaye admitted about transacting with her customers.

It's not a home office, Eaye insisted. It's just an office table.

PHOTO BY

Courtesy of Eaye Cano

Before bedtime, she takes pictures of her merchandise and packs items for delivery. Their bedroom doubles as a photoshoot studio and a stock room for orders that are already for shipment. Eaye doesn't stock her merchandise at home since she hardly has any space for it. 

Love your own merch. Eaye taking a photo of a bag she's selling with their bed as its backdrop. The bedsheet and the Pjs she's wearing are all from her one-stop online shop.

PHOTO BY

Courtesy of Eaye Cano

ADVERTISEMENT - CONTINUE READING BELOW

Allotting time for her customized cake business requires a bit more time and effort. "My time for baking basically is based on the volume of orders and the schedule of delivery," Eaye shared. "When there is an order, I usually bake it after dinner and frost/design it the following day. Cake deliveries, especially if the area is a bit far, are always scheduled at nighttime, from 9 p.m. onwards, to avoid the traffic jams," she shared.

Does she have an industrial oven? It's a small one, but does the job perfectly well enough that her customers come back and order her cakes and cupcakes again. When it comes to designing cakes and piping icing, "you just really need a lot of space, like our dining table," Eaye said. 

Everything Eaye needs for customizing cakes! (It's not a lot!)

PHOTO BY

Courtesy of Eaye Cano

The dining table is an excellent multi-tasking furniture.

PHOTO BY

Courtesy of Eaye Cano

ADVERTISEMENT - CONTINUE READING BELOW

"Yes, being a work-at-home mom is the best option for me now. It allows me to attend to my family and earn on the side," the work-at-home mom of two said. "It just takes a lot more planning to make sure you have time for your family and your business," Eaye stressed.

"You don't need to invest in an office," Eaye added since her priority is still her family. "I make do with what I  already have at home." Perhaps, if she pursues her businesses, a.k.a. hobbies, more and decide to expand, Eaye says that's when she'll invest in a bigger oven or a more permanent home office. 

For more stories of wotk-at-home moms, click here. 

Trending in Summit Network