10 Things Women Hate When Driving or They're Car Passengers

For women, it's all about courtesy whether they're driving or riding in the car. Do you agree?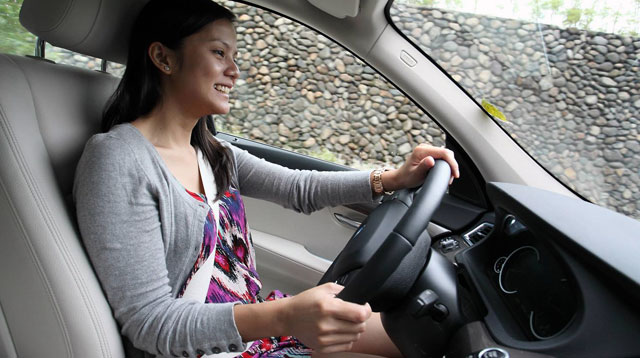 Photo by Christian Halili

Isn't is annoying when someone implies that when a car is slow it's because it's a woman driving. It doesn't follow, guys. Here, our friends from TopGear.com.ph share the 10 pet peeves women absolutely hate when they're driving or riding as passengers--and it's pretty much on point. Tell us if you catch yourself nodding yes while you read these.

Things women hate when they're the drivers

1 Being with a backseat driver
It's irritating when you bark orders, or when you criticize her driving skills. "When I'm driving, I don't like someone who dictates so much on how I drive, or yung masyadong ma-comment. A little safety reminder is okay, but more than that can be quite annoying."

2 Super-loud, heavy-metal rock music
Women also like good driving music when they're behind the wheel, and raucous, ear-splitting sound doesn't fall under this category. For one, they find it distracting. For another, heavy rock usually doesn't have mushy lyrics (okay, that's probably a sexist comment). "My idea of driving rock music is Maroon 5, that's it."

3 Unhygienic passengers
Be mindful of where you put your chewing-gum wrapper. And be sure to dust off your shoes before entering her car. "I'd hate it if a front-seat passenger put his feet up the dashboard."

4 Aggressive, confrontational conversations
If you have an issue with your lady driver--personal or otherwise--try to take it up with her until after you've reached your destination. It's nerve-wracking having to deal with rude bus drivers and a hostile companion at the same time. "Just not while I'm driving, please. I tend to get rattled. It's not safe for the both of us."

5 Rushing
Unlike most men, women are generally punctual. They don't like disregarding road safety just to get to a place much faster. "If I wanted to arrive at my destination early, I'd give ample allowance to my travel time. It's also more relaxing that way. Traffic is already too stressful as it is; I don't want to keep thinking of the people waiting for me at a meeting."

Things women hate when they're the passengers

6 Reckless driving
Look, women are not impressed with your Formula 1-style driving. Relax. They want you to observe the traffic rules. They want you to be safe. "I really hate it when the driver counter-flows."

7 Braking suddenly and often 
Have you ever ridden with a driver who does that? It's nauseating, right? Well, women don't like it, too. "I hate it when the driver keeps braking or brakes for no reason at all. Nakakahilo."

ADVERTISEMENT - CONTINUE READING BELOW


8 Strong car scent
Take it from us: You can't go wrong with mild citrus air fresheners. "I hate OA car fresheners. Some even have two in the cabin, like you can't smell anything else but the air freshener. Who likes those?"

9 Road rage
If you think you look Conor McGregor-tough to your lady passenger every time you scream at another driver, you're wrong. That's a huge turnoff. On the contrary, it gives her an idea of how you will be like somewhere down the road of your relationship. "What's up with all the macho posturing? Hello? If I wanted to date a brawler, I would have scoured a tough neighborhood in Pasay instead."

10 Lack of female-friendly items
Be considerate of your lady companion for she has special needs. Stock up on wet wipes, for instance. Or some dental floss. "For me, I hate it when my smartphone's battery is running low and there's no car charger."

Thank you to Topgear.com.ph's industry friends who took the time to answer their last-minute survey: Jade Sison of Toyota Motor Philippines; Sherlyn Co of Mazda Philippines; Kat Lanot of Honda Cars Philippines; and Therese Sarmiento of Nissan Philippines.

This article originally appeared in Topgear.com.ph.

*Minor edits have been made by the SmartParenting.com.ph editors.

Never miss out on news again! LIKE US!

CONTINUE READING BELOW

Recommended Videos

Ask any man with a modicum of car enthusiasm, and he'll tell you that nothing beats the very first automobile he has ever owned. The memories, the difficulties, the joyrides--it will always be the motoring equivalent of one's first love. No matter how many vehicles he has acquired after--more expensive ones, for sure--he will always look back with regretful longing to the first steed in his life.

Lucky are the ones, of course, who get to hold on to their first car, and never have to wonder about its present condition in the hands of its new owner. But let's face it: Not all car guys are as blessed to keep and maintain their first car. Most of us are forced to dispose of our first ride either because of necessity or because of unforeseen circumstances.

A guy named Justin Sombillo wrote Topgear.com.ph a letter to tell the story of his father, who had had to sell his very first car--a 1967 Volkswagen Beetleacquired secondhand in 1979. His dad and the Beetle got into an accident in May 2014, and this was the result...

ADVERTISEMENT - CONTINUE READING BELOW

Realizing that the repairs would be nearly impractical to pay for, Justin's father reluctantly passed it on to a willing buyer. The old man was certainly crushed. But he had no choice. In life, reality often trumps sentimentality. It is what it is.

More from Smart Parenting

 

ADVERTISEMENT - CONTINUE READING BELOW

Seeing how bad their dad felt over the sale of the Beetle, the Sombillo brood decided to secretly purchase it back from the new owner, who thankfully agreed. They then brought it to a car-restoration shop in Cavite for an exterior and interior makeover that would take seven months to complete.

ADVERTISEMENT - CONTINUE READING BELOW

In December 2014, in time for their father's birthday, the siblings gave him the surprise of his life. He couldn't believe what he was looking at. He probably even thought it was a prank.

"Maiiyak yata ako nito," the dad said as he excitedly walked toward the restored Beetle. He inspected the interior, and then checked out the engine at the back. His Beetle had shiny, period-correct parts--complete with a flower vase and a fire extinguisher--and looked as though it had just rolled out of the showroom back in the '60s.

ADVERTISEMENT - CONTINUE READING BELOW

More from Smart Parenting

 

The ecstatic Beetle owner immediately took the car out for a spin together with his wife. Some car guys, you see, are destined to grow old with their first love.

ADVERTISEMENT - CONTINUE READING BELOW

Talk about reciprocating a parents's love. 


Photos from Justin Sombillo/Topgear.com.ph




This article originally appeared in Topgear.com.ph.

*Minor edits have been made by the SmartParenting.com.ph editors.

Celebrate your pregnancy milestones!


Enter your details below and receive weekly email guides on your baby's weight and height in cute illustration of Filipino fruits. PLUS get helpful tips from experts, freebies and more!

You're almost there! Check your inbox.


We sent a verification email. Can't find it? Check your spam, junk, and promotions folder.
Trending in Summit Network