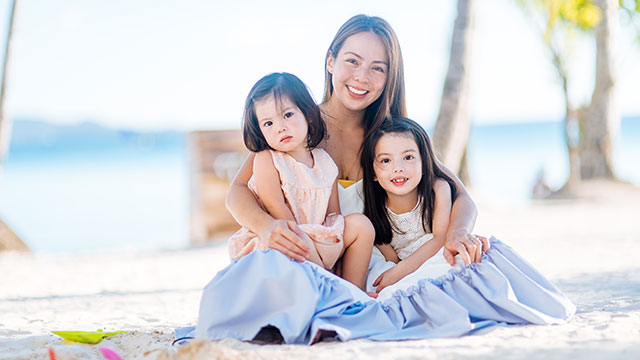 Radio DJ, TV host, and actress Andi Manzano-Reyes claims that she's always had big dreams, even as a child. She had wanted to host her own talk show, produce films and plays, and even run her own mall. But now at 34, the celeb says that all of these aspirations pale in comparison to the best job she's ever had: Being a mom. 
"One thing I've always wanted to be, and that got me excited, was to become a mom. I honestly felt like I was born for the role!" she says, adding that being the eldest child and playing the role of the second mom to her four younger siblings prepared her for her current role as a mother of two. 
"When I was little, I always imagined being best friends with my kids, the way my mom is with me — being their confidant, their go-to person, their laughing buddy, and their crying partner. Becoming a mom was something that always excited me. The idea of bringing new life into the world and fostering a child thrilled me."
Life at Home
With two daughters in tow — six-year-old Olivia and two-year-old Amelia — the popular DJ had to make certain lifestyle changes. But although she'd left a 10-year career as a radio host, Andi is still the multi-hyphenate that she's always been, now as a full-time mom, content creator, swimwear designer, and entrepreneur.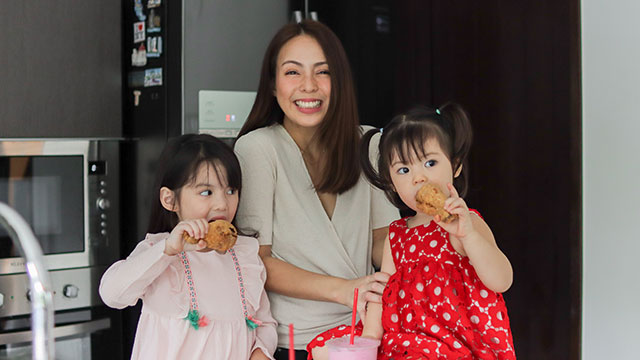 Family is at the center of everything that Andi does. She and her ever-supportive husband GP Reyes recently launched Amealya's, a food business inspired by their family favorites. "We've been getting lots of great feedback lately, and we're so happy that we have returning customers! We plan on adding more dishes soon," she says.  
Online, she uses her platform to share vignettes of her family life, reaching over 139,000 followers on YouTube and 689,000 followers on Instagram. On building a virtual community of parents, she says, "I have made so many online friends and exchanged messages with so many mothers. But honestly, more than the numbers, the fact that I connect with different people who are going through the same things I am is such a blessing." 
She adds, "The friends I've gained online have taught me how to be a better mom, how I shouldn't be ashamed of anything, and how I should just be myself. When you meet a mom who goes through what you are going through, this special connection assures you that you are not alone. It's so inspiring and encouraging."
Parenting During Quarantine
One of the topics she's consistently touched in her vlogs is parenting through the ongoing pandemic. According to the celeb mom, she's made it her responsibility to explain the situation to her eldest child. 
"I continuously had to explain to Olivia and help her understand the situation we are all in, why she can't go to school, and why she can't see her friends. There has never been a time like this, which is why it's taking us quite a while to adjust."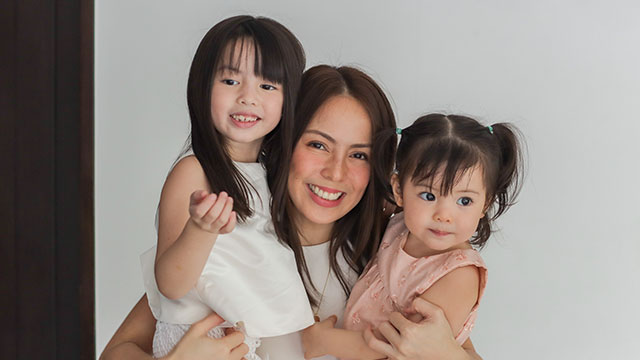 How does she keep the kids happy and entertained at home? Through finding ways to bring outside activities indoors, reinventing old hobbies, and making distance learning more fun than it seems to be. "This pandemic taught me how to be more patient, understanding, and empathetic with my kids. It's hard on us parents, but it's just as hard for our kids." 
On What Keeps Her Going
But parenting at a time like this can take its toll on any mom. To recharge her own batteries, Andi shares that she turns to her online community, with help from her trusted internet provider, PLDT Home. "It's so important to stay connected not just with family but with friends too, especially at a time like this. Same as with our kids even if it's all via video call. We've attended so many Zoom meetings, online weddings, and parties."
"Parenting shouldn't be done alone. Even if you're not a parent, having a community and people to talk to really helps us mentally and emotionally. And this is why I'm glad that I can rely on PLDT Home. It keeps me in touch and connected with my friends and other moms. We need to be there for each other and to remind each other that we are in this together cause there has never been a time like this," the celeb mom adds.
Ultimately, despite all of the hardships it comes with, motherhood is its own reward for Andi, who admits that being a parent is far more demanding than she's ever dreamed it would be. "The responsibility, sleepless nights, financial problems, running a household, the counseling and guiding, juggling many hats, and learning how to be patient were challenging. But I can honestly say with all my heart that it's worth it. That warm fuzzy feeling you get when your kid smiles at you, when they hug you, or when they tell you they love you, it's truly the best feeling in the world," she explains. 
As you strive to provide what's best for your children at home, remember to treat yourselves with some extra love, moms. Remember: There's #NoMomLikeYou. Follow PLDT Home on Facebook and watch this video tribute in case you need a reminder that you're doing your best. Happy Mother's Day!