Mom Who Had COVID-19 Describes How It Began For Her: 'Yung Feeling Na Magkakatrangkaso Ka'

The thought of not being able to breastfeed her two young kids broke her heart.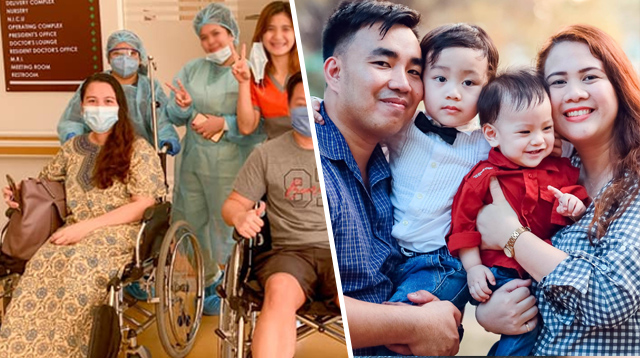 Many patients who recover from the coronavirus disease 2019 (COVID-19) choose to remain silent due to the stigma surrounding the illness. But there are still those who are willing to share their story if only to inspire others to keep fighting. One of them is Suzi Garcia-Rufino, a breastfeeding mom of two young kids.

In a public Facebook post uploaded on April 9, 2020, Suzi, who is a broker and former professor, narrated the story of how she was able to survive the disease. The 34-year-old mom had no travel history — but before getting the symptoms, she went to the palengke, supermarket, and pharmacy between March 7 to 10 "to prepare for the coming crisis."

"That time, wala pang quarantine so naka-mask lang ako," Suzi tells SmartParenting.com.ph in an interview via Facebook messenger.

In her post, Suzi shares that she has been taking care of her health and was taking multivitamins and sodium ascorbate with zinc. But she had a preexisting condition — she is asthmatic. "I also started intermittent fasting a week before [my symptoms] so, I think that was one of the reasons why I got vulnerable to the virus and made my immune system at risk," the mom shares.

'It started with a fever'

Suzi with her husband and sons.

PHOTO BY

courtesy of Suzi Garcia-Rufino

ADVERTISEMENT - CONTINUE READING BELOW

On the first day her symptoms showed, Suzi wrote that she woke up exhausted with her muscles aching. "'Yung feeling na magkakatrangkaso ka," she shared. The next day, she developed a mild cough, but since she was asthmatic, she thought nothing of it.

"I just took my asthma meds. I also took paracetamol 'round the clock," Suzi wrote, adding that she had already placed herself on self-quarantine by that time.

On the third day, her fever persisted. She consulted with three doctors whom she was acquainted with and they all advised that she go to a hospital immediately. She drove to a private hospital near their home and was interviewed outside of the emergency room.

Since she did not have any travel history and direct contact with a COVID-19 patient, she was not recommended for a swab test. They told her that only the Regional Epidemiology & Surveillance Unit (RESU) from the City Health Office can facilitate the testing.

"The doctor said, 'since your symptoms are mild, we cannot refer you to be tested. But we will inform the City Health Office,'" Suzi tells Smart Parenting. She was discharged after getting a clear result on her X-ray test and was advised to continue with her self-quarantine and to go back to the hospital should her symptoms progress.

Suzi admits that the hardest part of her quarantine was not being able to breastfeed her two kids, who were ages 2 and 4. "There were nights that I went to my children's room to breastfeed them. I did that after taking a bath and [I] had to wear a face mask," she wrote. "I took a bath in the middle of the night so I would not expose them to the virus that I could possibly have. So 'yung dating unli-breastfeeding, every night na lang." (According to guidelines released by the Department of Health, confirmed and suspected COVID-19 patients may still hold their baby and breastfeeding is strongly recommended as long as she takes the necessary preventive measures. Read their recommendations here.)

CONTINUE READING BELOW

Recommended Videos

Fighting COVID-19

On the fifth day, Suzi developed diarrhea and felt as if she was going to be dehydrated. Her sisters drove her to another hospital. "I decided to go there because I knew I have former RadTech students who are working in the same hospital," Suzi wrote. "I thought, if ever na ma-admit ako and 'di sila pumayag na may magbantay, I would have someone there to look after me. Kahit may sisilip lang."

Suzi was admitted to a regular room as a patient under investigation (PUI). Her brother was permitted to keep her company but had to wear personal protective equipment (PPE) at all times.

Suzi notes that she was already having difficulty breathing, but this is something she's already used to because she's asthmatic. "I had dextrose, 2 intravenous antibiotics, mucolytic, nebulization, Nexthaler and montelukast levocetirizine for my asthma, and oxygen to help me breathe better," she wrote.

On day 6, she had her first swab test taken by the RESU. She describes it as not painful, but not comfortable, either. On day 11, her test results came back positive.

"I can't die! I knew I won't die. Who will love my children like I do?"

A battle with her mind

Learning that she was positive with the disease really took a toll on Suzi's well-being. She was transferred to the ICU for close monitoring and her brother was advised to go on self-quarantine.

"I recalled all the times that I was not with my children because of my job. I was always busy."

In the ICU, she saw another elderly who also tested positive and who was intubated. "I was terribly scared," Suzi wrote. "I can't die! I knew I won't die. Who will love my children like I do?"

ADVERTISEMENT - CONTINUE READING BELOW

She was also filled with regrets. "I recalled all the times that I was not with my children because of my job. I was always busy. I breastfeed while checking emails, suddenly stop my breastfeeding when a client calls," she wrote. "I missed eye-to-eye contact with my children. I missed my husband who is in lockdown abroad."

Suzi shared that what kept her going was the thought of being with her family again. Fortunately, she was able to keep constant communication with her two kids through video calls. "I promised to be with my children when He allows me to survive. I also promised to love my husband more and be more understanding when he comes home," she wrote.

Suzi was also sustained by her faith. She watched online sermons and pastors preaching about God and about the disease. She did online Bible studies with friends and family. "I knew God has a plan for me. He will never forsake me," she said.

Experiencing discrimination

 Unfortunately, Suzi also experienced the negative effects of having COVID-19 beyond testing positive for the disease. She learned that her children and sister were discriminated in their neighborhood. Suzi's name, as well as her sister's, were publicized on their subdivision's Facebook page and the homeowners association asked them to close the windows and doors during and after their 14-day home quarantine.

"Every time mag-open sila ng windows, may magrereport na kapitbahay sa guard. Then, the guard would go to my house and tell my aunt to shut the doors and windows," Suzi wrote. "They are just but children! Why would you deprive [them] fresh air lalo ngayong napakainit ng panahon!"

ADVERTISEMENT - CONTINUE READING BELOW

Despite this harrowing experience, Suzi chooses to focus on the good things. After 16 days in the hospital, Suzi was discharged after testing negative for COVID-19. She also tested positive in the rapid test, meaning that her system already presents as having developed antibodies against the disease.

"Maybe this is one of the reasons why God allowed this to happen to me. He will use me to help others."

Recovering well

 In her Facebook post, Suzi shares that she is still on self-quarantine at home. Fortunately, her family has not exhibited any symptoms. Even her brother, who stayed with her in the hospital room did not develop any symptoms after going on a 14-day quarantine. To be sure, they extended his isolation for seven more days. "So far he's doing well," Suzi shares.

The mom of two also shared her relief knowing that the government would be taking care of her hospital bills, even as she was admitted toa private hospital. "The Chief of PhilHealth announced that they will cover all hospitalization expenses of all the COVID patients admitted until April 14. The hospital promised us to reimburse all partial payments made. They released a new case rate/package for the coverage of COVID patients admitted starting April 15, 2020," Suzi wrote.

At home, her two kids have already started breastfeeding again, but her 2-year-old is still adjusting with latching. "My dream is to be with [them] the whole day, just breastfeeding," she wrote.

After a tough battle, Suzi believes it is now her turn to give back and help others. Apart from raising funds for poor communities, she is also willing to donate her blood because studies have shown that those who have recovered from COVID-19 have antibodies that can help fight off the virus.

ADVERTISEMENT - CONTINUE READING BELOW

"I was given the guidelines on how to donate my blood plasma when I fully recover. I realized, maybe this is one of the reasons why God allowed this to happen to me. He will use me to help others," Suzi wrote.

By sharing her story, Suzi hopes not only to inspire COVID-19 patients to keep fighting, but also to motivate those who are feeling unwell to seek help immediately. "If they feel something wrong, seek help agad," Suzi shares. "Early detection is better than going to the hospital na malala sa sila. Kaya rin siguro hindi na ako naintubate kasi maagap ang pagpunta ko sa hospital."

Many patients who have survived COVID-19 have shared their stories to help others identify the symptoms and show that you can be cured if you have it. Read their stories by clicking here and here. For more stories on COVID-19, click here.

This article was updated on April 10, 2020 at 10:11 p.m. 

ADVERTISEMENT - CONTINUE READING BELOW

What other parents are reading

Celebrate your pregnancy milestones!


Enter your details below and receive weekly email guides on your baby's weight and height in cute illustration of Filipino fruits. PLUS get helpful tips from experts, freebies and more!

You're almost there! Check your inbox.


We sent a verification email. Can't find it? Check your spam, junk, and promotions folder.
Trending in Summit Network