4 Pinoy Mom Vloggers To Follow For Inspiration

Watch and subscribe!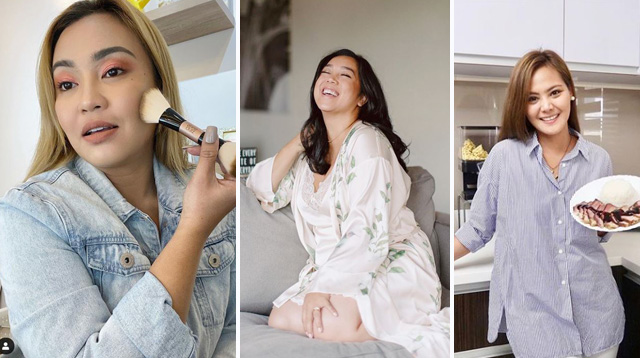 From recipes to getting a dose of encouragement, watching videos online has been a great source of ideas, entertainment and inspiration. As trendy as it gets, some moms have also started their own YouTube channels, sharing their lives in front of the camera through video blogs, or vlogs. Here are some of them:

Via Austria (647k subscribers)

ADVERTISEMENT - CONTINUE READING BELOW

Her subscribers calls this Filipina YouTube star "Mommy V". She posted her first vlog in October 2017 and has been featuring videos about shopping and hauling, product reviews, and funny pranks and challenges with her two daughters and her husband. You can follow her on her YouTube channel.

CONTINUE READING BELOW

Recommended Videos

Below is one of Via's most popular videos with over a million views about tips on how she organizes her refrigerator, plus a tour of their humble abode.

 

Anne Clutz (883K subscribers)

ADVERTISEMENT - CONTINUE READING BELOW

Anne Clutz started her YouTube channel in January 2012. This 35-year old mom of two is a makeup enthusiast and beauty vlogger. She also shares her family life in her videos, and is very open and interactive with her viewers' thoughts and suggestions. You can follow her on her main channel The Anne Clutz for beauty tips, product reviews, hauls and affordable finds, or on their family channel for daily uploads of family video.

Anne's fans have been suggesting to do the "Can't say NO challenge", wherein she literally cannot say NO to anything her family wants to buy for 24 hours. She did the challenge and gained over a million views too! 

More from Smart Parenting

Celestine Gonzaga-Soriano (1.31M subscribers)

ADVERTISEMENT - CONTINUE READING BELOW

Aside from being an actress-TV host and a mom, Toni Gonzaga also created her own YouTube channel in January 2019 with a goal to inspire and to connect with her fans. She features her family travels, special moments with her son Seve, and some honest and fun conversations with her mom and her husband Paul Soriano. Be with her on her journey by following her Youtube channel. 

Toni's vlog "Why it pays to wait" reached over 4 million views. It motivated and inspired her subscribers and even called her "The Real Influencer" for it. 

 

Judy Travis (1.67M subscribers)

ADVERTISEMENT - CONTINUE READING BELOW

Judy Travis is a mom of three beautiful girls, and one more is arriving very soon. She started vlogging when she was in college and began filming their growing family in October 2012 with her Irish-Japanese husband, Benji. She has three YouTube channels. You can follow her main account @itsJudysLife, which focuses on their daily family vlogs. Her other account @itsMommysLife is dedicated to her life as a mom, and the last channel @itsjudytime is about her passion and love for makeup and hair tutorials.

Here is Judy's vlog about delivering her identical twins that became viral on the internet and reached over 25 million views. 

This article was updated on February 24, 2020, 8:38 AM, to correct Benji Travis' nationality.

Trending in Summit Network