Finding Purpose In Grief: Two Moms Open Up About Losing A Child

'Hindi ka man maka-move on, but you can move forward.'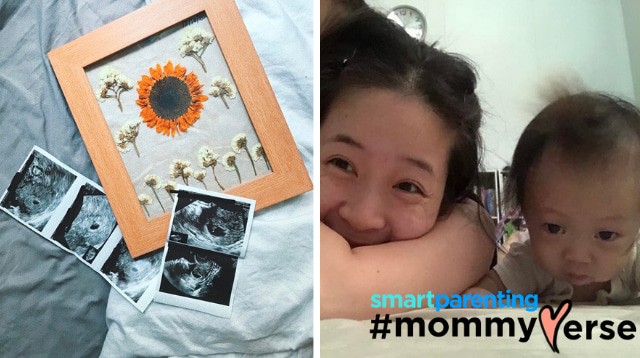 The whole month of May, along with the celebration of Mother's Day, has been dedicated to honoring moms from all walks of life. Enter Smart Parenting's Mommyverse campaign, where we bring together and share stories of moms who are beautiful, strong, creative, and fun in their own ways.

For many, Mother's Day is a colorful day filled with nothing but love and gratitude. But we should also acknowledge that for some, that special day dedicated just to moms comes with a pinch in their hearts.

Such is the case for Julie Anne Villostas-Apalisok and Sarah Cocuaco-Gokian, who are in the midst of coping with the loss of a child. It's a journey no parent would want to take, but as they take strides towards healing, both have found a way to transform their grief into purpose.

Read more Mommyverse stories:

Holding On To Hope

Diagnosed with Polycystic Ovarian Syndrome (PCOS) when she was 16-years-old, Julie Anne knew that conceiving would be a challenge for her. Still, never did she expect to experience miscarriage twice.

Julie Anne married the life of her life, Lyle Apalisok, last February 2020. She shares, "Like many newly married couples, we dreamt of traveling together, building our home, and raising children together into the world. However, my expectations were different from the reality that we faced early on in our marriage."

PHOTO BY

Julie Anne Villostas-Apalisok

ADVERTISEMENT - CONTINUE READING BELOW

Later that year, the couple found out they were pregnant, giving Julie Anne and Lyle "so much joy and excitement in our hearts." It was, however, a difficult pregnancy, and Julie Anne was put on bed rest and had to take medications. During that period, we prayed nonstop and asked prayers from our family and friends," Julie Anne shared.

But soon, and a week before Christmas of 2020, the couple was met with a piece of unfortunate news. 

"December 18, 2020, a week before Christmas, we went to a scheduled sonogram, and after weeks of fighting and praying, it was immediately clear that our baby no longer had a heartbeat.

"When the sonographer said 'I'm sorry', I was praying and crying, silently begging God that it was a mistake and my baby was not already gone. My husband and I were clearly distraught and cried together.

"But this initial pain was nothing compared to the moments that came later that night. We should've been 9 weeks pregnant at that time."

Julie Anne confides to this writer that while she was "drowning in grief and pain" during those times, "I can still smile at how our baby was conceived: in love, with intention, in grace, and with so much love from the people around us."

Read other stories of celebrity moms opening up about miscarriage:

Pain Strikes Twice

CONTINUE READING BELOW

Recommended Videos

Almost a year since their first loss, Julie Anne and Lyle found out they were expecting again in October 2021. They were more optimistic this time. Julie Anne says, "The pregnancy seemed to be going well. I had no signs of miscarriage, no cramping or spotting, or anything out of the ordinary based on my first ultrasound." Only to find out a month later during their scheduled sonogram that the baby inside her doesn't have a heartbeat.

"In your pain and grief, know this:  there is hope even in the moments as if all hope is lost."

"I was devastated and cried the heaviest tears. We were both confused. We had another missed miscarriage. We were completely shocked and confused.

"We were advised to wait for our baby to pass naturally. After weeks of bleeding and pain, my OB had to perform emergency surgery.

PHOTO BY

Julie Anne Villostas-Apalisok

"As a young married couple, that was our second Christmas together, tasting grief and loss. It was a painful loss for us, but there's supernatural peace."

ADVERTISEMENT - CONTINUE READING BELOW

Throughout all these, the couple held on to their faith, and Julie Anne found comfort in knowing that "God's promise to us is not that bad things won't happen, it's that He is with us through it all."

After the second miscarriage, Julie Anne was diagnosed with Reproductive Immune Problems (Alloimmune and Autoimmune). "My immune system rejects my husband's cell— I do not have good antibodies to accept the baby coming from my husband (Alloimmune). My bad antibodies attack more organ systems (Autoimmune), including our baby, and I have Anti Phospholipid Antibody Syndrome (APAS), which caused Recurrent Pregnancy Losses," she explained.

She admits that "Mother's Day can be extremely difficult." But she's grateful to have a supportive and emotionally available husband who has always been there for her during these "Grief Trigger" events.

"A day before Mother's Day, we went out on a date, ate good food, and took time to slow down. My husband has been consistent in giving me bouquet of flowers and gifts to show his love for me and in honor of our little ones lost too soon during Mother's Day. He also wrote love letters to me."

For her, Mother's Day is a time for her to "experience all my emotions, had some breathing room, and felt the support of my loved ones and friends."

Julie Anne now strives to not let her pain go in vain. Through her faith, she realizes that her experiences would lead her to become a better version of herself and strengthen her faith. Additionally, by sharing her story, she has found the purpose of offering comfort to other parents who are also dealing with the pain of losing a loved one.

ADVERTISEMENT - CONTINUE READING BELOW

PHOTO BY

Julie Anne Villostas-Apalisok

"In your pain and grief, know this:  there is hope even in the moments as if all hope is lost. No matter how lonely your journey may seem, you are not alone... He hasn't left us to get through this intense pain alone. He is with us. There is hope even if it seems like all hope is lost — reason we can still grieve with hope."

She adds, "I am sure that God will use our experiences to make us more like Him, to teach us to trust Him, and to give us the ability to comfort others."

Letting Go Of An Angel

Like Julie Anne, Sarah is also a grieving mom. In an interview with Smart Parenting, she told us about her loving angel in heaven, Alonzo Gokian.

Alonzo, or "Baby Zo," is Sarah's second child. She says Baby Zo was diagnosed with Global developmental delay when he was 10 months old. By February 10, 2021, Baby Zo was rushed to the emergency room, and that was when they found out that his body was already battling several infections and diseases.

ADVERTISEMENT - CONTINUE READING BELOW

PHOTO BY

Sarah Cocuaco-Gokian

Like any mom who would be in that situation, Mommy Sarah refused to give up fighting for her baby. "As much as I can, sabi ko lang, 'I was feeling na he can still be healed from everything that was happening."

RELATED: How to Cope with the Loss of a Child

Sarah, like Julie Anna, made faith as her anchor, "Siyempre as a mom, that time, I felt na I need to be strong. But andoon din 'yung...Wala naman kaming ibang panghahawakan. All we have was Jesus Himself."

The mom did not deny the presence of fear and worries, especially when Baby Zo went into a coma. There was also the financial dilemma when the hospital bills started piling up.

"There was fear, pagod, sobrang pagod. and minsan natutulala lang din kami kasi hindi namin alam what's happening even the doctors do not also know what was happening," Sarah shared.

ADVERTISEMENT - CONTINUE READING BELOW

Three weeks after Baby Zo was hospitalized, the pain, and the questions were replaced with grief when he passed away and "went with our Creator."

RELATED: How Does One Find Good in Grief?

It's been over a year now since Baby Zo became an angel. Mommy Sarah still tears up at the memory of her sweet boy, but now she finds peace in knowing that Baby Zo is in a much better place with God, "but of course not to say na hindi namin siya nami-miss. Every day I miss him."

PHOTO BY

Sarah Cocuaco-Gokian

Last December 2021, Sarah received a portrait of Baby Zo from her husband. "Noong una ayaw ko kasi sabi ko, 'Maiiyak lang ako parati.' But you know what it really helped to have his photos there kasi parang andon lang siya."

Sarah draws her strength in knowing that she will be reunited with her child at the right time. But until then, Sarah will keep Baby Zo in her mind as she continues to raise her first child Jesse and another baby on the way.

ADVERTISEMENT - CONTINUE READING BELOW

"Hindi ka man maka-move on, but you can move forward."

In finding purpose while grieving, Sarah says, "Ang prayer ko lang din, [is that] I can also be a blessing, administer to other moms who have experienced loss and who are also grieving. It's also not to disregard that alam ko each of us has different beliefs and faith.

"But for us, the truth that we hold on to is the truth that Bible says that someday we can be with our loved ones. And if we dwell on that, there can be hope...then it can be easier."

This way, Sarah tells parents who are also coping with a loss of a child: "Hindi ka man maka-move on, but you can move forward."

RELATED: Couple Turned Grief Into Gratitude After the Death of Their Baby

Julie Anne and Sarah's stories are of accepting and moving on from pain, but most importantly, it shows how their grief unfolds a newfound appreciation for life and for motherhood.

They may be marked by grief for life, but if the pain lasts forever, it only means that it's their love for their little angels also lasts forever.

There's no telling when they or if they ever are going to celebrate a Mother's Day devoid of any pain, but even without it, both Julie Anne and Sarah know in their heart that they don't need a single day in a year to honor and celebrate the strength of every mom out there.

Notes On Healing While Grieving

Julie Anne generously shared four things that are helping her along her journey of healing while grieving.

ADVERTISEMENT - CONTINUE READING BELOW

1. Facing my feelings

"Personally, I found that meeting my pain face to face, accepting it, and dealing with it head-on has helped me to properly heal. There is no way around grief but through it."

2. Expressing my emotions in creative ways and keeping up with my hobbies and interests

"I found that getting my emotions on a paper helped me acknowledge them. It has helped me make peace with the waves of emotions that came with my grief. Writing, painting, journaling, and learning to play the piano became immensely helpful."

3. Praying and listening to worship songs

"During the most painful season after my pregnancy losses, I spent long hours alone with God, praying and crying to Him. Grief can draw us closer to Him, the One who can truly understand our pain and heal us."

4. It's okay not to be okay

"It's okay to take time to step back and simply process the reality of the losses I've been walking through. Giving myself permission to feel all of my emotions, from anger and tears to joy and laughter.

I also attended counseling sessions with a professional grief therapist and have attended healing classes. Going to therapy is not a sign of weakness or loss of faith."

READ ALSO: Artist Creates Lifelike Baby Dolls To Help Moms Cope With Child Loss

What other parents are reading




Celebrate your pregnancy milestones!


Enter your details below and receive weekly email guides on your baby's weight and height in cute illustration of Filipino fruits. PLUS get helpful tips from experts, freebies and more!

You're almost there! Check your inbox.


We sent a verification email. Can't find it? Check your spam, junk, and promotions folder.
Trending in Summit Network