Beyond Cute! Arellano Siblings, Heussaff Cousins Have Familial Bond That Inspires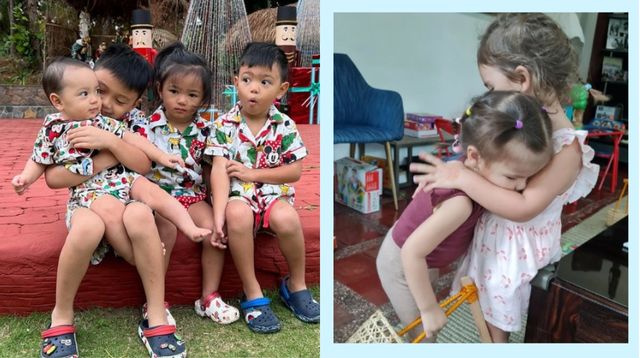 For kids, having someone—a sibling or a cousin—to play with is always fun. This is also a great way to form a bond between siblings or cousins. In fact, research shows that people who are emotionally close to their siblings (or cousins, perhaps) have higher life satisfaction and lower rates of depression later in life.

Meantime, here are some of the cute and adorable kids who never fail to send out good vibes whenever their celebrity parents post about them on social media.

Arellano siblings

Drew and Iya with their kids Primo (center), Leon (getting a hug from Primo), Alana (carried by Iya), and Baby Astro (carried by Drew).

PHOTO BY

Instagram/drewarellano

Drew Arellano and Iya Villania's brood of four—Antonio Primo, 6; Alonzo Leon, 4; Alana Lauren, 2; and Astro Phoenix, almost 1—entertain just by being themselves. They are especially adorable while interacting with one another, whether for usual playing or unintentional kulitan.

ADVERTISEMENT - CONTINUE READING BELOW

The Arellano siblings can be quite endearing, too, such as the time Alana, nicknamed Duday, accidentally kicked Leon's face. She immediately said sorry to her kuya and gave him a kiss. Awww! (Read Iya's secret to raising four kids here.)

Bacarro brothers

The Magalona-Bacarro family: Saab carrying Pancho and Bacarro carrying Vito.

PHOTO BY

Instagram/saabmagalona

Saab Magalona and Jim Bacarro's two sons Pancho Gerardo, 5, and Vito Tomas, 3, have shown to have inherited their parents' musicality and showmanship (also from their late grandfather Francis Magalona).

The brothers get excited when they hear music. They sing or hum along with the song and, in the case of little drummer Vito, simulate playing.

Vito can also be quite endearing with how he supports Pancho, who has special needs. He helps assist and gives encouragement to his kuya during therapy sessions and other activities. (Read here Saab's secret for the brothers' harmonious relationship.)

 

Francisco sisters

Melai Cantiveros and Jason Francisco with their daughters (second row, L-R) Mela and Stela.

PHOTO BY

Instagram/mrandmrsfrancisco

Melai Cantiveros and Jason Francisco's two daughters Amelia Lucille, pushing 9, and Stela Rosalind, almost 6, undoubtedly took after their parents' exuberant personalities and comedic timing. They surely made chicken nuggets completely exciting to eat, for instance.

The sisters also show great interest and talent in music, as they create and perform their own songs.

Amelia, nicknamed Mela, and Stela also know how to model and have actually been tapped by an international garment chain. They love to dance, too. But they also prove to be just as discipline (read here how they are taught by their mommy Melai).

Heussaff cousins

Thylane Katana Heussaff Bolzico's mother Solenn Heussaff and Dahlia Amelie Curtis-Smith Heussaff's father Erwan Heussaff are siblings. That makes the two girls, who were born barely two months apart (in January and March 2020, respectively) first cousins.

ADVERTISEMENT - CONTINUE READING BELOW

Thylane, nicknamed, Tili and Dahlia are so close that can be sisters. Dahlia, so far, is an only child, while Tili has a baby sister Maëlys Lionel. They also inspired their moms Solenn and Anne Curtis, respectively, to put up the kids' apparel brand Tili Dahli with the cousins as the main models.

Tili and Dahlia sure love to hang out together, just like in their grandparents' house.

Tili and Dahila also love to travel with the whole family. They went to Boracay when they were still babies and already besties (read here), and from there, to other Asian countries and several nations in Europe.

Read here on why your children can benefit a lot from being close to their cousins.




Trending in Summit Network