This Airbrush Artist Gave Sick Kids A Good Dose of Awesomeness

The little ones needed a self-esteem booster after everything they are going through.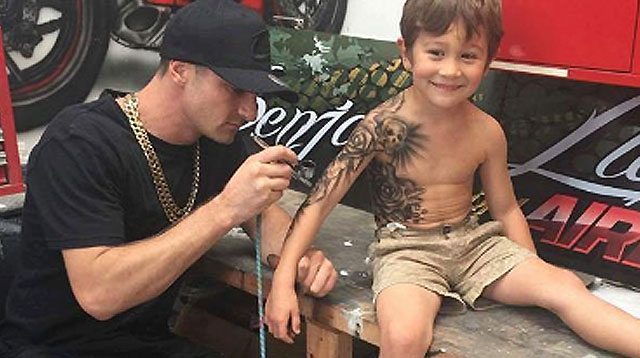 We can already see your head shaking before we even finish saying tattoo, but, we promise, you wouldn't mind these tattoos.

When tattoo artist Benjamin Lloyd of New Zealand posted on his Facebook a photo of him airbrushing a tattoo on a friend's 5-year-old, it came with a promise: if his post would get 50 likes, he'd tattoo all the sick kids in Auckland's Starship Children's Hospital. Challenge accepted: He woke up the next day with 400,000 likes and just under 10,000 comments for his post.
 

ADVERTISEMENT - CONTINUE READING BELOW

More from Smart Parenting
Benjamin did well on his promise. What started out as a challenge ended up giving sick kids at a hospital a much needed dose of happy in the form of tattoos--washable, organic, and non-toxic in case you're raising an eyebrow. Look at the smiles on these kids!
CONTINUE READING BELOW
Recommended Videos
ADVERTISEMENT - CONTINUE READING BELOW
"It's just amazing watching their confidence and their ego boost up," Benjamin told Mashable Australia. The kids chose their own designs, and it took take less than 10 minutes to finish. (Yes, he's an airbrush pro like that and he uses stencils, too). He also said the little ones were so amazed when they were getting airbrushed because of the tickles the cold air blowing on their arms. "The only bad thing is that they don't want to take a shower afterwards," he quips.
Benjamin's ease in working with kids and sharing his art to them probably came from a childhood where he was bullied. He shared with the Stuff NZ that he was bullied in school for a bad burn. He had a skin graft done with his bum skin  on his hand to help it heal. "I was teased every day at school and so I would draw over my hand and up my sleeve." 
ADVERTISEMENT - CONTINUE READING BELOW
More from Smart Parenting
Benjamin racked up 465,000 reactions and more than 250,000 shares for his good deed. Most of the comments came from parents of sick kids asking him to "ink" their child. Many others offered him kind words of thanks and lauded him for his work. "You are an awesome person! Those kiddies will remember that all their lives.... 'The day that cool guy came in and gave them tattoos' what a beautiful gift to give," wrote Tash Simpson. Others even want to donate to his cause.
Rwanda Vasser, a nurse who works with children said, "Just want to say you rock.... and as much as my daughter is in and out the hospital as she loves stick on tattoos she would love this and [definitely] be in line keep inspiring young artist and your work is beautiful!"

An added bonus to Benjamin's project is other airbrush tattoo artists are volunteering their help. It looks like he will need the extra hands. Benjamin hinted that he'd continue his project as long as netizens like the photos of the sick kids he had airbrushed.  
ADVERTISEMENT - CONTINUE READING BELOW
Follow Benjamin's Facebook for more updates.
More from Smart Parenting

Trending in Summit Network