How I Learned That Everyone Is a Version of His Father

"[Your lolo] was never given the chance to be a tender, loving dad. Being cruelly honest was the kind of parenting he experienced form his own dad."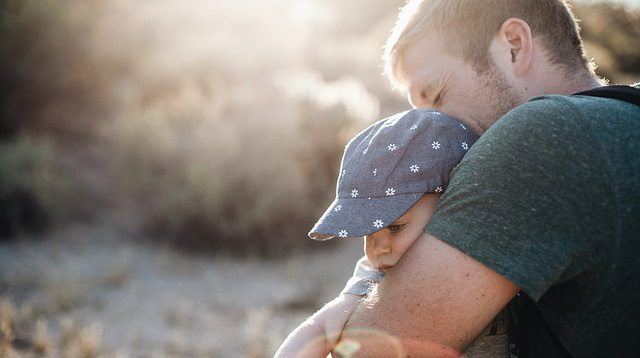 In the new book, Letters to My Children, 35 parents, from showbiz actors to athletes to politicians, write to their kids to impart wisdom, affirm their love, and share words of encouragement on how to embrace the future. It is probably one of the few times you'll see these public figures at their most joyful, hopeful, and, yes, vulnerable. 

One of the letters featured is by Brian Adrian H. Borleo, who describes himself this way: When not dumping more content on the Internet, he stays home and enjoys the company of his three rambunctious children.

Brian tells his kids about the biggest challenge he's ever faced -- parenting, through the tales of four generations of fathers. This is his letter in full.  

To my children,

I first thought of writing you this letter when I first learned I was clinically obese. I was a hundred pounds overweight. As I write this, I'm 120 pounds over. I'm not proud of it, but I vowed to myself that I will do something about it. I want to see you all grow up. I want to give my daughters—that's you, Ate and Bunso—away at the altar. But just in case something happens, and I'm no longer around to tell you these stories by the time you're old enough to understand it—well, I'm a writer, and writers write. 

There are a lot of things I could teach you. But probably it's best that I share with you how I chose to tackle the biggest challenge I've ever faced in my life: parenting.

So here goes. 

ADVERTISEMENT - CONTINUE READING BELOW

What other parents are reading

"Efren, sa panget mong iyan, kung hindi ka mag-aaral, ang mapapangasawa mo, panget din. Ang magiging anak ninyo ASWANG!" 

Your lolo, my father considers that to be the greatest lesson/threat your great grandpa (my lolo) ever gave him. Your lolo wasn't an exceptional student, but he was someone you would call "marunong." He was both book and street smart, but around his senior year in high school, he was letting his affinity with the streets take hold of him. He was spending more time at the pool table than the classroom, hence that threat. 

With that in mind, your grandpa devoted more time for school, went to college, graduated from a state university, passed the board exam for his chosen profession, got married to an equally-educated woman, got a job, and had three non-monster kids, whom he could afford to buy a house for and send to reputable schools. And, although he might never say it, he was able to achieve all that because of your lelong. 

That's what it takes to be a parent. You have to have the guts to tell your kid if he's f****ng up. Sure, you'll rain out praises here and there, but you'll have to be mean sometimes. Especially if you don't want your kid to be the neighborhood's tambay, or worse, someone's bitch at the city jail. 

Some people would call what your lelong said cruel. But in his defense, he was never given the chance to be a tender, loving dad. Being cruelly honest was the kind of parenting he experienced form his own dad. 

Your great-great-grandfather was a machinist and caretaker at a hacienda in Nueva Ecija. He was only able to finish high school but was brave enough to start a family—he and your great-great-grandmother had seven kids. 

CONTINUE READING BELOW

Recommended Videos

What other parents are reading

Actually, bravery was his best trait. During the World War II, he joined the local guerilla forces fighting against the Japanese. He rose through the ranks, becoming captain and joining the United States Army Forces in the Far East. He was known to make tough decisions, often doing so to strike a point. For instance, upon learning that one of his cousins provided information to the Japanese—the proper terms for such spies/traitors was "makapili"—he ordered his cousin's beheading. 

A few years after he left his family to fight, his oldest son, your lelong, who was then only 13 years old, followed him to the mountains. And so the latter part of your lelong's so-called formative years were spent hiding from enemies, stalking enemies, getting shot at, and the occasional killing. Perhaps only those who grew up in totally bad-ass places—like the ghettos in Hollywood movies—would understand how disturbing this could be for a young mind. Your lelong's father, however, refused to make war easier for his kid. Instead of requesting for his son to be assigned to his command, he allowed his son to be stationed two provinces away from him. The message was clear, "Magpakalalake ka." 

The lesson didn't stop there. A couple of years after the war ended, your lelong was charged with rape by the family of his then girlfriend, with whom he eloped. Although his father was by then employed as the bodyguard/aide-de-camp of President Manuel Roxas, he chose not to use whatever clout he had to protect his son.

"Hinayaan niya ako makulong para raw magtanda ako," recalled your lelong to me once. 

After getting out of jail, your lelong briefly went to college, got married, had four kids, and chose the profession he grew up knowing. He became a policeman. 

-----------------------

The typical Pinoy grandfather is hip, wise, generous, and will condone anything an apo does. 

In short, they're cool.

When I hit puberty and began exploring other forms of entertainment, lolo and I had a routine "viewing" sessions. He was staying at our place at the time. Coming home from school one day, I heard a loud moan from my room's window. When I got to my room, I saw my lolo watching one of my videos. "Hindi mo sinabing may bago ka pala," he said after I barged in. 

On women, he had this to say: "Bago mo galawin, siguraduhin mo munang may pruweba ka na magkasintahan kayo." When I scoffed at him, he reminded me of the tattoo in his back, which he got when he was imprisoned: a topless woman, below her is the phrase, "Taksil ka, Nene."

And whenever my parents didn't give me extra baon because they knew I was going to spend it on dates, my lolo, who was always aware of whatever my parents and I argue about, was always there to help. 

ADVERTISEMENT - CONTINUE READING BELOW

What other parents are reading

In contrast, fathers, especially for teenagers, are just downright pain in the ass.

Although my dad tried to be cool about certain things (after my mother discovered my stash of porn, he told me, "Huwag ka kasing nag-uuwi ng ganoon sa bahay. Ako nga, nasa opisina lang." And after my mom discovered my stash of condoms, he advised, "Tama 'yon, mag-condom ka para 'di ka makabuntis nang maaga."), there were certain aspects about life that he never, ever was calm about: 

Whenever my grades dipped, my father showed his disappointment by always saying, "E kung 'wag ka na lang kaya mag-aral." I always thought about that whenever I took an exam
When I didn't bother telling anyone that I was spending the night at a friend's house, he welcomed me the next day with a right straight to my chest. From then on, I made it a point to ask permission. 
When he learned that I took the family car the night before and drove around our village, he got so mad that he wept. Later that day, my mom told me that he was afraid that I might get into an accident and be sent to jail because I didn't have a driver's license. The very next day, he drove me to the nearest LTO office. 
And when I got your mom pregnant right after finishing college and told them of my intentions of getting married, your lolo said, "Bakit, kaya mo na ba?" Almost a decade later, I'm still trying to prove to him that I can provide for my own family.

ADVERTISEMENT - CONTINUE READING BELOW

-----------------------

I was a nervous wreck an hour before all of you were born. I always planned everything I was going to teach you: how to dribble and shoot a basketball; how to swim; how to choose the music you'll listen to—rock 'n' roll, hip-hop, RnB, and maybe some love songs but never those by David Pomeranz; how to choose the films you'll worship and hopefully learn something from (The Godfather, Pulp Fiction, and anything starring TVJ); how to pick your lifelong friends; and, most importantly, how to tell if the person you're falling for is a maputi-lang-kaya-may-hitsura type of the type who'll still catch your attention when she's old and wrinkled. 

I wanted you all to be funny, smart, and athletic. I wanted you to be someone who everyone knew and liked. 

And then it hit me: Does that s**t really matter?

Actually, it might. But you wouldn't really know until the right time comes. 

That's vague, I know. But I do know that when Kuya and Bunso weren't walking at 10 months old, I wasn't worrying about your future choice of music. That when none of you couldn't identify the color red from the color blue at one year old, I couldn't care less if you all watch rom-coms all your life. And although you all seemed to have a fondness for sports at 3 years old, I was more worried about your ability to speak clearly. 

What other parents are reading

I'm also worried that I'm starting to become my father. But when you think about it, everyone's a version of their father, who's a slight version of his father and so on. It's up to us if we become a complete remake of the man or an "inspired by" version. 

In their own ways, my father, my grandfather, and my great-grandfather were all worriers. And I'm taking a somewhat similar path as them: We let our children choose who they will become (in my case, it's are you a Nickelodeon or a Playhouse Disney kid?). And once they've made their choices we'll have to endure seeing them suffer if it turns out to be a mistake and hope that they'll learn from it. (After I taught Kuya how to use utensils, he insisted on eating the next meal on his own. And despite my warnings to "blow at it first," he put a mouthful of newly cooked soup to his mouth. It burned his tongue. For the next six months, before every meal, he would ask, "Mainit?") It will be painful. Maybe even expensive (read: medicine, therapy sessions, bail money). But as long as you believe that you gave them the guidance they needed, you just have to hope that everything will work out for the best. 

------------------------

If I'm no longer around to make you feel all these, I sincerely hope that you've faced enough challenges in your life to mold you into a BETTER version of me. 

Worry. Love. Work hard. Then I believe that everything will turn out okay. The same way I believe that I have it in me to make sure that you will never have to read this letter in your life. 

Dad



Published by Summit Books, Letters to My Children (P295) is available at your favorite book store.

ADVERTISEMENT - CONTINUE READING BELOW

Celebrate your pregnancy milestones!


Enter your details below and receive weekly email guides on your baby's weight and height in cute illustration of Filipino fruits. PLUS get helpful tips from experts, freebies and more!

You're almost there! Check your inbox.


We sent a verification email. Can't find it? Check your spam, junk, and promotions folder.

Trending in Summit Network