Dr. Belo: 'I Had So Much Love To Give That I Really Wanted A Baby'

She talks about having a partner who supports her in raising their daughter and making a career out of her passion.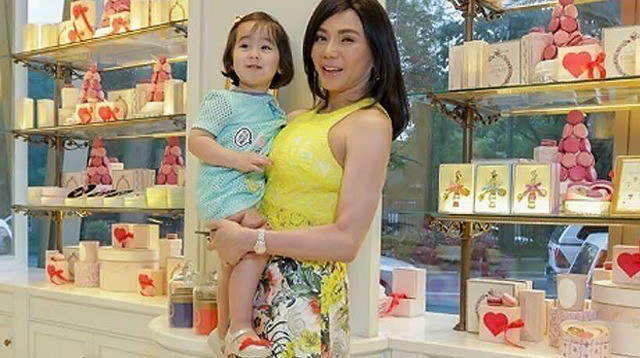 We all know Dr. Vicki Belo, the celebrity dermatologist who has established an empire from making people beautiful. But did you know that it was a bleak childhood experience that motivated her to find success in her chosen field?

Vicki, who's also a mom of three, was one of the women panelists at the #WomenWill event at Google Philippines on International Women's Day. The acclaimed doctor talked about carving a career out of her passion and dealing with gender inequality in the workplace, as well as expriencing motherhood again with the arrival of her daughter, Scarlet Snow, with partner Hayden Kho. 

How did you decide on your chosen career?
I started my dream when I was only five years old. I was bullied as a child, because I was a hundred pounds when I was seven. You know, I was adopted. I was born to a Victoria Cancio, and mom's sister didn't have children for eight years, so she asked if she could have me. So I became a Belo, which is, for me, God-sent, because Belo means "beautiful" in many languages. So parang I really was born to be a doctor of beauty and a doctor of bringing light to people's lives.

ADVERTISEMENT - CONTINUE READING BELOW

[As a child], people kept teasing me, [saying] the reason why they gave me away was because I was ugly and I was fat. So at five years old, I made a decision: "Okay, I will make everybody beautiful and everybody sexy para they will be loved, they won't be given away. I didn't know how to do it, but I knew that's what I want and what I was going to do. The plan was, "How do I make people beautiful?"

Have you ever experienced gender inequality in your field? If so, how did you fight it?
I know a lot of male cosmetic surgeons who have big tummies, warts on their faces… They don't seem to care how they look, but they're not being questioned at all. For me, the reason I really got into dermatology was because I had bad skin. So I figured, "Sige na nga. I'll find a way to cure myself." But why am I held to different standards? I would always say, "Bakit sa men, no expectations to look good? But for women…" In fact, they would make fun of me when I was a resident. Parang, "You don't belong in derma. Your skin is so bad and you're taba."

[But] I can identify with my patients; I feel their pain. That's another difference. The men doctors, when I talk to them, they kind of laugh at women. We have a little scar, parang it bothers us, the thing we see in the mirror. And I always say a millimeter scar on the face is a kilometer scar in the heart. We understand that. Men don't get it. They think we're so overacting—parang "'Yan lang, it bothers you? Okay fine, I'll fix it." Pero walang heart. So I think [we should] always turn a negative into a positive!

CONTINUE READING BELOW

Recommended Videos

What other parents are reading

What's your advice to women who feel pressure from society to act a certain way, especially in terms of settling down and having a family?
In my personal space, Hayden and I have found a place where he's such a wonderful dad. But he's really the hands-on dad; he contributes a lot. We have a thing where, although I'm the woman, I'm more the male energy. And although he is a man, he loves taking care of Scarlet.

The secret here is to get men involved. They do want to. They miss a lot by not being there with their kids. We've all taken over their space; they're supposed to be the breadwinners, and now, we have women bosses. And yet they don't have a place in the house. It's up to us to expose them—"Hey fathers, can you please be more involved in your children's lives?" And children need two parents; they don't need just a mother, right? Especially the boys. You cannot be what you don't see, so please let them see a father who's caring, loving, and still a breadwinner at the same time.

ADVERTISEMENT - CONTINUE READING BELOW

Given technological advances like gene splitting, designer babies, and cosmetic surgery, where do ethics and religion come in?
"I was already Christian when we had Scarlet. [Hayden and I] actually planned this 12 years ago. I had so much love to give that I really wanted to have a baby. Because when I had Quark and Cristalle (Vicki's children with Atom Henares), I was in medical school, I was taking exams. You know, they were around me, but I didn't really enjoy. So I thought, It's a great time to have children now, because I have time and I have money, so I'm not gonna be groping, trying to make a living.

The nice thing about this whole surrogacy thing is they do a lot of genetic tests to make sure that everything is okay. We had two embryos that were very healthy, and we were hoping for twins, but I only got Scarlet. I had to consult with a pastor from Victory, and you know, it's not in the Bible, obviously. But I said, "Am I doing anything wrong here?" And what he said, after all the research, was, "Well, as long as you have your own egg, so that's great. But if you had to take one from Cristalle, that would not be right for her and for the baby. Because then, are [the baby and Cristalle] sisters or mother and daughter?" There's no problem with what we did.

What other parents are reading

What are you doing to make your business more accessible to more people?
From Belo Medical Group's point of view, we help people with birth defects and we do that for free. Number two, Belo Essentials skincare was really put up for that. Kasi whenever we'd go to supermarkets or restaurants, the waitresses would say, "Ma'am, wala ba kayong pang level namin? 'Bat puro na lang pangmayaman?" So we came out with really good products perfect for Filipino skin—first, whitening, then, for pimples. So it feels more accessible.

ADVERTISEMENT - CONTINUE READING BELOW

Actually, our prices [at Belo Medical Group], we're very mid. All the people think we're expensive; it's kind of good, because they think we're high up there, so it must mean we're expensive. But we really are the base mark. But you know, we do it right.

How has social media benefited your business?
It's a great way to stay in touch—direct contact with the end consumer. For me, I really want to do more digital stuff. I keep saying, "Why are we still doing traditional? All these billboards, TV, etc." Dapat talaga digital na, kasi we can communicate better. It's helped us a lot. But I think we're just in the very grade one level. There's so much more to go, so we're going to try to learn more.

This story originally appeared on Cosmo.ph.

* Minor edits have been made by the Smartparenting.com.ph editors.

Trending in Summit Network