Kasya Ba Ang P50K Sa Church Wedding? 10 Tips Kung Alin Ang Pwedeng Tipirin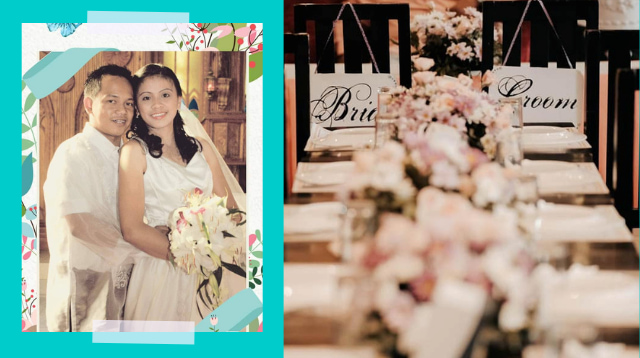 They said it's every woman's dream to have a grand wedding. After all, it only happens (at least) once in our lives. However, with the gas prices going up, and amid a pandemic, some couples are choosing to be practical than to splurge when it comes to their wedding ceremonies.

In the Smart Parenting Village, an anonymous parent asked for tips on how they can manage to have a church wedding given a P50,000 budget. Parents in the comments section say, 50K is more than enough! Well, this couple spent only P15,000 on their wedding!

Here are some of the top tipid tips from the parents.

10 tips for a church wedding on a budget

1. SKIP full entourage; GO for an intimate one

If you and your groom come from big families, you might find this challenging. But the SPV parents say, having a lean guest list means less expenses.

Natalie Donato said, "Intimate nalang. Parents and siblings. Your friends will understand. Your relatives, baka hindi, pero basta happy kayo."

READ ALSO: 10 Gorgeous Venues For An Intimate Wedding In Antipolo

Paula Andrea shared a tip when trimming the list, "Invite mo lang yung mga taong sigurado kang nandyan sa hard times n'yong mag-asawa.

A good practice would be asking your guests to RSVP or confirm with you ahead, so that you will have a final headcount and even let others join in the place of those who cannot attend.

2. SKIP expensive venues; SPEND on good food 

Parents suggest to hold the reception at home. That is, if you have the space for it. Considering the final headcount, can you hold your reception at home or in a venue that you could use for free?

ADVERTISEMENT - CONTINUE READING BELOW

READ ALSO: Viral 'Isaw' Wedding With Drive-Through Reception Costs P10,000

If yes, you can splurge on the food instead, by ordering from party trays or lutong bahay caterers.

Jygz Flora shared a tipid tip, if you have willing family members who can cook. "Kung probinsya, merong mga catering service na serbisyo lang talaga at gamit. Hindi kasama yung luto. Magtulungan nalang sa luto."

Jygz Flora shared, "We got married December 22, 2009 sa St. Joseph the Worker Parish, Pacdal, Baguio City. Kung saan kinasal sina Charlene Gonzales at Aga Muhlach. Yang wedding gown ko po, ukay-ukay lang sya."

3. SKIP hiring wedding staff; GO for DIY

If you are keen on having a budget church wedding, then you might want to take on the wedding coordinator role. Then, you can also ask your friends if they can take on the other important roles, such as emcee and wedding singer. It won't hurt to ask, but make sure that you brief them accordingly before the wedding about their roles to avoid problems.

For Geraldine Malinnag, the key is to allot a long time for wedding preparations. "Ako bumili lahat simula damit, flowers sa Dangwa, customized shoes for hubby sa Marikina, etc. Maglaan ka ng mahabang time. Mas mahabang time, mas makakatipid ka."

"Every sahod may bnbli ako paisa isa and nababawasan yung nasa list ng things to buy."

PHOTO BY

GERALDINE MALINNAG

4. SKIP full ceremony; GO for wedding rites only

Mommy SL shared this tip that maybe not everyone knows. Basically, it's a church wedding without the entourage, decors, and choir. According to her, the requirements are the same, and it would only cost you P2,500. "Ganyan ginawa ko. Same requirements: birth certificate, baptismal certificate, and CENOMAR. You may inquire with your parish if they offer this service.

Mommy SL let go of the full entourage, and went with the wedding rites only to save costs

ADVERTISEMENT - CONTINUE READING BELOW

Mommy Arni Cap went for this too, "Ganito kami kinasal ni mister. May aras, candles, veil, and cord pero relatives lang namin. Naka-white lang akong bistida, si mister naka-3/4 lang tapos family lang. Naglakad pa din ako sa aisle. Parang civil [wedding] lang ang datingan."

You can also inquire if there is an upcoming Kasalang Bayan, which can also be cheaper than having your own ceremony.

5. SKIP buying gown and suit; SPEND on hair and makeup

Since the wedding gown and suit will only be worn once, some parents prefer that you rent these out, given the tight budget. 

Mommy Jygz shared that her wedding gown was from ukay-ukay, while Mommy Arni got her silk gown from Divisoria. This bride wore her mom's wedding gown, she just had it altered a bit.

Mommy SL shared, she got her gown from Divisioria for only P900.

If there's something you will invest on, since you'll save a lot from buying a custom wedding gown, it's your hair and makeup. 

ADVERTISEMENT - CONTINUE READING BELOW

READ ALSO: Couple Gets Married in T-Shirt And Jeans After COVID Forces Them To Cancel Their Wedding

6. SKIP fancy giveaways; GO for creative and useful gifts

While it's tempting to spend on fancy giveaways that your guests will love, one mom shared a hack that would save you money yet impress your guests.

She suggested giving out a gulay bouquet, which is a practical yet useful gift that your guests can take home.

READ ALSO: Love Ko 'To! This Couple Got Married At McDonald's, Happy Meal Ang Giveaway

7. SKIP printed invites; GO for a digital invitation 

Printed invitations are lovely, especially if you want a customized one with scent and glitters. But these would cost you a lot, not to mention the costs of sending these to your guests - whether personally or through courier.

A tipid tip is to create a Facebook event for your wedding, and simply add the guests there for them to be notified.

You can make use of free layout websites to create the invites and print a few for your principal sponsors if you like. But if they are techie, a digital invitation won't hurt. Just make sure to include the complete details of your wedding to make sure that they will arrive!

8. SKIP peak dates; GO for off-peak wedding dates

"Hangga't maaari wag December," a mom said. She's talking about the rates especially of venue rentals if you decide to have your wedding on peak months. 

9. SPEND on good photos and videos

ADVERTISEMENT - CONTINUE READING BELOW

Parents emphasized the importance of having great photos during the wedding. After all, these are what you can look back on after the wedding. 

But if you need to cut costs on this, you can look around your network if you have a photographer and videographer friends who can give you a discount. It won't hurt to ask. 

10. Focus on the goal

Lovejoy Godinez-Dizon said it best, "Focus on the goal. Keep it simple."

Tipid wedding or not, at the end of the day what matters is fulfilling the vow that you and your partner will share for the rest of your lives.

READ ALSO: Simple Ngunit Makabuluhang Civil Wedding Sa Halagang P27,800

'The simpler, the better'

While these tips may sound too good to be true to you, here's a proof that you can make it work.

SPV member Mitchie Jasareno generously shared the details of her budget church wedding. According to her, they did not follow the traditional wedding rituals, so they were able to save a lot.

We had 18 guests only.
No printed invitations
No wedding souvenirs
Host was a friend
Dried flower ang ginamit, not fresh flowers (pwede ka po mag DIY)
Wedding outfit namin sa Divisoria lang
Yung venue namin, kasama na ang food at decoration
Make-up, pwedeng ikaw na rin po mag make up sa sarili mo po make it light lang
During wedding nakikipag coordinate rin po ako
Ako na rin gumawa ng program, di ko sinunod ang usual program ng weddings
Kahit wala na sigurong wedding cake, di naman siya masyadong papansinin
Sa wedding ring kami mas nag-invest (long time kasi ito)

ADVERTISEMENT - CONTINUE READING BELOW

This is how her wedding looked like:

PHOTO BY

MITCHIE JASARENO

According to Mitchie, they spent around P80,000, all in all. But it was a double celebration - their wedding and their son's birthday.

In the end, she said, "Huwag niyo na pong bonggahan, do not invest sa hindi masyadong importante. The simpler, the better po." 

Do you have other tipid wedding stories? Send them to smartparentingsubmissions@gmail.com for a chance to get featured!

Trending in Summit Network