A Devoted Husband From Iloilo Shares Why 'One Woman Is Enough'

"We were two struggling souls who met and figured out a way to succeed together as a team."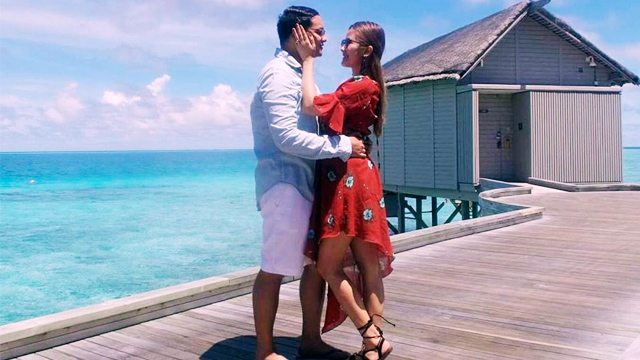 Kung gusto mong basahin ang nakasulat dito sa Tagalog, mag-click lamang dito.

They say love takes a lot of work, but it's a entirely different ball game when you are married and have kids. Caring for young kids can be exhausting that it's easy to forget that you and your partner also need to work on prioritizing your relationship over your children.

When you forget to nurture that relationship, it's easy to become vulnerable and fall for someone else. That's why one husband is speaking out about the most important thing he's learned about marriage: staying faithful to your wife.

What other parents are reading

On his Facebook account, entrepreneur George Bedia-Anas, 29, shared a heartfelt post about his wife, Chin, 27, that recently went viral.

"I grew up in a family where my mom and dad were not perfect, but they had a lasting marriage because they were both faithful to each other. Though they have had differences, they never resorted to actions that would jeopardize their marriage," he shares with SmartParenting.com.ph in an email interview. "When I wrote my post, the teleserye Halik was very popular, and I felt that I needed to share something encouraging — a positive perspective on relationships for young couples like us."

George's post has been shared more than 20,000 times and received over 59,000 reactions and 6,000 comments on Facebook. He gave Smart Parenting permission to post his letter in full below.

What other parents are reading

George admits that he and Chin had a problematic start because when they met, they were both already in a relationship with other people. Ultimately, they chose to be together.

PHOTO BY

courtesy of George Bedia-Anas

ADVERTISEMENT - CONTINUE READING BELOW

"Dear men,

"I want to tell you that one woman is enough.

"I met my wife six years ago in 2012 when I was at my worst. I was unemployed and bankrupt with more than Php2 million in debt. I didn't have a car, money, and a job.

"Despite these unfortunate circumstances, my wife stayed with me and helped me pick myself up and try again. We were two struggling souls who met and figured out a way to succeed together as a team.

"We got engaged in 2013, but it took us three years to finally get married.

"Our journey wasn't a bed of roses. No marriage is perfect. We discovered the worst in each other, but we still chose to stay together despite the ugliness and imperfections.

"If there's one very important realization I've had over the years, it's this truth: one woman is more than enough.

"Today, seeing husbands or wives having affairs becomes ordinary. Maybe because they think it's okay because everyone else is doing it. They see it in movies and TV shows, too. Maybe because they feel that their marriage isn't working, so it's fine to find someone else.

"I don't know how that works for them, but it takes fidelity in a marriage for it to flourish.

What other parents are reading

 

George and Chin tied the knot after three years of dating.

PHOTO BY

courtesy of George Bedia-Anas

CONTINUE READING BELOW

Recommended Videos

 

"Our marriage may not be perfect, but it has continually grown and we have achieved milestone after milestone. I attribute my success to my wife, who is beside me as the leader of our family and our business. I have gained God's favor and provisions no matter how difficult life has been. We have always made it through our hardest struggles because we have stayed together all these years.

"When you become successful, never let it go to your head. Money has always been an issue in relationships, but now that I've become a company CEO, all our income goes to my wife. She handles our bank accounts, she takes care of our finances, and she does it very well. Never treat your wife as an inferior and never feel superior over your wife. You are equal partners in your finances, as in your marriage.

"Just like any business, it takes checks and balances for us to have a healthy relationship. They say your phone is your personal property, and you have the right to privacy. I say, maybe when you were single. When you are married, you can't keep your phone's password to yourself and impose your right to privacy. If you're not doing anything wrong, I don't see a reason why we should withhold passwords from our spouse.

Transparency breeds honesty, honesty breeds fidelity.

"We've been married for almost three years, and I have never looked at another woman. Nobody can even sit in the passenger seat of my car except for my wife. Whether it's a close friend or a business partner, it's a 'no-no' for another woman to occupy my wife's throne. Like the game of chess, there is only one queen.

"I don't know what you're going through in your relationship right now. You may be struggling or having the time of your life as a couple. Whether you are newlyweds or married for years, I maintain the one-woman-is-enough rule. When you love and honor your wife, God will open the floodgates of blessings and provisions to your family. You will be successful in what you do, and you will live happier and longer lives."

ADVERTISEMENT - CONTINUE READING BELOW

What other parents are reading

George and Chin with their 3-year-old daughter.

PHOTO BY

courtesy of George Bedia-Anas

George shares after he and Chin got together, the two of them worked hard to grow George's business. George handles operations while his wife takes care of the finances. "Our biggest challenge now is being business partners on top of being spouses," he shares. "But business and marriage are pretty much the same — you need to be loyal to your partner, need to transparent, and you have to make sure to respect every decision and listen to what the other has to say."

Of course, some people criticized George for writing about marriage when he only tied the knot three years ago. But a great marriage isn't about how long you've been together, says George. "We're too preoccupied with reaching 10, 25, or 50 years but we don't focus on the quality of time spent with each other. You can be married for so many years, but [you realize] the love and affection are not present anymore," he shares.

The couple has one daughter, Serena, 3, who is partly the reason why George wrote the letter. He wants Serena to see what a loving marriage looks like while she is growing up. "When children grow older, they eventually mimic what they witness during their childhood," he says.

But no marriage is perfect. "We are a work in progress. But as long as we listen to each other and have God in our marriage, no challenge can stand in our way."

ADVERTISEMENT - CONTINUE READING BELOW

What other parents are reading

Celebrate your pregnancy milestones!


Enter your details below and receive weekly email guides on your baby's weight and height in cute illustration of Filipino fruits. PLUS get helpful tips from experts, freebies and more!

You're almost there! Check your inbox.


We sent a verification email. Can't find it? Check your spam, junk, and promotions folder.
Trending in Summit Network