The Search for the Father I Never Knew Showed Me I Could Forgive

"All I wanted was to know if this person existed, that I actually had a father."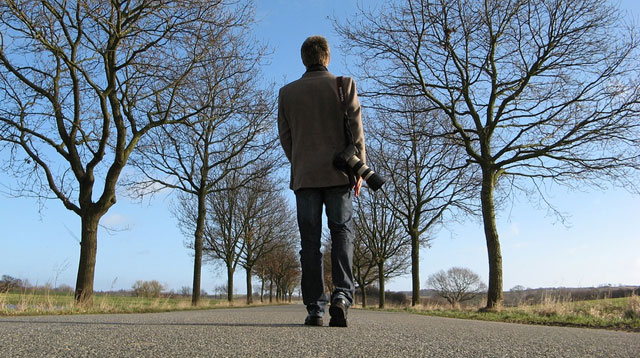 This was all I knew of my father growing up: his name, where he lived at one point (La Loma), where he used to work (at a petroleum company), that he left us to go to the United States, and what he played (darts and the guitar). I also had one photo of him, taken in the 1980s. 

My father was already out of the picture by the time I was born. My classmates often wondered where he was, of course, especially on "family days" at school. I didn't really mind nor was I jealous of their families. I didn't rebel kasi maaga pa lang alam ko na ang dahilan kung bakit kami iniwan.

And then at the age of 7, I wasn't living with my mom anymore. She got married, had kids, and the situation made it even more difficult to get details about my father. I was raised by my mother's youngest sister, her husband and my grandmother. One of the most influential male presence I could remember at the time was my grandmother's brother-in-law who was an official photographer for the Girl Scouts of the Philippines. I would like to think I got my passion in photography from him, seeing his cameras and photos mounted on the walls of our house.  

Going from house to house
It was after my high school graduation in 2000 when I just felt the urge to look for my father. I asked my mother again for more details, and the only thing she was willing to share was the street where he used to live in La Loma. So I asked a classmate if he knew how to get there and together, we went from house to house, showing residents the lone picture I had of my father. It was literally a street that went forever, and we were told it was going to take us the whole day to get to the end. 

I wanted to give up when we came upon an intersection where there was a sari-sari store. May nag-iinuman kasi; natakot ako. But my classmate insisted we approached the men and show them my father's photo. They actually knew him including the sari-sari store owner and were even friends of his family. They told me the location of his family's apartment and the name of my grandfather. They knew of my father's wish for the whole family to migrate to the U.S. 

These friends of my father gave me the number of a former girlfriend. I called her a week after, and she wanted to meet me. At a mall restaurant, she seemed happy to see me, and even introduced me to her daughter and apo. She said I looked exactly like my father. She even reprinted the only photo I have of him so she could have a copy. She wanted to help me pero hindi rin niya alam paano. I lost touch with her when I got busy with college studies. I also stopped looking for my father.  

Still searching
In January 2011, 11 years after I walked the street where my father lived, my mother died due to kidney failure. I also saw a magazine cover with Angelica Panganiban, and the headline said she found her long lost father. Why that pushed me to look for my own again I can't really explain. But I dived into Google and started feeding the name of my father's father that his friends gave me to narrow down my search (my father's name was too common).

True enough, I found his obituary in an online magazine based in Staten Island, New York. It described him as Filipino and owned a construction company in the Philippines, a detail that the folks at La Loma shared with me. It also listed all of my grandfather's daughters and sons. So I searched for all his daughters on Facebook and sent them a letter that simply stated I was looking for my father, all the details I knew about him (that would be what you read in the first paragraph), and wondered whether they were related to him. 

When I got a reply it came from the daughter of my father's sister-in-law. Her mother told her about my message and asked her to do a little sleuthing about who I was and if I was someone they needed to take seriously. This daughter (my cousin!) said that the information I had about her uncle was correct. We talked a lot, and she believed that her uncle was my father. As we got closer, my cousin decided it was time for the whole family especially my father to know about me. 

Coming to terms
It didn't go well. The whole family, she wrote, was in chaos. They were arguing whether I was telling the truth or I was just scamming them. The first words I heard from my father for me were harsh. I don't want to repeat them, but he totally denied I was his son. My cousin let me read all her conversations with him: he couldn't recall anything about my mother, I might be just asking for money. 

I was so mad and hurt. All I wanted was to know if this person existed, that I actually had a father. Now that I did, I didn't want to be with him. He certainly didn't want to know me. 

I cut all the connections with my cousin and the other members of the family who reached out. I didn't want to cause any more turmoil. My girlfriend who is now my wife, family and close friends told me I didn't need my father to tell me I was a good person; in fact, he didn't deserve to know me. He didn't want me, and I was better off without him. I made my peace with what happened. 

Begin again
The weird thing was my father didn't stop emailing me. He didn't acknowledge that I was his son, but he apologized for what happened, for "having a bad start." He would email me on holidays and special occasions. Once in a while, he would write to ask what was new with me, nangungumusta. I never replied to the emails. But I did send him photos of my wedding and eventually my son, but the emails had no words, just the photos. What was there to say?  

This year, I got an email from him, again asking how I was and my family. I decided to reply briefly: We are okay, busy with work, and just finished one that was published and distributed nationwide. Yes, I wanted to brag a little.  
He replied back: "I'm glad to hear you're doing well. I'll definitely grab a copy or maybe you can give it to me in person next week?"

Somehow his message didn't register because I answered that I couldn't give it to him because I wasn't in the United States. He emailed back saying he was coming to the Philippines for a visit and he wanted to see me. 

I said yes, of course, but I hesitated about pushing through with it. His painful words struck me again. I asked a friend who was in a similar situation for advice, and she said I should meet him. It was a chance to show him the kind of person I have become, show him that I did not a have lot of...issues despite having been abandoned by his parents at a very young age. 

The second my father saw me he immediately got up, walked towards me, and gave me a hug. All I could say was, "Kumain na po kayo?" Marami akong gustong itanong sa kanya pero nawala na yun. I set aside anger and pain because he did his best to reach out. And, for those few minutes, he got a glimpse of me, a man who tries his best to become a good father to his son, a loving husband to his wife, and now a man who can forgive. 

I am proud of myself that I could tell my son that despite everything that happened, his father learned to forgive his grandfather. 

Life is too short. We need to make the most out of this life. Happy Father's Day sa inyong mga tatay!

Paulo Valenzuela, a photographer by profession, shares that, apart from being born on the same month, he and his father discovered they went to the same school (University of Santo Tomas) from high school to college, they are both makwento once they get comfortable, and they both love music. And, according to his wife and those who have seen them together, he and his father look alike. 

ADVERTISEMENT - CONTINUE READING BELOW

CONTINUE READING BELOW

Recommended Videos

Celebrate your pregnancy milestones!


Enter your details below and receive weekly email guides on your baby's weight and height in cute illustration of Filipino fruits. PLUS get helpful tips from experts, freebies and more!

You're almost there! Check your inbox.


We sent a verification email. Can't find it? Check your spam, junk, and promotions folder.
Trending in Summit Network