Her Parents' Separation Broke Her, But This Mom Says, 'I Am Now Complete'

A mom of two reflects on her path to acceptance after being raised in a broken family.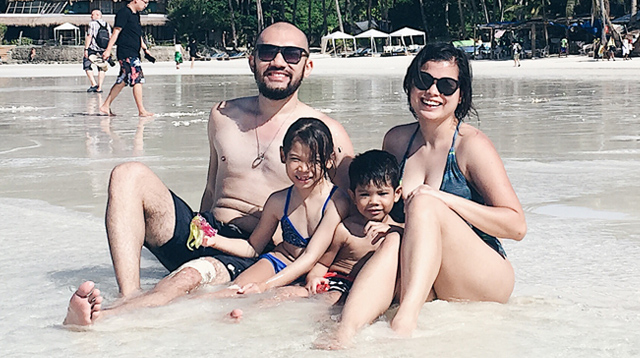 I knew that I shouldn't question God why I had to come from a broken family, but I'd be lying if I say that I never thought about it. Recently, after more than 20 years, I finally found out that everything has a greater purpose, and it comes even after a bad beginning.

As far as I could recall, my family still lived together when I was 3 years old. I remembered a night where I was crying because it was the first time that I was sleeping and sharing a bed with my sisters instead of being in my parents' room. As my sisters tried to shut me up, Papa appeared and carried me back to their room.

The next thing that I remember was Mama picking me up at school and riding a jeepney that was headed in a different direction from our home. It was quick as a dream. I woke up in my grandparents' house in the province and enrolled in a new school. Papa was nowhere to be seen.

What other parents are reading

ADVERTISEMENT - CONTINUE READING BELOW


I was never told about what was happening, why it was happening. All I knew was there was a stern reminder that my sisters and I were never to speak about our situation to anyone, especially to those at the school because it could get us expelled.

During that time, people were not very open to the idea of broken homes. Kids distanced themselves from you, classmates bullied you, and adults gossiped about your family. I told my friends and teachers that Papa was just working abroad, and that's why he couldn't make it to any school activities. I even showed off my new toys to my classmates, telling them that it was from Papa so that I could fit in.

But you know what? People still isolated me. People gossiped. I was bullied.

I found myself rebelling. I was a good student but never a great one. I always found it hard to excel in anything because I quickly lost confidence when things got tough. I tried cheerleading, volleyball, Taekwondo, badminton, and singing, but I never really pursued any of them. Growing up, I was a confused girl who had no idea what she wanted.

I started cutting class, lying about school projects, going out with friends to play billiards, drinking, smoking, and at a very young age, I started dating. I got pregnant when I was 20 years old, and as they say, the rest is history.

What other parents are reading

I would be lying if I told you that I never blamed my parents for all my mishaps. I was very angry with them because their separation made me feel insecure, rejected, confused, broken, and incompetent.

I spent my entire life searching for the good only to realize: My parents were not bad people — they just made bad choices. And though those decisions might reflect on their children, it doesn't mean their children would make the same mistakes.

CONTINUE READING BELOW

Recommended Videos

I had to stop using my situation as an excuse to do bad things.

In 2017, after our church urged every member to pursue an intentional relationship, my husband, Mike, and I decided to challenge ourselves. He worked on rebuilding his relationship with his side of the family, while I decided it was finally time to tell my parents that I had forgiven them.

I forgave Papa for not being present in all of my birthdays. I forgave him for not fighting for me when I was bullied in school. I forgave him for not disciplining me.

What other parents are reading

I forgave my mama for not always being by my side when I was growing up because she was busy making ends meet. I forgave her for being angry at Papa during their separation.

It took me 20 years to tell them that I forgive them and that all is in the past now. And the experience has made me want to tell anyone who reads this: 

Please do not wait too long to forgive your folks. Don't wait for them to ask for it. Just forgive.

It was always easy to imagine what could have been had my parents not broken up. The father worked, the mother stayed at home and baked all day. The kids went to a good school and came home to play with their pet Labrador. Then they would go on vacations and take family photos. Oh, those family pictures would be my Facebook cover to tell everyone my life is perfect!

What other parents are reading

If I didn't come from a broken family, however, will I still be who I am today?

If my parents had not broken up, I don't think my Papa will ever get to know Christ and wouldn't be an instrument for people to come to know Him as well.

If my parents had not broken up, I don't think my Mama will be able to pursue her dreams and be happily remarried.

If my parents had not broken up, my sisters would probably not have wonderful and talented kids, and I would not be an aunt.

If my parents had not broken up, I would not have a younger sister who loves my kids like her own (even when I wasn't a very good Ate to her before).

If my parents had not broken up, I would not have another Papa and a brother who loves me. 

If my parents had not broken up, I probably would not need a good man in my life like Mike.

ADVERTISEMENT - CONTINUE READING BELOW



When I was young, I used to cry and ask God what it would take for my family to be whole again. He did not answer. Instead, He gave me my own family to nurture. 

I will never experience what it's like to have a complete family, but I am at peace knowing that my kids have one. I may have been broken, but now I am complete.

Faith means believing in advance what will only make sense in reverse, says author Philip Yancey. It all makes sense now.

This piece was submitted by SmartParenting.com.ph reader Nouelle Anne Sanchez and first appeared on her blog, "#LifeWithKids." Edits have been made by SmartParenting editors.

What other parents are reading

Celebrate your pregnancy milestones!


Enter your details below and receive weekly email guides on your baby's weight and height in cute illustration of Filipino fruits. PLUS get helpful tips from experts, freebies and more!

You're almost there! Check your inbox.


We sent a verification email. Can't find it? Check your spam, junk, and promotions folder.
Trending in Summit Network