A Mom Confesses: 'I've Fallen Out Of Love With My Husband. We Live Like We're Siblings'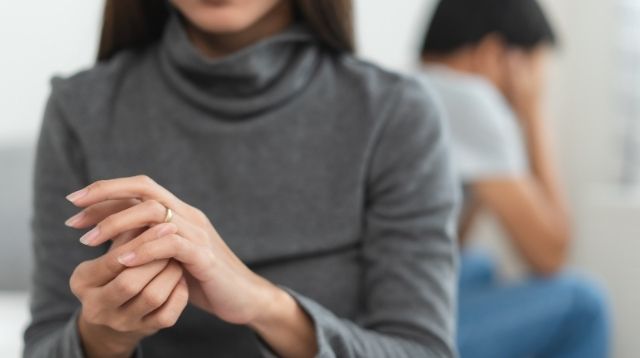 Marriage is always, always a work in progress. What can you do if you feel like you no longer love your husband? A 30-year-old wife of five years and a mother to one confessed that she feels like she and her husband are not compatible. 

"I've fallen out of love with my husband. We are no longer intimate with each other and are living like we're siblings. I don't want him to be in my life anymore," she wrote anonymously. 

Aside from not being intimate, she describes her husband as lazy, not a good provider, and is content with getting promoted in his job by getting tenure. He only gives his share of the household expenses and nothing more. 

She, on the other hand, is a career-oriented go-getter with so many dreams to fulfill. In the marriage, she feels like she's on her own, expecting little to no support from her husband.

Fallen out of love? Moms give marriage advice

The mom shared her story, asking for advice on what to do. Fellow moms did not disappoint. Here's what they have to say.

Love is not an emotion but a decision you have to make every day.

"If you base your love on emotion, it would change a lot of times in a day, depending on if you feel angry or sad. But if you decide to love, no matter what the circumstance is, you are still in love. Staying married is hard work, day in and day out, more so to stay happily married. Talk to your husband about it until you are both on the same page." —Mommy Jesse

ADVERTISEMENT - CONTINUE READING BELOW

Money or sex should not be the measure of love.

"We can't expect them to change; they should want to change for us. You must also understand that there are other factors aside from promotions that demotivate employees. Money or sex should not be the measure of love. If you still have love and respect for each other, I believe it will still work." —Mommy Marian

Ask yourself why you marry him in the first place.

"Baka pagod ka lang. Decide when you're feeling much better. It's so easy for us to let go of the person we once loved when the worst comes. Marriage is a lot of hard work, sacrifice, acceptance, respect, and love. Every day you need to decide to love that person no matter what because that day when you said 'I do' was the day you give up 'you,' and you become as one." —Mommy Angie

Success means different for everyone. 

"Just because you are his wife doesn't mean you have the right to force how you see and attain success. Success means different for everyone. To you, it may be to get promoted and earn a lot of money. To him, it might be the peace of mind and stability." —Mommy Jessa

Have a change of perspective.

"Love needs a lot of hard work and sacrifice. You don't ditch them because they don't fit in your life anymore like they used to. Maybe shifting perspective can help. Instead of focusing what's lacking, think about the small details about him that make you smile." —Mommy Tin

ADVERTISEMENT - CONTINUE READING BELOW

Recommended Videos

Give yourself some self-care and love. 

"Give yourself love and time to reflect on what you want, your goals, and what makes you happy. You only learn to truly love others when you have given yourself that love. Married people CAN fall out of love. It happens. You can choose to work on it, or you can choose to go your own path.

"The right decision is the decision you believe is best for you and your child. If anything, even when husband and wife do go separate ways, it will always be a work in progress, especially if there's a child involved." —Mommy Christine

Maybe he's just reciprocating what you're giving him.

How is he as a dad? Does he abuse you in any way? I didn't see any of that aside from him just being satisfied with what he has. If you need help providing for the family, ask him and make known to him how serious you need more financially. As for the intimacy, maybe he is only reciprocating the love that you're not showing him either because of how you see him? It's hard to love someone once you put your "nega glasses" on. You will only see him in that light. —Mommy Joanne

Men are easier to persuade when they are valued more.

Expecting that our partners will think the same way as us is nearly impossible and leads to many fights. Individuals have different priorities at different stages of their lives. It has to be a personal decision. The more you force it, the more your partner will feel uneasy doing it. Start appreciating what he is good at. I find that men, in general, are easier to persuade when they are valued more. At the same time, try to calm yourself and re-assess your expectations. —Mommy Jenny

ADVERTISEMENT - CONTINUE READING BELOW

Have a serious heart-to-heart conversation.

"I totally understand: You want someone who strives for the best and has the ambition and drive to be better versions of themselves every day. Intimacy is so important, so the lack of it can be frustrating. These are valid reasons to want to leave. You have so much more to give and offer in a relationship with someone who actually appreciates you. I would have a serious heart-to-heart with him and explain all your points. Perhaps an ultimatum is needed to give him that kick up the butt that he needs." —Mommy Sarah

What other parents are reading

Celebrate your pregnancy milestones!


Enter your details below and receive weekly email guides on your baby's weight and height in cute illustration of Filipino fruits. PLUS get helpful tips from experts, freebies and more!

You're almost there! Check your inbox.


We sent a verification email. Can't find it? Check your spam, junk, and promotions folder.

Trending in Summit Network