Marriage Is a Choice You Make, Not Just in Front of the Altar, But Every Day

It's about sharing a life together.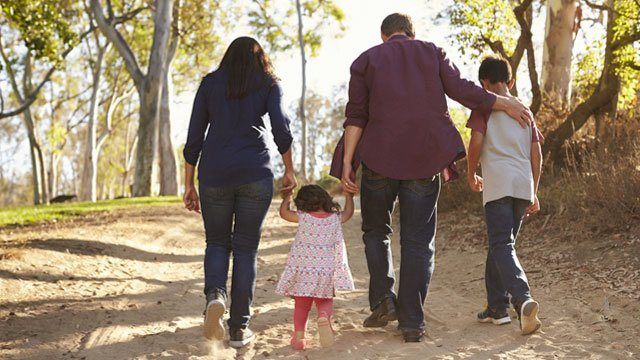 On my wedding day, my sister teased my husband: "Good luck with her cooking…and making her obey." I learned how to cook, but obey? Never. 

To be fair, my husband knew what he was getting into when we got married. We were friends and officemates long before we started dating. We entered our marriage with equal ground – not husband leading the wife, or wife submitting to the husband, but just two equally strong (but clueless) newlyweds trying to make a life together. 

We both had to work to pay the bills. We couldn't afford a maid, so we split the housework. When our son and daughter were born, we took great steps to avoid gender stereotypes. They both learned to cook and clean – it wasn't a "girl's" job, it was a family's job. 

Over the years, my husband and I have taken turns being the strong one. 

When he lost his job, I shouldered the expenses until he reinvented his career. When my dad became terminally ill, he took over tutoring the kids and bringing them to school so that I could focus on my parents. He now earns four times more than I do, but he's never used that to silence my opinion or belittle my contribution. 

We each do something to make this family work. It was a marriage built on a buddy system: whatever happens, I've got your back. Did we fight? Oh, a lot. Did we compromise? All the time. Marriage, I've learned, is about choosing your battles and seeing that even if you have different opinions, you're both on the same side.

My marriage was a very, very different one from what my parents had. They loved each other but were from a different generation and family dynamic. My dad was the breadwinner, and my mom raised the kids. She felt she had to follow everything he said, mainly because he had a strong personality and zero tolerance for conflict, and also because at the end of the day, he paid for everything.

ADVERTISEMENT - CONTINUE READING BELOW

What other parents are reading

My mom justified her misery by citing St. Paul's Colossians. But my parents' dysfunctional relationship wasn't caused by their faith or a Biblical verse.

We had a comfortable life, but I knew my mom felt restless and often underappreciated. I watched her, quietly biting back her opinions and giving up hobbies and passions because my dad didn't approve. I used to resent him for being well, such a schmuck to her, but as I got to know him, especially when he was ill, I saw that he had also been trapped into a lonely and stressful role of making all the decisions. If he messed up, he failed all of us.

After he died, my mom didn't know what to do. Her entire life had revolved around him; she didn't even know how to use an ATM because he'd done all of that for her. She was like a lost child. Maybe because he'd always treated her like one.

I've often asked how my parents turned into who they were – once upon a time, weren't they also a young couple in love? My mom justified her misery by citing St. Paul's Colossians 3:18 ("Wives, submit yourselves to your husbands, as is fitting in the Lord"), but I firmly believe their somewhat dysfunctional relationship wasn't caused by their faith or a Biblical verse.

What other parents are reading

Marriage is a choice you make, not just in front of the altar, but every day.

I've met many happy Christian marriages that are founded on love and mutual respect. They use the verse to strengthen their commitment. With or without citing the New Testament, they already knew what love was. 

Sadly, not all submissive wives are as lucky. Their controlling husbands drag God's word to excuse emotional abuse. (News flash: being a jerk with a Bible doesn't make you any less of a jerk.) 

My Dad wasn't a jerk, and my Mom never saw herself as a victim. They just felt there was no other way. They were caught in cultural and generational belief and attitudes they inherited from their own families.

But let's not blame the Bible. Let's not blame our parents. Let's not blame society. At the end of the day, marriage is a choice – not just one made in front of the altar but every day. My mom had many opportunities to stand up for herself. My dad could have shared some of his burdens, instead of grimly bearing them alone.

CONTINUE READING BELOW

Recommended Videos

What other parents are reading

You only get the kind of love you think you deserve. You only get the kind of respect you demand.

Marriage is the first template your kids will have for relationships. Children don't turn to the Bible to understand what love is. They see it from their parents.

I want my daughter to know that she doesn't need someone to protect her or make decisions for her. I want my son to know that he doesn't need to know everything or control everything to "be a man." Marriage isn't about submitting to someone – it's about sharing a life together.

I decided to have a different kind of marriage. I probably subconsciously chose a husband who shared that perspective. And together we'll raise kids who can make a similar choice – and base it not on St. Paul's Colossians, but the Corinthians: 

"Love is patient; love is kind. It does not envy; it does not boast, it is not proud. It does not dishonor others; it is not self-seeking, it is not easily angered, it keeps no record of wrongs. It always protects, always trusts, always hope, always perseveres."

What other parents are reading

Celebrate your pregnancy milestones!


Enter your details below and receive weekly email guides on your baby's weight and height in cute illustration of Filipino fruits. PLUS get helpful tips from experts, freebies and more!

You're almost there! Check your inbox.


We sent a verification email. Can't find it? Check your spam, junk, and promotions folder.
Trending in Summit Network