On My Mind: 'Why I Turned My Back On My Son's Father'

A reader shares her story of heartbreak and courage.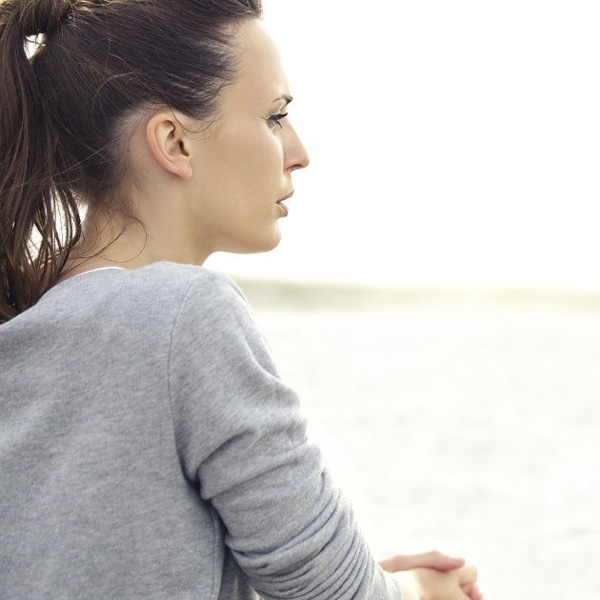 When I found myself accidentally pregnant, I was in a long-term relationship, and my boyfriend and I were both excited about bringing a life into the world. Marriage was on the horizon as well, even before the surprise bun in the oven. Save for a few hitches (we didn't tell my parents right away), I believed we handled the pregnancy well. We're going to be okay, I thought. And we were, indeed -- but only for a time. 

I don't even remember now exactly what went wrong. Maybe it was the increasing demand to be home and be a traditional parent despite our unconventional family setup. Maybe it was my secret desire to be out and about, free to do my thing, just like the father of my child. Or it could be that I also really wanted to spend more time as a family -- and as a couple -- to keep things along familiar lines. Looking back now, I think we simply drifted apart.

The breakup was not amicable. He broke off with me a day after our eighth year anniversary, and the deep love I felt for the man I once considered "the one" turned into unimaginable pain. I went from begging him to think of our son's future to drinking my sorrows away 'till the wee hours of the morning. I set myself up for disappointment after disappointment by hoping that he would come back, like he always did a few times before the baby came. But, no. My appeal to the universe to make everything right fell on deaf ears.

ADVERTISEMENT - CONTINUE READING BELOW

But the world does not stop spinning just because your heart gets shattered into pieces. There was a little being, then only three years old, who needed me. I need to be strong for my son, or at least make the change easier for him. I'm a mom and my needs meant nothing compared to my son's. And so everyday I would wake up just for him. I learned to keep my emotions in check during our unusual family-of-three weekend get-togethers. I was careful not to fall back to the old routines we had as a couple. I succumbed to the universe's will and let things fall into place where they may.

Then, trouble came knocking. Maybe my ex and I forgot how to be friends. I wasn't ready to be excluded from the picture, but he no longer wanted to share the frame with me. Yet the thought of sharing parental responsibilities with someone I no longer trusted had a crippling effect on me. I just couldn't.

Okay, maybe I was a bit selfish, but a child isn't just a "thing" you could "borrow". The rules were simple: if you want to be involved, communicate. Show respect. Don't say nasty things behind each other's back. Be responsible. Do your share. Don't inform your co-parent that you don't have your share for the school tuition the day before the payment deadline. And always keep your promises: When you say you're visiting on Saturday, you show up, at least even just to explain why you couldn't stay.

CONTINUE READING BELOW

Recommended Videos

I learned the hard way that co-parenting is not easy, especially when you're emotional. I had to constantly remind myself that my ex and I now live different lives and have different priorities.
A serious lack of communication sure made things worse. For months, it was just my son and I – he didn't even bother to get in touch with us -- and we were okay. Eventually, I got tired of the excuses and ended up not expecting anything from him at all. Honestly, it was the happiest, most peaceful, and least stressful time I enjoyed after the breakup.

Over time, some of our friends kept convincing me to reconnect, saying that it was my son's or my ex's right to have a father-son relationship. Or, that is was his responsibility to provide child support, which would make things a little easier for me on the financial side. I already had a glimpse of both versions: the life my son and I would have had with him in the picture, and the life we'd have without him. I weighed the pros and cons, and the pros lost big time.

I also really wanted to get rid of everything pulling me down, so I could properly gather myself, set my life straight, and be happy—and in turn, become a better parent. Sadly, my ex was one of those things that pulled me down. Collateral damage, I suppose. I rationalized it, too: I have friends who grew up without their father in the picture, and they turned out fine; so fears of my son growing up without his father and resenting me for it were somehow hushed. I had family and friends who had my back, so I faced single parenting head-on, ready to face whatever consequences came with my choice.

ADVERTISEMENT - CONTINUE READING BELOW

And so, I turned my back on my son's father. And I've never looked back since.

No, I don't hate him. To hate someone means that there's an equally powerful emotion that came with it -- and I do know that that love was long gone. 

My son knows his father, but that's all the concession I am willing to give. I did it not so much for my ex, but for my son. After all, he wasn't really replaced – he just happened to be absent. I sincerely wish him well, though he is far and away from us.

It's been seven years since. At the start of this journey I had hoped that my son would get me through that difficult time (even though I would remember his dad every time I looked at him), and he did. I know for certain that the time will come when my ex would reconnect with our child. My son is his son, too, after all. The truth is that I dread that moment because I'm really scared that my heart wouldn't be able to bear the shake-up it would bring to my life. I hope and pray I would be ready then -- and that he would be, too. But for now, I know we are better off without him.

What other parents are reading
Celebrate your pregnancy milestones!

Enter your details below and receive weekly email guides on your baby's weight and height in cute illustration of Filipino fruits. PLUS get helpful tips from experts, freebies and more!
You're almost there! Check your inbox.

We sent a verification email. Can't find it? Check your spam, junk, and promotions folder.
Trending in Summit Network