Richard and Lucy's No-Fail Marriage Advice: Keep Yourself Attractive For Your Spouse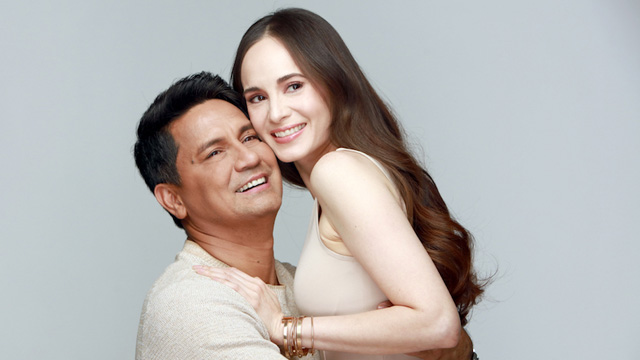 The way Richard Gomez looks at his wife Lucy Torres-Gomez betrays the fact that they've been married for 21 years now and are parents to an 18-year-old daughter. The actors-turned-public-servants, who met while shooting a shampoo commercial in 1993, have become local show business' power couple, with a love story that's for the books.

At their launch as the newest endorsers of Ultherapy for Two at Shangri-La Fort, Richard, 53, and Lucy, 44 were picture-perfect — and looking a few years younger than their age — as they answered a few questions for SmartParenting.com.ph.

After decades of marriage, and going even stronger with time, do they still put a premium on beauty? Lucy replies, "Of course. You do it for yourself, yes, but you also do it for your partner. You keep yourself attractive for your spouse.

Never let the years pile up [that] your spouse would look at you and say, 'Nung kabataan niya maganda siya' or 'Nung kabataan niya sexy siya.' It shouldn't be that way.

"There are some narratives you can't control, but if you can look good with every year that goes by, [you should]. You don't have to aspire to be the 23-year-old that he fell in love with in every physical aspect, but at 40-plus you can still look good; even better than you did at a young age." she reminds.

And because technology now makes it possible for men and women alike to look like better versions of themselves, there's no reason not to take advantage of it.

What other parents are reading

ADVERTISEMENT - CONTINUE READING BELOW

Their daughter Juliana, who is a perfect mix of her parents' best features, has grown up to be a stunning young woman. What lessons on beauty do they teach Juliana?

Lucy shares, "That beauty is a lifestyle. It's not something that you do for a stretch of time. Parang, 'Ah, magpapapayat ako kasi prom,' or 'Gagalingan ko yung skincare kasi may shoot ako,' or 'Magda-diet ako to fit into my pants,' and then after a while you let go. That's not sustainable. You really embrace it because it's something that will do you good in the long run."

Juliana will be off to college in a few months, and Richard has shared previously that Juliana will be taking up Public Adminstration in the University of the Philippines. Do her parents have any bilin for her?

Lucy draws a deep breath at the thought of her unica hija entering a new phase in her life ("but she's staying with us," she clarifies). In a nutshell, she says she tells Juliana to just enjoy college life. 

"No offense meant to parents who feel that their children have to be the best academically, but more than being the best or the greatest in class, I think it's important that her life is balanced in a way that she knows why she's in school — and that's to learn — but she also knows that there are other things outside of school that don't diminish her as a person. It doesn't have to be everything about school. It has to be a holistic approach. 

"A child who is not so great academically doesn't mean that there are no other gifts. Kasi in our time, in school then, it was all academics lang e. Mga sports did not matter. Nothing. Parang your gift had to be academics so there's so much pressure. And I feel that a lot of the kids now are so pressured to be the best, be the greatest. 

"And in the greater scheme of things, being the best is not always the best because there's more to life than that. It's also important to be kind, it's important to be happy, to be able to pursue the things that make you feel alive," she says. 

What other parents are reading

A marriage lasting 21 years is such a rarity in an industry like theirs. What wisdom could Richard and Lucy impart to couples who wish for their marriage to last as long?

ADVERTISEMENT - CONTINUE READING BELOW

Enjoy each other's company, Richard says. "Talk about things. Enjoy traveling together. Sleep together." He adds, couples should never forget to talk, hold hands, and kiss.

For a marriage to succeed, Richard says, "Maglandian kayo once in a while."   

Lucy adds, a wife shouldn't take her spouse for granted. "Be appreciative of things both big and small. I think it's very important to verbalize appreciation because you don't know how this day has gone. You don't know the battles he fought. Every compliment matters."

Lucy also cautions couples against becoming "so comfortable with each other that you treat each other like siblings." That time will come soon enough, she says, but in the meantime, "Always keep the fire burning because you are, after all, husband and wife. You were not meant to be just friends, you still have to be lovers. Keep the passion burning. You make time for it. 

"Don't forget to be husband and wife even if you're mother and father," she stressed. 

Trending in Summit Network