25 Secrets I've Learned in 38 Years of Marriage: 'Jealousy Is a Useless Emotion'

One woman shares her secrets to a happily married life.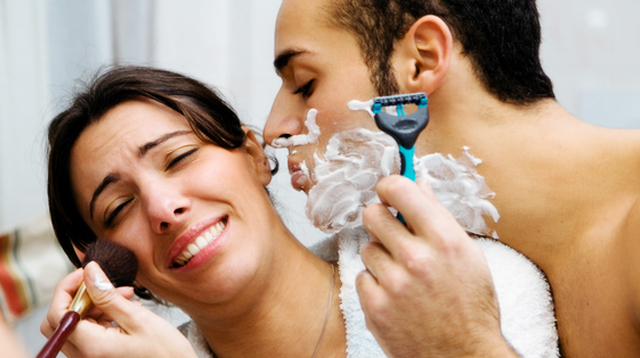 At 61 and having been married for 38 years, I get asked this question by young, married women a lot: "Does it get any easier the longer you're married?"

It's funny that there are courses and workshops to prepare us for our careers, but no formal training is ever done to prepare us for a lifelong career of being married. It's on-the-job-training to the max.

Having said this, through all these years I've spent with my husband, Em (including the five years we were separated), I have learned quite a number of things that will hopefully get to answer this question:

What other parents are reading

1. You don't stop loving your spouse even though you may not like him at times.

Quarrels and arguments are a reality in any marriage, and it simply means we don't always see eye to eye. We come from different backgrounds so it should be expected. Just because we're disagreeing does not mean we don't love each other anymore. So, even if I'm fuming, I still make his coffee in the morning…and control myself from putting salt rather than sugar.

2. Make your "home" a place he can really look forward coming home to.

If he comes home to a messy house and a nagging wife, he'll think, "I should have stayed out longer." If he comes home to a restful haven with a wife who sweetly asks if he'd like coffee for his hangover, then he might just think, "I should have come home earlier! THIS was waiting for me all this time!" Believe me, it works.

ADVERTISEMENT - CONTINUE READING BELOW

3. Jealousy is a useless emotion.

Jealousy simply means that you have such a low view of yourself you think your spouse will stray. I've taught my kids that if your partner looks at another, then he or she is not worth your time. I've joked with Em many times, "If you become unfaithful, it's your loss, not mine!" Be confident!

What other parents are reading

4. Always kiss and say "I love you" when leaving the house — even if you're in the middle of a fight.

Since we don't know when God will take us home to heaven, my husband and I kiss and hug and say I love you several times a day just in case. It may sound morbid but it's better than to live a life of regrets.

5. Being married doesn't give you the license to be rude.

The small things that mommy taught you, like "Thank you", "Please", "Excuse me" and "You're welcome" are all still needed in your relationship. If we're so nice to other people, why not be nicest to the people we love most?

6. Submit to your husband, and he'll submit to you.

This was the hardest thing for me to learn! Ephesians 5:22 reads, "Wives, submit to your husbands as to the Lord."

I learned that submitting isn't the same as being submissive.

It's a Biblical principle that works. I submit to my husband out of love and respect, even if I don't agree with him, and through the years, my opinion has weighed more and more when he makes a decision.

CONTINUE READING BELOW

Recommended Videos

What other parents are reading

7. Romance is wonderful, but it's not everything.

 

It's the day-to-day expression of love that builds the marriage.

Not every special occasion has to be a production. And you don't have to spend hundreds or thousands of pesos to make your partner feel loved. Em gently covering me with a blanket or me buying him hopia are small gestures that say "I love you" more eloquently if done without much fanfare.

8. Make time to be by yourself. Allow each other to be individuals.

When we vowed to be "as one", it didn't mean that we were expected to do everything together. Some space and time apart always make coming together again more exciting.

9. Remember: he's a man and he is wired differently.

Though my husband doesn't respond to my very animated narration (sometimes he just grunts in response) I know that he actually hears me. I've learned I shouldn't expect the same reaction that I'd normally get if I told the same story to my girlfriends. In fact, when he makes a comment or asks a question, I'm ecstatic!

ADVERTISEMENT - CONTINUE READING BELOW

10. When one is angry, don't throw fuel into the fire.

Even when having an argument, we have to take turns to be the one who is fuming mad. One just has to step back and away until both of us cool down.

What other parents are reading

11. Play nice and fight fair.

I know of someone who fought with her husband and flew to Hongkong in a huff. I wish I could afford to have the same drama. But since I can't, I just lock myself in the bathroom to cool down. Also, we never use demeaning words like "stupid" or "idiot" in the heat of an argument. Why? Well, the insult just goes back to whoever said it. If you think your spouse is stupid, why did you pick him in the first place?

12. Put up a unified front as parents.

Em and I had to agree on how discipline would be implemented. Consistency is key to maintaining discipline with the kids — a must when you have 9! Just like in a corporation, our family has its own "by-laws", so to speak, complete with vision/mission, philosophy, etc. In our family, Em and I have ruled that whoever is less angry will be the one to speak to the erring child.

13. Laugh at each other's jokes, even if you've heard it countless times.

ADVERTISEMENT - CONTINUE READING BELOW

Laughter has kept Em and I together in the direst times.

Laughing over a corny joke is better than crying over a problem. It lightens the mood and keeps us positive. Even if I've heard his joke so many times before, it wouldn't hurt to laugh over it one more time if it'll make the moment fun.

What other parents are reading

14. Make a conscious effort to start and maintain your family traditions.

Every New Year, our family sits down to write letters to God, to thank Him for the blessings of the past year and to ask Him for specific blessings in the New Year. These are written in notepaper that I print out with my family's most recent pictures. But before we start writing, we each open up the letter we wrote last year and see how marvelously God has moved our lives. And then we pray together. Family traditions express the values the family holds dear and these make it unique.

15. Come up with special signals or codes that only the two of you know.

We just have to look at each other, and with just a raised brow or a flared nostril (yes, you read that correctly), Em and I have "talked" to each other. 

16. Have private jokes.

Along with secret messages, private jokes set us apart as a couple. Many times, Em and I would look at each other and immediately know what the other one has found funny. This makes us feel more connected to each other.

ADVERTISEMENT - CONTINUE READING BELOW

What other parents are reading

17. Never let your husband see you on the toilet.

A little bit of mystery is good!

Maybe this is just me, but I cannot for the life of me let my husband see me on the toilet, unless I'm having a stroke and he has to save me. I still feel that even after all these years together, a little bit of mystery is good.

18. Remember: you're a wife first before a mother.

With so many kids vying for my attention, it's sometimes hard to determine which child I should focus on. Unless a kid is sick, my husband, and his needs, comes first.

19. Give your husband dignity.

This is very important: Don't divulge all your problems or diss your husband to your friends. Sure you want to be open and honest—they're your friends after all—but spilling all the beans may lessen their respect for him. I love that people look up to my husband with so much respect and it makes me prouder of him.

ADVERTISEMENT - CONTINUE READING BELOW

What other parents are reading

20. Be kind to his relatives and friends.

These people have known your husband before you. Make them your friends and they'll be your cheering squad. Mother-in-law problems? I always try to remember that if she hadn't been around, I wouldn't have met this wonderfully quirky but loving man as my husband. 

21. Don't let yourself go.

Honestly, there are times when I spend the whole day in my PJs but when I know Em is on the way home, I immediately hit the shower and dress up! These last few years, I'm trying to grow old gracefully…with a few (hah!) more pounds, wrinkles and all…but I'd like to think my husband still likes being seen with me.

22. Be always willing to forgive even though he doesn't say "I'm sorry."

I used to silently stew because I was waiting for him to say the words. Then I found out that when he opens the door for me, or offers to drive me somewhere, he is actually apologizing already.

What other parents are reading

Movies and dinner dates are cheaper now with the senior's discount.

ADVERTISEMENT - CONTINUE READING BELOW

 

23. Don't expect, just accept.

I found out the hard way—my husband is no mind reader! If I want something, I might as well spell it out for him. But, I am blessed that when I don't expect anything from him, when I don't make any plans, he surprises me. After all these years, I still get excited when he asks me out.

24. Growing old together is something you can look forward to.

Just thinking about it blows my mind! I've been in a relationship with this one man for over 38 years and not once have we thought of killing each other! LOL. But seriously, movies and dinner dates are cheaper now with the senior's discount.

25. "For better or for worse, in sickness and in health, for richer or for poorer, till death do us part" are not mere words. 

It is a commitment. In our marriage journey, we've had our highs and lows but our focus on keeping family together against all odds has strengthened our bond and affirmed our faith. Those vows we made long ago are real and do-able.

After 38 years, does it get any easier? Not really. It just gets more comfortable.

This story first appeared in Lollétte Oliva-Alipe's blog, Mom of Multitudes. Edits have been made by Smart Parenting editors.

Lollette is a mother of four biological children — Gabby (vocalist of Urbandub), Monchi (head of the family-owned social enterprise), Josh (vocalist of Sirens) and Sarah (an architecture graduate). She is also the foster mother to 4 half-Italian siblings – Maurice (chef in Dubai), Nana (entrepreneur), Savie (advertising student) and Luigi (solo artist/former MYX VJ). She and her husband, Em, have adopted a newborn baby they found in a plastic bag outside their house. Faith Makana is now 8 years old. She is Mamita to Reka, Jolo, Kobi, and Lily. Em and Lollette wed 38 years ago on March 22, 1980.

ADVERTISEMENT - CONTINUE READING BELOW

What other parents are reading




Celebrate your pregnancy milestones!


Enter your details below and receive weekly email guides on your baby's weight and height in cute illustration of Filipino fruits. PLUS get helpful tips from experts, freebies and more!

You're almost there! Check your inbox.


We sent a verification email. Can't find it? Check your spam, junk, and promotions folder.

Trending in Summit Network