She Falls for the Probinsiyano, and He Makes Her Dream Come True

This married couple says finding each other was the best decision they ever made.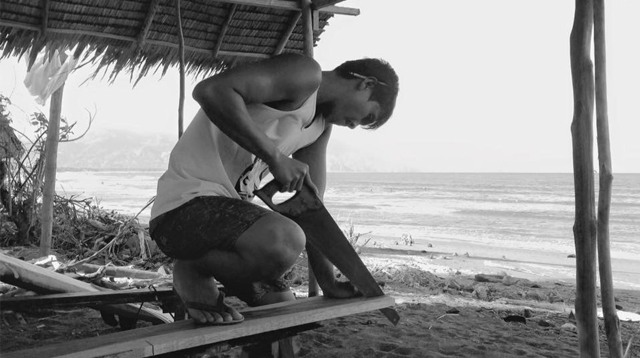 He was a true-blue surfer boy, and she was a big city girl. Their personalities and their background couldn't have been more different, but Chi Gatdula and Agas Ruidera found themselves falling for each other, slowly, naturally, surely.

Chi, however, will be the first one to tell you there is nothing extraordinary about their love story. "It started in 2012 when a 26-year old single girl wanted to do everything she wasn't able to do when she was still in a relationship," she shares. "My goal at the time was to invest in a beach house -- a kubo with a library and garden. Hindi ako sporty but mahilig ako sa dagat. My dream was to learn how to surf -- hindi pa uso 'yung surfing gusto ko na siya."

As luck would have it, her cousin and his friends were planning a trip to Baler, but her cousin backed out at the last minute. "They needed someone to fill the van, may minimum kasi 'yun para matuloy ang trip," Chi shares. 



What other parents are reading
One of the guys in the group frequented a surf school in Baler, the same one where Agas, Chi's future husband, worked as an instructor. The school was one of the more popular ones in the area, so there was already a long line when they arrived. "There were eight or 10 of us in one batch, so the instructors laid down their boards on the sand so we could choose our instructors. I didn't know who Agas was, but I chose his board, and he became my very first surfing coach," Chi recalls.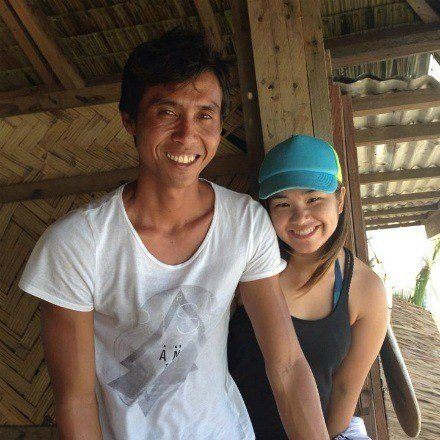 It wasn't love at first sight, but Agas shyly admitted to this writer he felt there was 'something' about Chi, whom he already found very pretty. But of course, he had to act professionally.

Chi chimes in to say all surfers are natural flirts, but she felt at ease talking to Agas. "Baler's off-peak season was June to September. We were there August, but I still managed to ride some waves. Feeling ko ang galing-galing ko, 'yun pala, ginagawan niya ng paraan," Chi shares with a laugh. "Sinasabi niya sa ibang coaches, 'Wag ninyong bigyan yung iba [ng waves], ako muna.'"

One surfing class, however, was enough for Chi to takes trips to Baler once a month. She stuck to the surf school where Agas worked and requested him to be her permanent coach, along with another instructor named Bato. Chi remembered, "The first time I saw [Agas], he had long hair. The following month, bumalik ako, sobra niyang clean cut. May itsura pala si Kuya!"

But sparks weren't flying, at least for Chi until Agas started sending her text messages out of nowhere. Agas insisted it was only to thank her for treating them to merienda during one of their sessions. He wasn't the type to be overly friendly toward city girls, most especially to Chi, whom he thought would never go back to their province again. Still, it moved their friendship forward, even if their text exchanges were few and sporadic.

During Chi's monthly visits to Baler, she and Agas eventually became comfortable enough with each other that they started hanging out after surfing lessons. In November 2012, Agas invited her and her friends to a party at their surf school. Chi remembered being drunk she almost blacked out, but Agas never took advantage. He accompanied her back to her lodgings (where her friends were) and carefully made sure not to step inside.
ADVERTISEMENT - CONTINUE READING BELOW
What other parents are reading
After that party, Chi began to see Agas in a new light, but she vehemently refused to acknowledge any feelings that were trying to surface. Everything changed in December when she started traveling to Baler alone. At this point, she and Agas were almost inseparable, and his co-instructors were already teasing them. After one surfing session, Agas invited her and one of their friends to visit the "Mother Falls," or Ditumabo Falls, one of Aurora's top natural attractions, located in the neighboring town of Baler, San Luis, and a tough one-hour hike. When they got there, Agas told Chi it was his birthday gift.

Chi was surprised. "Sobrang kilig. May mga tao pa rin palang ganun, na talagang mag-e-effort pasayahin ka," she says.

On their way back to Baler, Agas' motorcycle broke down, and he asked his friend to go ahead and have it fixed. Chi and Agas were left alone to make the trek back, and as they were talking, Chi felt that "this was it."

When Chi left for Manila that afternoon, she rebelled against her emotions and tried to rationalize what she felt. Agas was different from her ideal guy; she always thought she'd be with someone who works in a corporation and, well, resides in Manila. "Parang ayoko [na may mangyari] kasi number 1, probinsiyano. Ang layo," she said.

Chi continued to date other guys casually. Agas, though, was serious about pursuing Chi, and he knew exactly how to show it. Chi was very spiritual, and she never failed to attend Church during Sundays, wherever she may be. One Sunday in December, Agas said he would attend mass with her, something that everyone knew was unusual for him. That's when their relationship took a turn, as they spent more time together, just the two of them. 

A few months later, Agas confessed his feelings for Chi and even introduced her to his family. For the first time, the instructor also made a trip to Manila, to visit Chi's family and formalize his intent to court Chi. It was a nerve-wracking experience for Agas since he attended a party where all of Chi's relatives were present, including her Spanish-Chinese grandmother, who was traditional and who naturally grilled him about his intentions toward her apo. But Agas managed to win them over with his earnestness and honesty, and nine months after they met, Chi and Agas officially became a couple on May 2013.
CONTINUE READING BELOW
Recommended Videos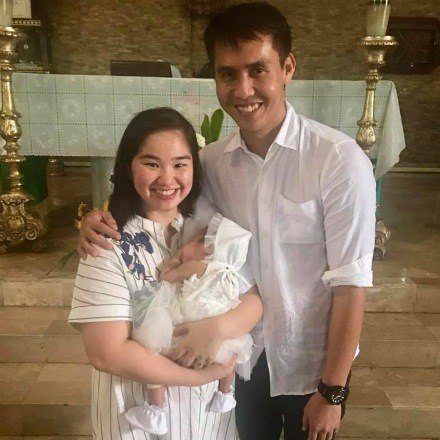 What other parents are reading
Until they got married in 2016, the couple decided to pursue a long-distance relationship where Chi continued to trek to Baler on weekends. After the wedding, the idea was to spend weekdays in Manila and weekends in Baler. That changed when Chi got pregnant and their daughter, Sabel, was born prematurely on June 2017. They've decided to live in Manila indefinitely.

The couple admits their romance has not always been smooth-sailing. They share seven factors that made their relationship survive despite the challenges:

1. Be ready for a trial and error. Chi and Agas' personalities were so different from each other. Chi was a planner, someone who was very organized and liked to schedule things to the last detail, while Agas was more spontaneous. At first, Chi took charge of the relationship and tried to make a schedule that would work for the two of them, but eventually, they realized that their relationship became better if they just take it one day at a time.

2. Prioritize each other. Since they came from two different backgrounds, the two had to learn to adjust to each other. Agas learned how to discuss his thoughts to Chi, so they could make decisions together instead of individually.

3. Give yourself time to trust each other. Chi was 27 and Agas was 29 when they got together. This wasn't their first relationship, and it showed how they treated each other. Their maturity resulted in patience and managed expectations. Chi already knew that Agas wasn't a guy who would be super sweet and check up on you from time to time. "There are times na hindi siya magpaparamdam kasi may ginagawa siya, pero pag nagparamdam naman siya, sobrang quality," Chi shared. Chi learned to trust her husband's way of handling the relationship, and knew that even if they were far apart, Agas wouldn't do anything to jeopardize what they had.

4. Winning over each other's family was important. While they made sure to spend time together by going back and forth Baler and Manila, both were more appreciative of the efforts that they put into each other's family. You would think that Agas would have a hard time convincing Chi's parents of his intentions -- it was the opposite. "Agas is the bunso out of five boys, and his mom didn't trust me initially. Taga-Manila ako, inisip siguro niya na hindi ko seseryosohin ang anak niya," Chi shared. 
ADVERTISEMENT - CONTINUE READING BELOW
What other parents are reading
5. Keep those communication lines open always. It is the only a long-distance relationship can work especially through unexpected changes. It was tough when earlier in the relationship, Chi had to get a new job that made going to Baler harder. Then there was that time Agas got seriously ill, and Chi couldn't come.

"Those transitions proved we were in this together," Chi says. "We respect each other so much that whenever we have arguments, it's easy for us to accept the other's opposing view." She adds even before they became a couple, it had always been easy for them to talk, and they spent hours and hours doing so. "Sobrang open namin sa isa't isa," Chi says.

6. Know when to give each other space. Some couples like patching things up before the day ends, but for Chi and Agas, what works is when they give each other time to breathe and think. "The more na ipilit mo maging okay, the more kayong hindi nagkakaintindihan," Chi explains. "Basta ang usapan namin, walang secrets."

7. Learn to compromise. Before they got married, Agas was already building Chi's dream house -- the kubo by the beach with its own garden -- from scratch in Baler. But, after Sabel was born, it was Agas who decided to move the whole family to Manila. It was a difficult decision, but both Chi and Agas were willing to compromise things for the sake of their baby's health. Besides, both are still working with their future in Baler in mind.

Their love story may not have started with sparks, and it might not have the plot twist of your favorite romance movie. But Chi and Agas prove that in reality, relationships work not just because two people are attracted to each other, but because both parties are willing to put effort into it. Long-distance relationships are hard, but if you can commit, be consistent and be able to communicate with each other openly, then you'll find the key to a lasting love.
ADVERTISEMENT - CONTINUE READING BELOW
What other parents are reading
Celebrate your pregnancy milestones!

Enter your details below and receive weekly email guides on your baby's weight and height in cute illustration of Filipino fruits. PLUS get helpful tips from experts, freebies and more!
You're almost there! Check your inbox.

We sent a verification email. Can't find it? Check your spam, junk, and promotions folder.
Trending in Summit Network