Thank You, Husband, for Putting Me First When I Think of You Last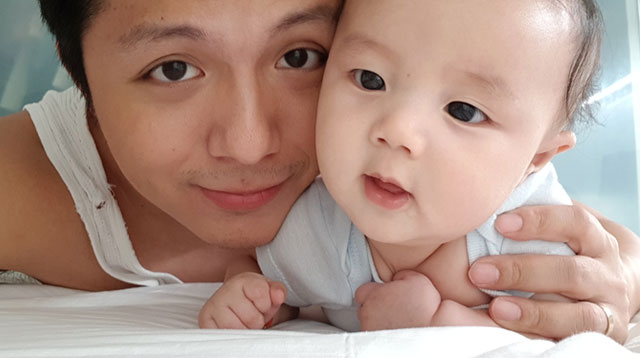 Dear husband,

I thought I knew you after seven years of dating and one year of marriage. Just before our baby arrived, you warned me you would be absolutely useless at night. 

You recited a litany of reasons why you wouldn't be able to wake up. You needed to be razor-sharp at work. You needed a full night's rest not to be grouchy the next day. You valued sleep more than any other personal commodity.

When you found people to back you up on these excuses, I thought you were easing me in and reminding me that whatever happens, some things don't have to change.

What other parents are reading

I did not mind. As with everything else, I ambitiously preferred to do this all by myself. I didn't mind you snoring through the hunger cries in the middle of the night. I didn't mind you rolling over to my side of the bed when I checked the crib. You bonded and changed nappies tirelessly throughout the day, so I didn't mind that you preferred to retire for the night.  

The day came, however, when our baby became increasingly difficult, and his endless crying and my exhaustion caught up with me. I had no choice but to mind.

It was at this point that I got to know you all over again. Only a continuous hurdle such as parenting could strip off every layer and reveal a man's real character. No, you couldn't calm our baby down, and no, you couldn't put him to sleep (to be fair, no one really could). But you calm me down — enough that I could doze off for a life-changing hour or two.

ADVERTISEMENT - CONTINUE READING BELOW

What other parents are reading

When I bend over backward with self-doubt, you are the one who pulls me right back up.

At times when I am overly concerned over a leaky diaper or a soiled onesie, you lead me right back to the big picture, that these are the small details to our future and the life we're just starting to build. 

To my husband, thank you. Though I complain about the overtime and the weekend seminars, thank you for carrying the cost of being a parent in the age of organic and ergonomic and everything-free and non-everything.

To my husband, thank you for being the loudest voice in my head. For every raised eyebrow and critical comment that comes my way, you are my first defender and staunchest supporter. You are the first person to say, "Screw them. Our baby's cry is the only thing we need to listen to." 

To my husband, thank you for getting the baby when my arms are about to fall off. Thank you for staying home and coming to work late so that I could steal an extra half hour of rest. Thank you for letting me watch you raise our son; seeing you with him allows me to paint a vivid picture of what is bliss.

Thank you for figuring out (on your own) that my happiness is the key to our baby's happiness.

What other parents are reading

At this moment, when I am too preoccupied with our son — continually wondering why he's crying, if he's happy, whether or not he's developing normally — you are always just thinking of me. Thank for continuing to put me first at this crucial time when I think of you last. 

You did not change — and I'm sorry for thinking that you should. Just like our lives pre-baby, you continue to make me the priority, and you put my satisfaction above all. Since becoming a father, you have merely just amplified all the best points that made me feel safe with you. Heck, you've even woken up in the middle of the night once or twice. I rest easy knowing our son is safe with you, too. 

You warned me early on about your potential inadequacies, but the truth is, you're not the one who is lacking. Thank you for picking up my slack when it comes to my lack of contribution to our relationship as husband and wife. Thank you for understanding that right now, I need to be a mother first and a wife next. Though it might not feel like it, in the end, you are still and always will be my number one. 

Everyone always waxes poetic about motherhood, but you've moved past the romance of it and dove straight into the realities of marriage and parenting. As always, you have taken it in stride. I know that in my case, motherhood has become worth it because I have you right by my side.

Sasha Lim Uy eats to live and lives to eat. For five years, she handled SPOT.ph's food section and edited the last two installments of its Top 10 Food books. She was a curator for Madrid Fusion Manila and managing editor for Esquire Philippines.

Trending in Summit Network