These Two Traits Are the Reason Why Some Couples Have More Sex

Who is having more and better marriage sex? The answer should not surprise us, ladies.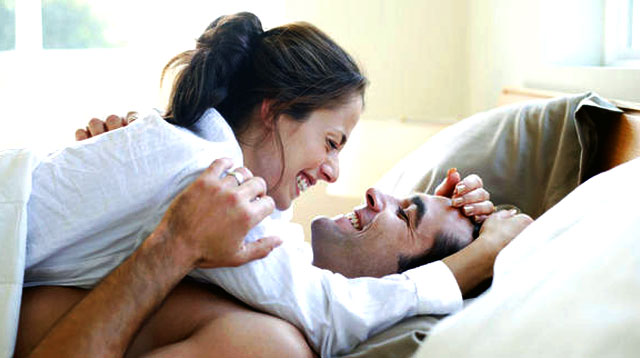 "Happy wife, happy life." The short but sweet statement just packed an even more punch of truthfulness based on a new study about marriage sex. 

Published in the Journal of Research and Personality, the study found that when the wife is more "agreeable" (affectionate, sympathetic) and open (curious about life), she and her husband have sex more often. And apparently a man's personality traits have little effect on how often the couple would have sex. 

More from Smart Parenting
Florida State University psychologists Andrea L. Meltzer, Ph.D.,  and James K. McNulty, Ph.D., asked 278 couples to keep a daily diary of their married life for two weeks and note down the times they got busy under the sheets and how satisfied they were afterwards. The couples were also asked to take a "big five" personality test to find ou their level of conscientiousness or how likely you are to be on time for appointments or replying in e-mails; agreeableness or how eager one wants to please people; openness to experience or how much one is willing to try new adventures; neuroticism or how much one reacts to the difficulties of life; and extraversion or how much you want to spend time with other people.
ADVERTISEMENT - CONTINUE READING BELOW
CONTINUE READING BELOW
Recommended Videos
The result: The higher a wife rated on openness to experience or agreeableness, the more often the couple had sex. In other words, women who are more relaxed in their view of life--who don't worry too much about things beyond their control, are more open to experience and learn new things, or who find happiness in making other people happy--get more of the action, and gain all the benefits of having a healthy sexual relationship with her spouse.
"Given that women, on average, desire sex less than men, it makes sense that women likely have greater input or control over couples' sexual frequency," Dr. Meltzer said to Fox News. "Any time there is a difference between partners in the amount that they desire something, the one that desires something less likely has more power." 
More from Smart Parenting
Dr. Metlzer also stressed that that the findings might apply to newlywed couples more because they are in the honeymoon phase. It might be different for couples who have been together longer, those who already have kids or are struggling with health issues that can challenge intimacy.   

Still, this is another study that shows that women really are the "gatekeepers" when it comes to sex. So, ladies, treat this new knowledge as a reminder to relax and live a little. Get busy under the sheets, and get some much-needed happy hormones. As the studies prove, when we take the initiative, it spells for a much improved sex life and a deeper intimacy with your husband. A happy marriage is one of the best and most important things you can give your kids.
ADVERTISEMENT - CONTINUE READING BELOW
More from Smart Parenting

Trending in Summit Network