When Moms Prefer Solitude Than Face Another Family Reunion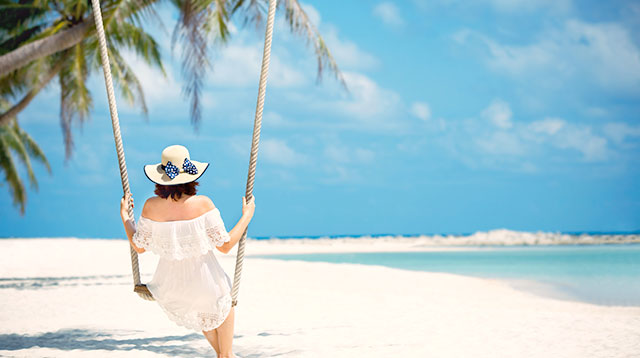 Like most moms, you're probably in the throes of making merry and bright, wrapping Christmas presents, shopping for the Noche Buena feast, and arranging the family's holiday itinerary. At the back of your mind, you're also thinking: What if Tito Manny makes another joke about your sister's weight? What if Tita Fely drinks too many glasses of wine and embarrasses herself? What if relatives who don't see eye to eye pick a fight at the reunion? What if?!

Underneath the ribbons and the trimmings is the one element which could turn your happy holiday into the nightmare on General Luna Street: Your very own family!

"Ah, families! No other social group is as loved, despised, bragged about, concealed, revered, dissected, ignored, or elevated. They can triple our pleasure or devastate a holiday or special occasion," wrote Denise Lang in How to Stop Your Relatives from Driving You Crazy.

What other parents are reading

Can relatives really drive us crazy? In a random survey of 1,358 men and women conducted by Leonard Felder, PhD, for his book When Difficult Relatives Happen to Good People, at least 78 pecent have at least one family member who gets on their nerves and some 68 percent describe family celebrations as frustrating or obligatory.

Conflict may arise when you find a relative's character trait as obnoxious or his behavior as unacceptable. You're embarrassed that he's a relative because not only are you so unlike him but you will never act like him, says Dr. Felder.

Another source of conflict maybe unresolved matters from the past, says Kirby Llaban, father of four, motivational speaker, and author of The Fired Up Life. "There may be issues that were unsettled where family members choose to just let it pass, but keep their grudges bottled up."

ADVERTISEMENT - CONTINUE READING BELOW

What other parents are reading

The holidays and the inevitable reunions that come with it may sometimes bring back unpleasant memories of past hurts. Llaban says, "When family members gather, especially during reunions, the 'familiarity' kicks in, and tends to bring up old issues that are usually triggered by seemingly simple incidents that may be irksome. Considering the busyness brought about by holiday activities — preparing food, dealing with traffic, buying gifts and coordinating people — these may add to the possibilities of triggering conflicts."

Of course, there's always going to be a bit of craziness in every family. The trick is how we deal with potentially nutty situations. A bit of research and reading reveal three options: embrace diversity, resolve differences, or let go. 

#1 Embrace diversity
The diversity of personalities present in every family actually runs in their genes. According to Dr. Felder, genetic research has shown that there tends to be a full range of individual variations on a particular personality trait within every family.

What other parents are reading

There are usually one or two with narcissistic tendencies — the charming but arrogant tita who doesn't get why you got miffed when she regaled your children with an embarrassing incident from your high school days. In the same family, says Dr. Felder, there are one or two with "a medium dose of the biochemistry that favors narcissism." This is your generally fair and pleasing tito who has his moments of self-centeredness. And then there is your extra nice cousin who is less self-absorbed and ends up being the family's resident sounding board and default doormat.  

ADVERTISEMENT - CONTINUE READING BELOW

Recommended Videos

So, yes, it's in the genes! It's inevitable. But, as Dr. Felder so correctly observes: "We judge rather than accept that each family member is genetically designed to exhibit a diversity of personality traits. We spend a lot of time and energy feeling horrified, hurt, or angry that our relatives are so unlike us."

The most logical option here is to accept each other's differences and embrace the diversity in our family. Conflicts will still arise, of course, but at least we can manage our expectation.

What other parents are reading

#2 Resolve differences
Altering our genetic makeup is all but impossible, but accepting the situation and seeking out ways to communicate and connect with each other harmoniously seems more doable. 

Llaban believes that the holiday season may provide opportunities for peace and reconciliation. He says, "Instead of managing conflicts, family members may choose to resolve matters by creating a venue for peaceful dialogue — to hear each other out and understand feelings and perspectives."

In the traditional family setup, it is usually the elder in the family who initiates the dialogue. However, any one person in the family who can set aside pride and prioritize the process of healing can make the dialogue happen.

What other parents are reading

Llaban says, "The hope is that by genuine listening there will be gestures of humility — of asking forgiveness and of forgiving. The Christmas season, after all, is a time to be grateful for God's blessings for the year. What greater blessing is there than family? It is a time for joyous celebration, a joy that is lasting and complete. It is upon our contemplation on this humble family with a baby in a manger that we realize the deeper reason for the season: It is to have peace on earth, starting with peace in our own families." 

ADVERTISEMENT - CONTINUE READING BELOW

#3 Let go
Let's face it: Everything is not going to be merry and bright, and that's okay! Who says everything has to be perfect? Who says everybody has to get along? Take it one day at a time.

If you feel that a reconciliation between you and your belligerent mother-in-law ain't going to happen, don't beat yourself up. It's okay. If you think you can only stay for two hours with your gossiping cousins before you implode, then leave. It's fine. Be patient. Be kind. Expect the unexpected, but pray for the very best. The sooner that you let go of your idea of the perfect family holiday, then the better chances you'll have of enjoying a merry Christmas!

What other parents are reading

 

Celebrate your pregnancy milestones!


Enter your details below and receive weekly email guides on your baby's weight and height in cute illustration of Filipino fruits. PLUS get helpful tips from experts, freebies and more!

You're almost there! Check your inbox.


We sent a verification email. Can't find it? Check your spam, junk, and promotions folder.

Trending in Summit Network