You Initiated Sex? Here Are 7 Reactions From Hubby

What does he think when you try to get busy under the sheets?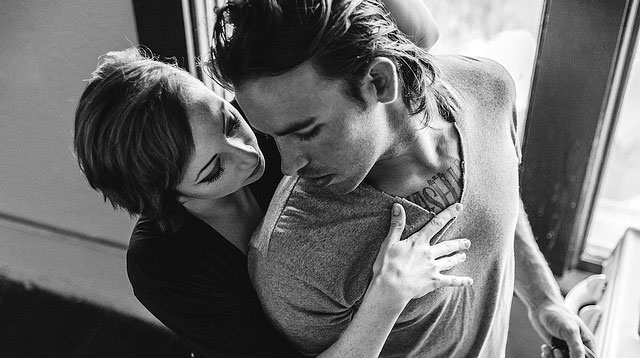 Photo from Flickr Creative Commons

How often do you initiate sex with your husband? Studies have shown that men are twice likely to initiate sex than women. Maybe that gap widens even more when there are kids to attend to, as it leaves less time to have sexy time, or not enough time to wind each other up as much.

A 2012 study has proven that men are really from Mars and women are from Venus: Men show love by initiating sex or sharing activities together, wives express love by being less assertive and more accommodating. No wonder it's rare that women make the first move.

However, the same study also proved that both men and women are likely to show love through affection. A recent U.K. survey this year indicated that women want as much sex as men do. This means you -– yes, you wifey! -– have no excuse! Don't just wait for your man to make the first move.  

 

Leveling the playing field
Sex is one important factor that can make or break a marriage, so both husband and wife should nurture their sex life. Of course, not all women have the same level of sexual desire as their husband's or other moms'. But these moms do, and they are embracing it and loving it!

"Let's face it, it's a basic need. We need the hormones, the pleasure. It helps me unwind, and, as cliché as it sounds, it makes me feel wanted and loved," say Ria, a 32-year-old mom-of-three. She says growing up in a Catholic all-girl school taught her to wait for marriage before having sex. "And now that I'm married, I'm not going to wait for it anymore. I love having sex with my husband, and I'm proud of it. I can have him as often as I like, and he can ask for it, too, as often as he likes," she quips.

Double sex standards are a thing of the past for this mom: "I thought before that when your husband wants it, you cannot refuse. But what if it's I who wants it?," says new mom Janet, 27. When she married, she found out it's not anymore like that. "I can ask for it, and more often than not, he's really excited to get on with it when I initiate. Sometimes, though, he's tired and, well, I just have to understand. He doesn't force it also when the roles are reversed," she relates.

It isn't a sin, stresses Chloe. This 35-year-old mom of two explains that she sometimes initiates sex because it makes her and her husband feel "alive." "At our age, work and responsibilities can literally take over your life. Sex is just something that can spice that up a little at no cost, so we both take advantage of it. Don't be ashamed. He's your husband!"

 

So, what does hubby really think...
...when you start to get busy under the sheets? Here are some of the responses we got from dads.

1. "Wow! Really? Yes! Yes! Yes!"
Some variations of this answer are: "I can't believe it. I must be dreaming!" "I won the lottery!" Or, "You want me? Let's get it on!" Because women rarely initiate, when wifey does hint at doing the deed, hubby is more than game. It's almost an instant turn-on.

2. "Hot momma, come to me!"
"I actually find it hot when my wife comes on to me. It reminds me of the days when we didn't have to schedule hump days, when we explored more in bed," a dad-of three says. This is a more encouraging and proactive move, so unleash your inner sex goddess. Remember your past sexcapades. 

3. "I must have done something right."
Maybe that doorknob that needed fixing or taking over the kids during the weekend? "Now that I look back to those times my wife initiated sex, most of them were when I was extra sensitive to her needs and when I helped her big time," says a young dad-of-two. Yes, good karma is a thing.

 4. "Yes, Baby. You ride. I pounce."
According to one dad, this means that his wife should be ready to get her mind blown with good sex. He explains: "It's really rare that my wife makes the first move, so when she does I give her the time of her life. Para maulit, di ba?" Let's hope it did.

 5. "Gosh, I'm exhausted. But okay."
During the times that you want it and he just can't, he tries to oblige. "I try my best to meet my wife's needs really. I really don't want to reject her advances even if I'm tired," says a new dad. It's  a half-hearted romping for you, but it's the thought that counts, maybe?

6. "Sorry, honey, next time, please."
This only happens when hubby is really tired. "Contrary to popular belief, we don't always say yes. We also say no for very valid reasons: pagod, maaga pasok bukas, etc., Sometimes age is also a factor," says one veteran dad. Better luck next time, then.

7. "Jeez, does she want another baby?"
"Maybe I just couldn't keep up with her sex drive at that time, but there was a time my wife wanted to have sex almost every day I thought she might be on a mission to get pregnant again," dad-of-three quips. Not always true though. Sometimes women just want it because they want sex.




Celebrate your pregnancy milestones!


Enter your details below and receive weekly email guides on your baby's weight and height in cute illustration of Filipino fruits. PLUS get helpful tips from experts, freebies and more!

You're almost there! Check your inbox.


We sent a verification email. Can't find it? Check your spam, junk, and promotions folder.
Trending in Summit Network