Your Phone is Slowly Killing Your Relationship, Says a Study

"Pphubbing" is when you use or get distracted by your cellphone while in the company of your partner. Guilty?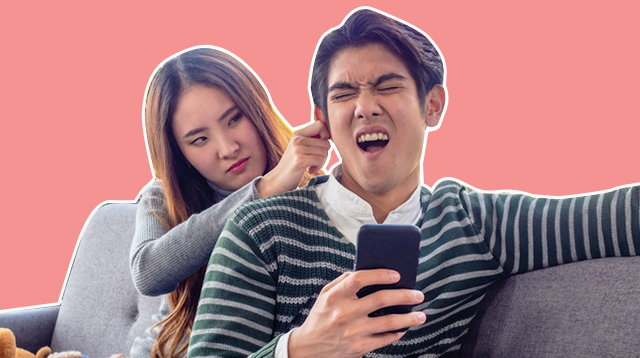 Before the birth of mobile phones, what do two people having dinner do when the conversations starts to get boring? They change the topic and get the conversation going again. Nowadays, what do people do when they're bored at the dinner table, even when they've got their partner right in front of them? They take out their phones and commence "pphubbing." 

Research from Baylor University has shown that "pphubbing" damages romantic relationships and leads to higher levels of depression. The study was published in the journal Computers in Human Behavior. 

"Phubbing" is when you snub someone you're with by paying attention to your phone instead. Add another "p" at the beginning, "pphubbing", and the snubbing is directed towards your partner. 

Co-author and professor James A. Roberts, Ph.D and his team found that pphubbing led to lower levels of relationship satisfaction and even conflict. "These lower levels of relationship satisfaction, in turn, led to lower levels of life satisfaction and, ultimately, higher levels of depression," Roberts said. 


What other parents are reading
ADVERTISEMENT - CONTINUE READING BELOW
The study involved two surveys with 453 adults. The first survey asked the respondents to rate their partner on a scale from one to nine on how much they exhibited pphubbing behaviors; behaviors like holding on to or glancing at their phone during conversation, or checking their phone during lulls in conversation. The second survey asked the respondents about their relationship satisfaction, relationship stability and life satisfaction. 

Results showed that 46% of the respondents have been phubbed by their partner and 23% have had conflicts in their relationship because of phubbing. 

"In everyday interactions with significant others, people often assume that momentary distractions by their cell phones are not a big deal," co-author and assistant professor Meredith David, P.h.D. said. "However, our findings suggest that the more often a couple's time spent together is interrupted by one individual attending to his/her cellphone, the less likely it is that the other individual is satisfied in the overall relationship.

In addition, researchers found that those who were in less stable relationships were more bothered by their partner's pphubbing than those who were in more stable relationships.

What other parents are reading
ADVERTISEMENT - CONTINUE READING BELOW
CONTINUE READING BELOW
Recommended Videos
Instead of asking how a loved one's day went, we scroll through news feeds, like posts, comment on videos, answer emails or have a conversation with someone else online. Are we allergic to real life conversations now? Mobile phones and the internet are killing relationships slowly and little by little. We're aware of this. Now we have to do something about it.


Source:
Sept. 29, 2015. "Baylor Study: Cellphones Can Damage Romantic Relationships, Lead to Depression". baylor.edu

Trending in Summit Network