13 Wise Habits That Teach Kids to Be Money Conscious

The best way to teach your child is to live by example.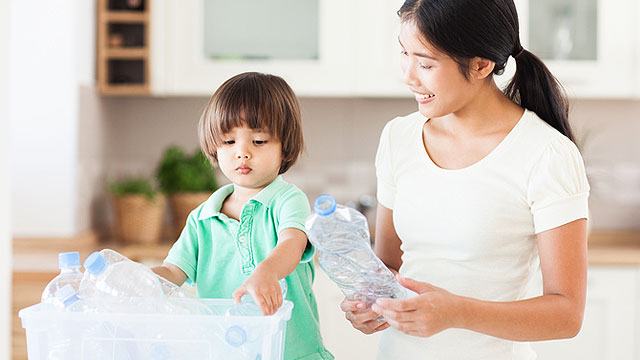 Being money-savvy entails not just saving up, but also being prudent with the things we use and spend. Give your kids a head start with these tips from fellow parents.

"It takes a while for our water heater to kick in, so every time my kids turn on the shower to bathe, I tell them to catch the initial cold water in a bucket. That first gush of water is used to water the plants, flush our toilet, and more."
- Eric Chua, entrepreneur; dad to Justin, Emily, and Joshua

"We have a composting bin in our kitchen. After every meal, my kids segregate the vegetable and fruit scraps on their plates. These then go directly to the compost and help fertilize our garden."
- Nona Dizon, entrepreneur; mom to Joshua amd Jayden

"I always tell my kids to determine what they want to snack on even before they open the refrigerator. They are not allowed to leave the ref door open while they stand there, trying to figure out what to drink."
- Merryl Gopez, entrepreneur; mom to Amanda and Antoinette

"I remind my kids to leave a clean plate after eating. t teaches them not to waste food, and it also helps conserve water because the plates are easier to wash."
- Sarah Hernandez, mom to Inigo and Effie

ADVERTISEMENT - CONTINUE READING BELOW

What other parents are reading
"When my son wants to draw or paint, he knows he can use only scratch paper (the backside of old newsletters, memos, etc). He is not allowed to use clean bond paper for playtime."
- Jen Lingson, accountant; mom to Clive

"We show our kids our monthly utility bills and ask them to compare those with the previous ones. By doing so, they learn that water and electricity are not free and infinite; they cost money and we have to spend that money judiciously."
- Perry Pengson, entrepreneur; dad to Hans ad Henry

"Every night before bedtime, my husband takes our son on a 'tour' around the house to check if all lights have been turned off and all unused appliances have been unplugged. We tell him that these moves conserve electricity and also lessen the chances of fires."
- Carissa Moreno, mom to Caleb

"My kids are assigned to water the plants outside their bedroom window. This is a good way to teach them to care for the environment, as well as instill in them a sense of responsibility."
- Mary Lopez, teacher; mom to Maxene and Michael

"Whenever my kids bathe, I allow them to use the water heater. But when it comes to washing their hands or brushing their teeth, they know to use only the 'cold' tap to conserve electricity."
- Farrah Macapagal, architect; mom to Suzette and Emily
What other parents are reading
"I remind my kids to close the door properly whenever they leave an air-conditioned room, so that the cool air will not escape , and the aircon will not have to work harder  and use more power."
- JR Estabillo, entrepreneur; dad to Julius and Jayson

"During the rainy season, there are buckets scattered around the house to catch rain water. We then use it to water the plants and flush our toilet. My kids already know to ask first if there is rain water available after they use the bathroom."
- Stella Fernandez, teacher; mom to Hansel and Christian

"If it's not too hot, we walk to the village park instead of drive. It we're going up only one or two floors, we take the stairs and not the elevator. People tell me, 'Kawawa ang mga bata, pinapahirapan mo,' but I think doing these things teaches them energy conservation and also gives them some sort of exercise."
- Paola Pamos, pediatrician; mom to Andrea and Alexis

"Our neighborhood has a quarterly 'basura fair' where we sell our recyclables to the barangay. We earn a few hundred pesos per session, and I use part of the money to treat my kids to a donut or spaghetti from their favorite fast food chain.They're thrilled over being able to 'earn' and 'spend' money that they've taken an active part in making sure that the recyclables in our house are put in the recycling bin. They're even the ones who remind me, 'Mom, don't throw that away -- we can recycle that!"
- Hannah Paez, writer; mom to Jessica and Jeikka
ADVERTISEMENT - CONTINUE READING BELOW
This article originally appeared in the August 2013 issue of Smart Parenting magazine. Minor edits have been made by the Smartparenting.com.ph editors.


Trending in Summit Network