5 Money Mistakes Most Couples Make

Avoid future conflicts by wising up to these potential pitfalls.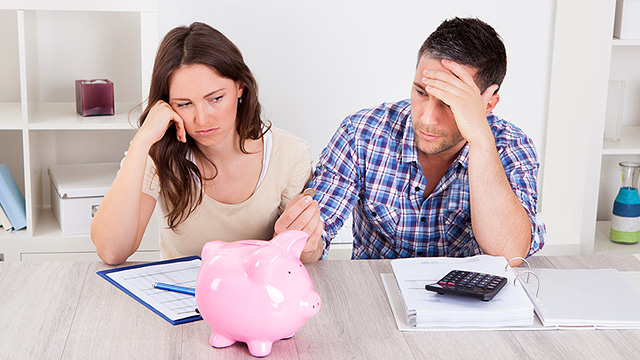 What happens after you decide to build a  life together? You don't just ride off into the sunset and live happily ever after. Soon enough, the inescapable reality of finances will come to the fore. Money is a sensitive subject among most couples, and one of the primary reasons why they clash. Want to avoid possible conflicts with your spouse? Wise up to these common money mistakes and find a way to go around them.

1. Lack of transparency and communication
People are normally antsy about divulging the state of their finances, mostly because they dislike being judged. Ideally, you must first be aware of your spending habits, financial history, and beliefs before deciding to build a life with another. Share such information with each other to avoid financial rifts.

Smart move: Trust, commitment, and communication are the essential ingredients of a relationship. Schedule a financial state of the union meeting where each spouse shares information about his or her past money-related experiences, advises Bambi Holzer, author of Financial Bliss: A Couple's Guide to Merging Money Styles and Building a Rich Life Together. Next, establish ground rules on how to address money matters. Having regular financial dates, says Holzer, will help improve money-related communication.

Rommel Macapagal, an equities broker licensed by the Securities and Exchange Commission (SEC), says, "My wife and I have been married a little over two years now. Early on, we talked about our financial histories. After that, we set plans and broke them down into achievable portions with matching timetables. It's important to make goals realistic, achievable, and time-bound. As with all other things, communication and being on the same fiscal wavelength is the key.

ADVERTISEMENT - CONTINUE READING BELOW

What other parents are reading

2. No budget set
Yes, now is the time to create one. The process must be looked upon with a positive attitude. Sit down and establish your household budget based on your income, against expenditures. Track every purchase and determine if your combined income is enough to cover the usual expenses, and if there is some money left afterwards.

Smart move: Erwin Balita, an equities research analyst, and wife Mariter, bank officer at the Bank of Tokyo, have been married for 10 years. "We resolutely set aside at least 20 percent of our combined paychecks as savings, and use the remainder for covering bills and expenses. Anything extra goes straight to the savings fund," he says.

Manuel San Diego, an investments executive, and his wife Maricris, bank executive, share their strategy: "We transfer an agreed amount bi-monthly to a joint account that covers major expenses like debt payment and extraordinary items such as taxes, home and car repair, hospitalization, travel, and purchases of appliances and furniture. We also agree on the amount we set aside to pay regular expense items such as groceries, utility bills, and maids' salaries.

"Budget allocation doesn't necessarily mean depriving yourself of the fruits of your labor," Macapagal says. Clever budgeting allows you to save up for future travel plans. Start a joint savings account, then invest in money market and pension plans, or the stock market. With a bit of foresight and fiscal diligence, you can earn extra money.

What other parents are reading

3. Not cutting costs
Evangeline Tiu, a financial business manager at Sun Life Financial in Makati City, says, "Keeping a good rein on one's spending, and living within one's means significantly fortifies a family's financial position.

CONTINUE READING BELOW

Recommended Videos

Curtailing and, at the same time, tracking expenses helps us save. It simply boils down to pending less than what is earned."

Smart move: "We try to live simply and resist societal pressures to match other people's more expensive lifestyles. We constantly keep our priorities in check, like those that concern our children's education, basic needs, and health," Balita shares.

Keep track of your income and expenses to get an idea of your monthly financial standing. Macapagal advises, "Analyze where money is spent and cut down on non-essentials. You may have been spending more on things you can actually do without, like dining out too often, instead of enjoying a great meal right at home," he explains. Cutting down on your gourmet coffee dates can already save you between P2,000 to P3,000 a month.

What other parents are reading

4. Piling on debt
In Financial Bliss, Holzer warns that using credit cards for necessities can be a budget buster. You spend at least 30 percent more when you use a card. Carry some cash with you and get in the habit of using it for those miscellaneous purchases. Without knowing it, we're racking up debts as we dine out, shop with our credit cards, and splurge on home improvements. Though buying on credit allows you to pay for a major purchase over a period of time, it can leave spending unchecked.

Smart move: As a rule, do not obtain debt you cannot comfortably pay within a year. Credit card payments must be prioritized when already in debt. "Learn about balance transfer and minimum payments. Look at the interest charges, make balloon payments when extra money comes in, and always maintain a good credit standing," advises Macapagal.

ADVERTISEMENT - CONTINUE READING BELOW

Be mindful of credit card deadlines and try to pay in full. Sometimes, you don't realize that the minimum payment charge of three percent a month amounts to 36 percent a year.

What other parents are reading

5. No future plans—at all
Admit it, we all hate being unprepared for anything. Even the best-laid plans can get derailed or permanently changed by unexpected events. A global economic downturn can be unsettling; job loss, illness, disability, retirement, and death are unpleasant but unavoidable matters.

Smart move: Tiu says, "Planning is key. Think of a business venture, or have retirement goals." What will your assets be worth and how long can you live on them? Tiu adds, "Insurance should be a cornerstone for the family's future."

Seek advice from investment professionals, too. Financial experts can help you attain your  economic goals. Take advantage of free financial planning seminars to educate yourself about money so you can avoid making money mistakes as a couple.

What other parents are reading

Celebrate your pregnancy milestones!


Enter your details below and receive weekly email guides on your baby's weight and height in cute illustration of Filipino fruits. PLUS get helpful tips from experts, freebies and more!

You're almost there! Check your inbox.


We sent a verification email. Can't find it? Check your spam, junk, and promotions folder.
Trending in Summit Network