7 Ways to Make a Difference Without Spending a Single Centavo

It's time to take a second look at your skills and...reward points.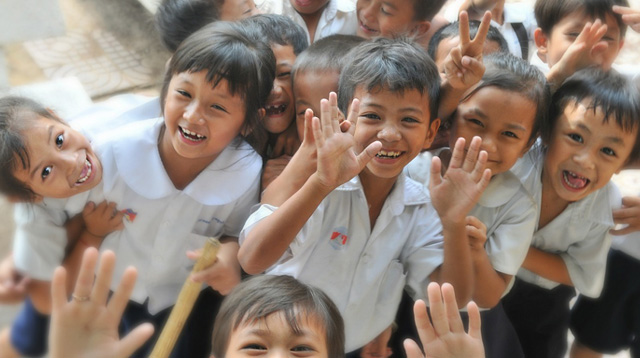 Want to spread a little love but tight on cash? Don't worry, there are still loads of ways you can give even if you don't have a single centavo to spare.   

1. Use your reward points for others
A lot of credit card companies allow you to donate your reward points to charities and organizations. CitiBank, for example, has partnered with the Philippine National Red Cross, UNICEF and Jollibee Foundation. They're also partners with Working Hands, a scholarship foundation, and Operation Smile, which provides free medical services to children and adults with cleft lip and palate. Check BPI and HSBC also offers this service. If you don't have a credit card, this holiday season, Globe has partnered with Kiva, a global crowd-funding source that provides loans to those without access to banks like farmers and housewives in the provinces.  

2. Volunteer to teach
Helping out a good cause is a great way to do your part in uplifting the community. It's also a good opportunity for your kids to learn empathy and charity. Don't know where to go? A good start is iVolunteer.com.ph that gathers volunteering opportunities all over the Philippines, including a lot of those happening in Metro Manila. For moms who run homeschools, "The Weekend Tutors" are currently looking for five volunteers to teach and play with five underprivileged kids this Friday, December 23. Learn more about it here. For more ways to volunteer, check out this list.  

3. Open a bank account for yaya
Charity starts at home. Have you asked your yaya if she has a bank account? If not, a good deed you can do this Christmas is to take a day to help her open one. And don't stop there, give a how-to session and explain a few banking basics like interests, withdrawals and deposits. A good starter bank to consider is BPI's BanKo. Their minimum deposit is P50 and no maintaining balance is required. Because BanKo is BPI's venture with Globe, partnered outlets, where account holders can cash in and cash out funds, are not hard to find. Check your nearest sari-sari store – they might be one!

ADVERTISEMENT - CONTINUE READING BELOW

What other parents are reading

4. Have a garage sale and donate the earnings
Take inventory of all the things in your home and unearth all the items you can do without. Then, sell them! You can team up with neighbors, friends and relatives to increase your earnings. With a considerable amount, you have the option to plan out a really special way to give back, similar to those organized by Make-A-Wish Philippines. The charity grants the wishes of children with life-threatening medical conditions. A special day is organized for each child. Find out how you can organize an event for a child (or children!) by visiting their website or Facebook page. 

5. Give blood
On any given day, more than two thousand blood units are transfused to patients in our country, says the Philippine Red Cross. Blood donations are essential to persons with serious illnesses, those undergoing surgery and people who have just been in an accident. Good news is you can help. You can donate blood at blood donation centers found all over the country. In Metro Manila, the Philippine Red Cross has blood service facilities in Caloocan, Pasay, Quezon City, Rizal and Valenzuela City. Get the full details and see Red Cross' blood center directory here. 

6. Visit an orphanage
There's always more love to give. Contact an orphanage and arrange a day for you and your family to spend time in a home for less fortunate kids. Concordia Children's Services, a child welfare service, says visiting the kids to talk to them, hold them and feed them is enough. Ask if you can bring toys and books from home if you want as well. You can find their contact details on their website. 

7. Exercise with seniors
Keeping fit and healthy is essential for everybody, especially the elderly. Knock on your neighbors doors and ask if they would like to go on an early morning walk with you. Ask seniors if their health allows for such an activity and invite them especially! It won't only be good for their health, but yours too. Walking needs no special venue or equipment, though a little music (portable speakers, perhaps?) is welcome. You'll be able to foster relationships with the people in your community and it will be your special way of spreading a little goodness in the world.

Trending in Summit Network