Mom Quits Job To Sell Breast Pumps Online. Now She Owns The Top Breastfeeding Store In PH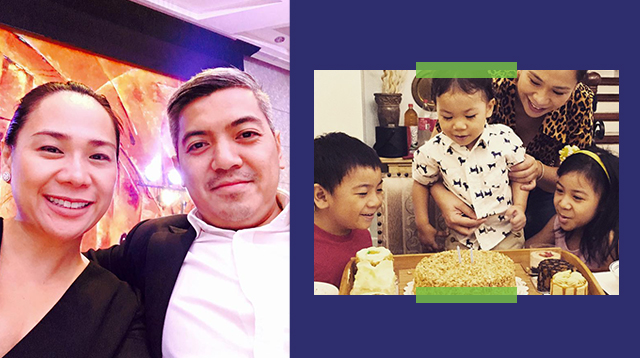 Because of the COVID-19 pandemic, moms are now reassessing their careers and are looking for ways to work at home — not only to keep their families safe but also to spend more time with their growing kids. Many dream of putting up their own business, but are hesitant to exchange it for a stable source of income.

For Mi'Ann Reyes Oblea, 44, the decision to quit her corporate job became easier when she was asked to go on bed rest while pregnant with her second child. "I realized how much fun it was to stay at home and have unrushed moments with my eldest. I was also tired of corporate work," she tells SmartParenting.com.ph in an email interview.

She was lucky that she had her husband Tipi's full support. "I raised the topic of resigning with my husband and he was 100% supportive even if I didn't have any definite plans on what to do," Mi'Ann shares. "We just agreed that I eventually had to start earning again after I give birth since financial independence is important to us."

Finding the 'right' business

Mi'Ann with her husband, Tipi.

PHOTO BY

Courtesy of Mi'Ann Reyes Oblea

ADVERTISEMENT - CONTINUE READING BELOW

Mi'Ann thought of opening a waxing salon at first, but she realized that this business wasn't for her because she didn't have any drive to hit the ground running. Then, Tipi suggested that she sell breast pumps instead since she had a difficult time finding a good breast pump at a good price when she was pregnant with her eldest.

"For my first baby, I really wanted to purchase the Rolls Royce of breast pumps but the cost didn't make sense — even to a working mom like me," she explains. "I realized this was a product I could really get behind because I didn't think that a good pump should only be available for those who have lots of money. I wanted to provide a product that all working moms can afford."

Mi'Ann inquired with several Korean companies and the brand Ameda from the US and found that they were willing to sell their products at low quantities. Since she was a program manager for online banking in her previous job, she was also "very comfortable putting up a transactional website, selling products, and implementing a fulfillment system.

In 2009, Babymama was born. More than a decade later, it has become a trusted brand that has made pregnancy, breastfeeding, and baby essentials more accessible to moms.

The challenges and advantages of having your own business

From putting up the business by herself, Mi'Ann now employs 80 people under her.

PHOTO BY

courtesy of Mi'Ann Reyes Oblea

ADVERTISEMENT - CONTINUE READING BELOW

Recommended Videos

Mi'Ann shares that the first five years of Babymama was easy — "I did not have any goals in mind. I just did the day-to-day stuff and planned ahead for just 2-3 months," she says.

But having a business, especially one that caters to moms, means that Mi'Ann worked without a day off. "Even when I gave birth, twice into the business, I handled orders/inquiries right after recovering from the anesthesia. But it was okay because being a breastfeeding mom, I understood the urgency [that] fellow breastfeeding moms had for my products. I truly loved what I was doing and was just focused on delivering the best service."

After five years of handling her store alone, Mi'Ann was ready for the next step: hiring employees and renting office space. As the brand became more successful, they just kept hiring — now they are a company with 80 employees.

With more people under her, it became crucial to keep their safety and livelihood in mind, especially when the pandemic hit. "It's more important now than ever to communicate again and again to our employees that the company is in a good position, that their jobs are safe, and that we prioritize their health and safety," Mi'Ann says.

Despite the challenges (and stress!) that come with having your own business, Mi'Ann has no regrets leaving her corporate job. One of the greatest advantages is being in charge of her time: "I don't have to go to the groceries, pedias, or hair salons during the weekends when they're packed," she shares. "I don't have to answer to a boss on goals [and] achievements, but on the other hand, I have to answer to my employees and customers which is a more consuming job."

ADVERTISEMENT - CONTINUE READING BELOW

"Beautiful ideas are just ideas if you don't do anything."

How to grow your own business

Mi'Ann with her three kids.

PHOTO BY

courtesy of Mi'Ann Reyes Oblea

While businesses are about sales, Babymama stands out from other online stores because they uphold their breastfeeding advocacy. "We adhere to the Milk Code and we will never sell nipples so we manually dismantle them piece by piece and customers must make a written request before they can get them," she shares.

This level of service to moms is what makes Babymama a trusted brand. "We are foregoing a lot of sales by staying away from feeding bottles and formula, but we want to enable moms to breastfeed in the best possible way since we're in a third world country with a lack of access to healthcare," Mi'Ann explains.

For moms who want to start their own business but are afraid to take a risk, Mi'Ann says there's no harm in taking things slowly. "Be conservative in your projections," she says.

ADVERTISEMENT - CONTINUE READING BELOW

But don't give up on your dream — instead, grab the opportunity when you see it. "Act fast and work with momentum," she shares. "Beautiful ideas are just ideas if you don't do anything."

Lastly, don't forget to innovate. "We are always gearing ourselves up to handle more volume while maintaining and exceeding service standards," she shares. "We have the capacity to handle the depth and breadth of numerous products and simultaneous projects."

What other parents are reading

One of those projects is a partnership with Smart Parenting called Chat N Shop. Here, we've teamed up with babymama.ph to curate helpful products for your pregnancy and new mom journey. You go to our website for practical advice on pregnancy, breastfeeding, newborn, and baby care. Now, you can buy the products you need from the articles you've read without ever leaving our page!

Curious? Try it now by clicking the 'Chat N Shop Now' button below. (Don't worry — the transaction is secure and safe!) 

 

Mi'Ann shares, "I try to make the company the best home away from home for the employees while still pushing ourselves to our limits."

PHOTO BY

courtesy of Mi'Ann Reyes Oblea

ADVERTISEMENT - CONTINUE READING BELOW

 

Mi'Ann admits that running a business is a 24-hour concern, and she is constantly thinking of ways to improve it. But it all pays off in the end because she sees how much customers value her brand.

"I remember an email a customer sent us during ECQ's first 2 weeks — when everything was closed — saying he truly believed we shouldn't have closed since we deliver essential products for moms and babies. I cried because he recognized the importance of our products to his family," Mi'Ann shares.

Mi'Ann hopes to pass Babymama as a legacy to her three children and "to raise them to become even better equipped (as employers) and [to be] more caring than we are," she says. "I explain problems and decisions to the kids so they can see they understand what type of thinking we want to pass on."

Celebrate your pregnancy milestones!


Enter your details below and receive weekly email guides on your baby's weight and height in cute illustration of Filipino fruits. PLUS get helpful tips from experts, freebies and more!

You're almost there! Check your inbox.


We sent a verification email. Can't find it? Check your spam, junk, and promotions folder.

Trending in Summit Network