Homebased Jobs: Moms Share How To Succeed Outside The Corporate Life

Yes, there are a lot of opportunities out there you shouldn't miss (even after having kids)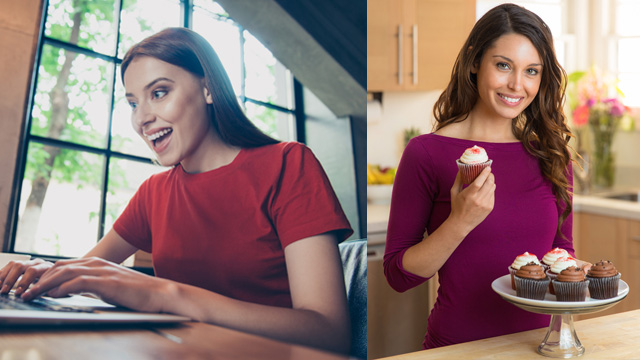 Working and parenting can be tough. The daily grind of a parent deals with the pressure to stay on top of things while fulfilling commitments at work and at home.

What jobs can you actually do from home?

Fortunately, more and more companies are adapting the work-from-home approach and more Filipinos are starting to create a buzz in their online businesses. It lets parents fully commit to their workload, have an income to sustain daily needs, and still have adequate time for their growing children.

Best work from home jobs you can try

If you want to get a homebased job but don't know where to start, think about a skill or interest and start from there. Let's hear it from Moms who shifted from an 8-to-5 job to working from home, and why it worked well for them.

Oya Huab - entrepreneur, OH! Goodies

PHOTO BY

courtesy of Oya Huab

ADVERTISEMENT - CONTINUE READING BELOW

Oya used to work in the corporate setting before putting up OH! Goodies. "Baking has been my passion and it was my daughter who helped me market and grow the business through social media. Being a housewife can be draining, but having a home-based business gave me control over my time to do household and business duties. I get to control the quantity and types of orders I accept. And of course, I get to save more because there is no need to pay rent for a separate place to sell my products." 

Her advice is just to go for it. "Bumps on the road are inevitable and expected, but be positive because doing what you love will give you happiness and contentment. We are lucky because there are several ways to market home-based businesses. I used to rely on word of mouth to grow my client list, but since we put up our social media accounts, it has grown more easily."

Find OH! Goodies on Instagram @ohgoodiesph, or call 09228001930.

What other parents are reading




Kaye Olfindo, executive producer

CONTINUE READING BELOW

Recommended Videos

PHOTO BY

courtesy of Kaye Olfindo

"My husband and I set up our own small production outfit back in college and it eventually evolved into a couple of other companies in the same industry. Currently we're running both OTT and Post 275 where we offer multimedia services (live streaming, photo & video production, etc.)." 

Kaye, mom to Natalia, 13, and Erin, 8, tells us that she can work in her jammies, but it doesn't mean that she works lesser hours than the regular office worker. "I actually work longer hours, even on holidays and weekends. As a business owner, even sick leaves aren't sacred because I have to make sure that I'm able to pay the bills and our employees' salaries. I do have moments though when I question if I made the right decision in taking the entrepreneurial route. But then I remind myself that no matter how hard it is to run a business and be responsible for a whole team, at the end of the day I am a happier human being."

Kaye also stressed the importance of working towards a healthier mind and body. "I used to love multitasking but now I'm more mindful of how I go through my day. I do cycling, yoga, rowing, barre at least five times a week. I take naps, do meditation, journaling, listen to feel-good podcasts and I avoid negative people because it brings my energy down. I am surrounded by creative individuals who inspire me to pursue my passions through writing for our travel blog or photography."

ADVERTISEMENT - CONTINUE READING BELOW

She shares some tips that help her achieve her daily goals. "I rely heavily on Calendar to keep my life as organized as possible. I also realized that as much as you'd like to cut on cost (I used to be a one-man Finance, Legal, HR, Business Development, and Purchasing Departments), delegating some tasks that are not your area/s of expertise, or those that don't need your skillset, are crucial to keeping your sanity. Outsourcing some backend functions is a lifesaver (we have an offsite accounting team)."

What other parents are reading

Elaine Reyes, freelance writer

"I was in the magazine industry for 11 years before I became a WAHM—but when the magazine I worked for closed down in 2017, I decided to go freelance. I am still a writer and editor, but I now do digital work—I'm currently managing a beauty website's e-magazine. I also do copywriting for brands (mostly beauty brands), social media content creation, styling, and even hosting. I'm also in the middle of writing my book, which I hope to release next year! 

ADVERTISEMENT - CONTINUE READING BELOW

"Unlike jobs that require you to be online or glued to your laptop for certain hours, I work around deadlines, which allows me to tick off mommy duties. It can get lonely at times but I try to schedule work at a coffee shop and sometimes with friends, so I get to enjoy some adult interaction. 

"It seems scary at first, especially if you're used to a regular paycheck. I was terrified before I made the leap and had so many apprehensions. What if I don't get enough clients? What if they don't pay on time? How long can I sustain this? But I managed to make the transition smoothly. Fair warning, though: The first few months may be slow as you're only starting, so it's wise to have an emergency fund or nest egg that you can rely on. Sometimes, payments get delayed, and you're not sure when you're going to get your next check! The key here is to look for retainer jobs that span for a specific period (i.e. 6 months or more). It is good to discuss financial matters with your husband or partner first, just to make sure your expenses are covered while you're still learning the ropes of your new freelance life. 

"But if there's one thing I want you to remember, it's this: The abundance mindset is real. If you think and believe that there are a million opportunities out there, the opportunities will come to you! Of course, you have to put yourself out there and market your services, connect with the right people, and maintain an online presence. But never doubt the generosity of the Universe. God provides, always."

ADVERTISEMENT - CONTINUE READING BELOW

What other parents are reading

Bianca Berbano, social media manager

PHOTO BY

courtesy of Bianca Berbano

Bianca started as a Junior Community Manager for Smart Communications through Tribal DDB and had several projects with other agencies and brands since then. "Aside from being able to work from home and the extra income, I stay sharp and I get to keep up with the trends in my industry which I find helpful, especially if I decide to go back to the workforce in the future." But Bianca admits that sometimes the focus is not 100% on the kids. "It's challenging to give full attention to my kids, Enzo, 6 and Ethan 2 months old. Sometimes it can get too comfortable that work sometimes gets pushed back. Mahirap to work remotely; miscommunications could happen kaya iba pa rin ang face-to-face communication. that's why it's best to document everything through email."

Her advice is to prioritize and not overdo it. "We want to be hands-on with our kids so let's not fill our plates with work and overcommit ourselves. If we do, it defeats the purpose of working from home. Also, be in constant touch with your former colleagues so you can be on top of mind for upcoming projects. And do good in all projects, no matter how small, because word goes around fast in the agency; they do talk."

ADVERTISEMENT - CONTINUE READING BELOW

Celebrate your pregnancy milestones!


Enter your details below and receive weekly email guides on your baby's weight and height in cute illustration of Filipino fruits. PLUS get helpful tips from experts, freebies and more!

You're almost there! Check your inbox.


We sent a verification email. Can't find it? Check your spam, junk, and promotions folder.
Trending in Summit Network