Am I Getting Paid Right? Working Moms Share How Much Money They Make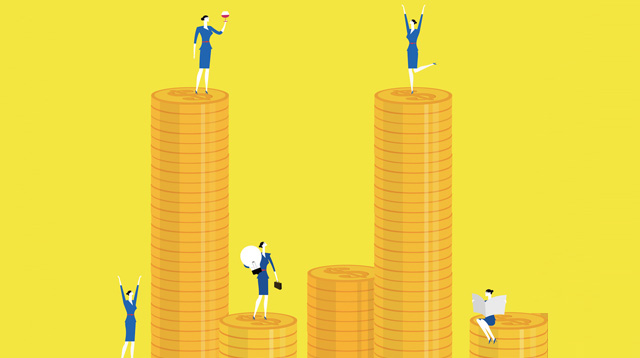 We know it's not polite to ask people about their salaries, but you've probably wondered how much fellow moms are making—so, we did the research for you. Thirty-something professionals in various fields talk about how much they make, and what it takes to make ends meet.

We've all been there: after a long day of slaving away at work, we come home to our kids already asleep. So much for quality time! This often leads us to question: Is it all worth it? Does the money we make compensate for all the time spent away from the family we're working so hard to support?

And then there's social media. We scroll through our Facebook feed and see our peers traveling the world or building houses, and we can't help but compare. Should we be making more than we are? Are we doing OK?

We know that social media doesn't tell the whole story, so we talked to moms in their 30s to find out what their work hours are like, what their personal and household incomes are, and what they spend it on. Here's what we found out:

THE LAWYER: Kiera*, 31
STATUS: Married with one kid (1 year old)
AVERAGE MONTHLY SALARY: P100,000, but about P160,000 combined with husband's income

"I'm a corporate lawyer, which means I'm in-house counsel for a property development company. Unlike other lawyers, I don't really have to make court appearances. My day-to-day tasks include contract drafting and review, and rendering legal advice on various issues. My work hours are from 9 a.m. to 6 p.m., but luckily, I'm not really required to time in or out. To be candid, this is the best part about my job since it's more output-based, and I can choose to spend a bit more time at home with my baby.

ADVERTISEMENT - CONTINUE READING BELOW

What other parents are reading

"On weekdays, I leave for work at about 9 to 9:30 a.m. Since I only have to travel about 30 minutes to get to work, I can pump, bathe my baby, and play with him before I need to leave the house. If I don't have a deadline or get stuck in traffic, I get home in time to eat dinner with my baby at around 7 p.m. On days when I don't get home in time for dinner, I just help the yaya prepare the baby for bed by giving him a sponge bath, and then my husband and I play with him for about half an hour before his bedtime.

"Other than my monthly pay, I have subsidized parking, HMO coverage, membership in our savings and loan association, and annual profit sharing. Right now, it's more than enough for our needs, but I do hope to get additional sources of income to be able to save for the baby's education and for family trips in the future. Since I became pregnant, my husband and I have become more frugal with our expenses and try to limit our spending to necessary household and baby stuff only, but we do splurge on occasional luxuries.

"I contribute 20 percent of my salary to the company savings and loan association since it earns more than the usual bank rates. Most of my savings from previous jobs are in mutual funds. The rest of our money is kept in savings accounts for emergencies. I also intend to invest elsewhere to get our money working more for us, but I'm still trying to study up on it. Being a working mother really leaves little time for anything else, but I intend to find time for financial education—while squeezing pumping sessions in throughout the day!"

THE MEDICAL CLAIMS REVIEWER: Kaye*, 31
STATUS: Married with one kid (3 years old)
AVERAGE MONTHLY SALARY: P30,000, but about P70,000 combined with husband's income

ADVERTISEMENT - CONTINUE READING BELOW

Recommended Videos

"I do medical necessity reviews of medical/insurance claims from the U.S. Our office is based in Manila, but the cases we handle are from an American company. There are different types of shifts because some jobs require working during U.S. hours. Fortunately, we have a day-shift option. My work hours are from 6 a.m. to 3 p.m.

"On weekdays, I only get to spend around four to five hours with my kid, which is one of the downsides of working. We don't really get to play or do a lot of activities. Since we don't have helpers, I also have to squeeze in house chores within those four to five hours.

What other parents are reading

"I have a health card/health insurance and transportation allowance, and our household income is just enough for our needs. Our monthly expenses total around P40,000 to P45,000. We spend on rent, monthly bills, groceries and food, school or daycare, and a bit of leisure, but we've also been planning for the future.  My husband and I have life insurance coverage and a piece of land in Bulacan, which we consider an investment. Right now, we spend most of our income on our rent-to-own condo."

THE MARKETING & COMMUNICATIONS HEAD: Anna*, 34
STATUS: Married with one kid (8 months old)
AVERAGE MONTHLY SALARY: About P80,000, but about P150,000 combined with husband's income

"I head a lean team that focuses on marketing and corporate communications for a business-to-business multinational company in the healthcare industry. My team's roles support the communications activities of the company for the customers, media, and employees. My team also handles event planning and implementation, which means long hours and weekend work. Fortunately, I live about 15 minutes away from my office in Makati, but traffic can be heavy during rush hour, which can make my travel time last from 45 minutes to an hour.

ADVERTISEMENT - CONTINUE READING BELOW

"On a regular day, I spend about 10 to 12 hours at work, but business trips are also part of the job. The longest I have been away from home since becoming a mom is four days. I am also still breastfeeding my baby, so my day involves taking a 15- to 20-minute break about two to three times aday (or more when I'm at an evening event) to pump. Being a working and pumping mom is quite a balancing act since I have to schedule my pumping breaks to make sure I can sustain my milk supply. My office offers a decent and relaxing lactation room, which is such a convenience, because it comes with a refrigerator where I can store milk. But when I'm out of the office without an available nursing or lactation room, I've pumped in places like the airplane bathroom, hotel spa or clinic, inside my car, and many more. I always have my breastfeeding gear with me when I'm on the go: my electric breast pump, storage bottles, freezer bag, and reusable ice packs to keep the milk from going bad.

"When it comes to childcare, my husband and I have a helper who helps us do household work and look after the baby. We're very hands-on because this is the type of parenting we want for our baby. Since my husband is a freelance cinematographer, he is able to work his schedule around the baby. When we're both busy, our parents (the grandparents) stay with the baby or send their house help as an extra pair of hands. It truly does take a village to take care of a baby!

ADVERTISEMENT - CONTINUE READING BELOW

What other parents are reading

"I get paid fairly well, and I get free parking space, gas allowances every month, and healthcare coverage for my family. However, if we were a single income household, my compensation would not be enough to sustain the new expenses for the baby. My husband and I are working extra hard now to meet our monthly obligations like electricity, water, Internet, cable, association dues, and the helper's salary. We also have to consider our baby's medicine and monthly vaccines. We save, but it's noti ntended for retirement right now."

THE DOCTOR: Tara*, 31
STATUS: Married with one kid (5 years old)
AVERAGE MONTHLY SALARY: P40,000 plus benefits every two months; about P55,000 combined with husband's income
"As a second-year pediatric resident in a government hospital, I do hospital rounds in the morning; see patients at the Outpatient Department in the afternoon, and at the Emergency Department in the evening. Resident doctors don't have the typical eight-to-five shift. On pre-duty days, we stay in the hospital from 7 a.m. until 5 p.m. (or even later if there is still hospital work or an emergency to attend to). On duty days, we stay at the hospital from 7 a.m. until 5 p.m. the following day (that's about 34 hours!), so most of the time, we're at the hospital. We don't have weekends or holidays—we only have a short holiday when a pre-duty day falls on a holiday, and we only have the hours off  between the end of one shift and the beginning of the next.

ADVERTISEMENT - CONTINUE READING BELOW

"It's a bit ironic that my job involves being around kids, while I don't get to spend so much time with my own kid. He would ask me, 'Mommy, 'pag gising ko wala ka na?' It's really heartbreaking. After work, I go straight home, so I can still play with him before he goes to sleep.

"Other than my P40,000 salary, we get PhilHealth bonuses amounting to an average of P40,000 every two months. We also have a clothing allowance, thirteenth month pay, and PhilHealth benefits. I spend half of my salary on my car loan (just six months to go then it's fully paid!), food, phone bills, and my kid's tuition fee, and that leaves just enough for some savings every month. When it comes to retirement and insurance, I invested in a financial plan when I started residency training and recently opened an optimum savings account with a local bank."

What other parents are reading

THE CORPORATE UNIT HEAD: Bettina*, 37
STATUS: Married with one kid (6 months old)
AVERAGE MONTHLY SALARY: Upwards of P200,000, but above P300,000 combined with husband's income

"I head a communications department at a real estate company. I have an 8 a.m. to 5 p.m. job, but being in communications and heading a department often require extended work hours. A lot of what I do deals with different departments like marketing and PR (public relations), and can also involve events and travel. However, I try to be home by 6 or 7 p.m. since my baby often starts looking for her mommy in the evenings. I try to put her to bed and squeeze in some work or calls overseas in between. It really takes some juggling to fulfill all my responsibilities at work and at home.

ADVERTISEMENT - CONTINUE READING BELOW

"I get paid well, and have parking and communications allowances aside from HMO benefits, but I would say our monthly expenses are also pretty high because we've invested in a home. Most of my husband's and my income goes to paying for amortization, so we try to limit 'wants' in order to prioritize 'needs.' However, we also allow ourselves items that will give some comfort and sanity (like massages to soothe painful muscles from carrying the baby, or a once-in-a-blue-moon movie date). I think it's important to allow yourself an occasional reward to keep you sane! My husband and I have invested in financial plans, too. As not all companies will provide retirement benefits, one must be prepared with a personal plan for retirement or emergencies."

THE GROUP MARKETING MANAGER: Mia*, 36
STATUS: Married with two kids (13 and 6 years old)
AVERAGE MONTHLY SALARY: P65,000, but about P95,000 to P100,000 combined with husband's income

"I do marketing for the cable channels of our network, and I am in charge of the marketing, promos, events and partnerships of all the channels owned by the network. Ideally, it's 9 a.m. to 7 p.m. five days a week. Though my time as a manager is flexible, late nights are also unavoidable, even on weekends. I don't really get to spend time with my kids on weekdays, but I see to it that I get to say hi, kiss them, and talk to them in the morning. I also call them and FaceTime with them when I'm at work. If I can't be with them for much of the day, it's still important that they know I am a part of their daily routine.

ADVERTISEMENT - CONTINUE READING BELOW

"I don't get overtime pay but I can offset for every excess hour rendered. I get allowances and representation budgets and HMO, plus I also get to travel a lot because we mount events around the country. My husband and I earn enough for our needs, but it's pretty tight. I spend on the usual household needs, food, weekly grocery, weekend bonding with my family, and monthly bills. I always make sure to set aside a little amount for savings, and to pay and never skip my personal insurance plan. I'm also glad I got to invest a few years back and am now enjoying the education plans I got for my kids."

No matter how much we're making, here's the thing: there's always someone who's going to be making more or less, so comparing isn't a very healthy exercise. If there's anything we've learned, it's that no matter where mothers fall on the income spectrum, they always find a way to make things work. So, instead of envying those who seem to be making more, let's take a cue from what all the practical moms here seem to be doing: living within their means.


* Names changed to protect privacy.

This story originally appeared in the April 2017 issue of Good Housekeeping Philippines magazine. Minor edits have been made by the Smartparenting.com.ph editors.




Celebrate your pregnancy milestones!


Enter your details below and receive weekly email guides on your baby's weight and height in cute illustration of Filipino fruits. PLUS get helpful tips from experts, freebies and more!

You're almost there! Check your inbox.


We sent a verification email. Can't find it? Check your spam, junk, and promotions folder.

Trending in Summit Network