Love Social Media? Mom Shares You Can Earn Up To P200,000 Monthly In This Online Job

You don't need a college degree, but you need to be creative.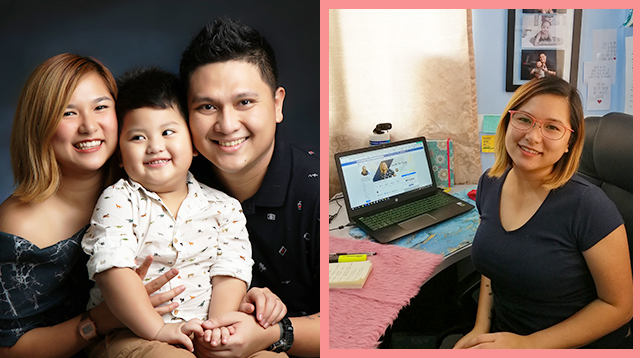 Moms who choose to work from home are motivated to make the shift not only because they have more time to care for the kids but also because they can earn a higher income if they land the right job.

Of course, like any other position, your salary will depend on your experience: mom Janelle Dominique Swing, 25, a social media manager and trainer, says that she started with a monthly pay of Php24,000 (working part-time) before eventually earning a monthly average of Php150,000 to Php200,000 (working full-time).

What is a social media manager?

Social media managers are in charge of handling companies' social channels like Facebook and Instagram. They are in charge of posting content and engaging potential customers by responding to likes and comments. One of their main responsibilities also include coming up with a content plan and social media strategies that are in line with the marketing strategy of the company, according to Janelle. "To sum it up, social media management is a mix of strategy, graphic design, and copywriting," she says.

ADVERTISEMENT - CONTINUE READING BELOW

How much do social media managers earn?

According to Janelle, inexperienced or "newbie" social media managers can charge $3 to $5 per hour (Php151 to Php252) per social media account. This means the hours she spends on a client's Facebook account and Instagram account are charged separately. Based on her experience, she can spend around three to five hours per week for each client's account and she can earn a minimum of $100 monthly (Php5,000) per account. After accumulating around three to six months of experience, Janelle says you can raise your hourly rate.

Experienced social media managers who cater to different clients can earn around Php150,000 to Php200,000 monthly. Janelle says she handles about 14 clients in total and charges $20 per hour.

How to be a social media manager?

Janelle at her workstation.

PHOTO BY

courtesy of Janelle Swing

Janelle shares that you don't have to be a college graduate to become one. At 18, Janelle put her studies on hold to support her mom and siblings and applied at a call center. A year later, in 2014, a colleague told her about ODesk (now called Upwork), a legitimate work-at-home platform that connects freelancers and companies. She resigned from her job to pursue her bachelor's degree again, hoping to get an online job to fund her studies.

She borrowed a laptop from a family friend, bought a pocket WIFI and signed up at ODesk. "Two weeks akong nag-apply, anything from assistant, customer service, outbound representative… basta feeling ko kaya ko, ina-applyan ko," she shares.

Her first ever job involved writing a formal letter for a real estate company. The pay was $5 for the whole project and Janelle says she accepted it "para at least may earnings sa profile ko." After she submitted the letter, the owner of the company contacted her again to offer her a full-time virtual assistant (VA) position. (Learn how to be a virtual assistant here.)

ADVERTISEMENT - CONTINUE READING BELOW

Janelle worked as a VA from 7 p.m. to 4 a.m. (Philippine Standard Time), earning $3 per hour. She juggled her online job with her university classes, which started at 7 a.m. and ended at 6 p.m.

After a few months, she applied for other VA jobs. In 2015, she met a client who was a food blogger in need of a marketing VA. Janelle was in charge of the blogger's website and social media. That's when she discovered her love for social media management.

"Yung social media, combination siya ng graphics, copywriting, and strategic planning. Exciting siya kasi kapag hindi nag-work, kailangan mong gumawa ng bago. So, hindi siya repetitive na task," Janelle shares. "Kailangan may something new kang na-bi-bring sa table. Kapag iba-iba ang clients mo, iba-iba rin ang strategy na kailangan mong gawin at i-implement."

What other parents are reading

What skills do you need to become a social media manager?

Janelle says that the job is for creative, tech-savvy individuals who have excellent written and oral communication skills. Though the job involves graphic design, you can take advantage of free design tools like Canva and Crello to create content. She also uses apps like Ninesquare to plan the look of her clients' Instagram feeds, as well as scheduling tools like Hootsuite, Buffer, and Planoly.

ADVERTISEMENT - CONTINUE READING BELOW

For newbies, Janelle suggests practicing with Canva to create graphics and then uploading it on your social media pages to create your portfolio. You can also volunteer to manage your friends' online shops or pages in exchange for a testimonial.

What it's like being a social media manager

When Janelle got married in 2016 and then got pregnant in 2017, she only worked part-time as a social media manager. After her son Jesse was born, that's when she decided to apply for full-time work.

Janelle starts her day late at 10 a.m., so she can stay up and hold meetings with her international clients in the evening. The first thing she does is to check her emails and then looks at her to-do list to see what tasks needs to be prioritized for the day. She also does content research for each of her clients and updates herself with the trends, especially against her client's competitors. Then, she works on her content bank and plan.

ADVERTISEMENT - CONTINUE READING BELOW

After, she does graphics and captions for social media accounts and then sends it to her clients for approval. Then, she schedules the content for posting. In the evening, Janelle dedicates her time to client meeting and social media engagement. Her work ends at 12 midnight and she is in bed by 1 a.m.

The challenges and benefits of working at home

Janelle with her husband, John Paul, and son Jesse.

ADVERTISEMENT - CONTINUE READING BELOW

Janelle admits that having flexible working hours is actually harder to manage, so you really have to be organized. "No one's looking after you, so you're responsible for your schedule — what you want to do and how you'll be productive," she shares.

She's also learned the importance of break times. "I learned that I am more productive if I have one-hour breaks. Kasi I need to refresh my mind, lalo na after graphics and caption writing. Sobrang nauubos ang creativity ko so I need to get away from my workstation."

Like other work at home moms, Janelle is glad for the opportunity to care for her son while managing her day-to-day responsibilities. Her husband, John Paul, also works from home so the two of them can divide duties and be hands-on, full-time parents.

"Sinasabay ko 'yung one-hour breaks ko para makapag-laro at makapag-bonding kami," Janelle shares, adding that she's glad she doesn't miss out on any of her child's milestones. "Iniincorporate ko 'yung pagiging mommy ko sa work ko."

ADVERTISEMENT - CONTINUE READING BELOW

She adds, "Hindi mo kailangang ma-stuck in one schedule or routine. Frequent travelers kami as a family, and I can take my work everywhere."

How to be a successful social media manager

Janelle with her family.

PHOTO BY

courtesy of Janelle Swing

With her years of experience as a social media manager, Janelle was able to set up her own social media agency in 2019, with 11 team members working under her, including her mom and siblings. She was also finally able to get her BSBA degree with a Major in Human Resource Development, the same year. She is also a trainer for Filipina Homebased Moms or FHMoms, an online community with a mission to assist and support Filipina mothers in their freelancing journey. There she introduces the different social media platforms to fellow moms and how to create graphics and strategies for content planning.

ADVERTISEMENT - CONTINUE READING BELOW

Janelle says that she was able to reap these rewards because of hard work. "If you want a 6-digit salary, you need to work hard — dugo at pawis — to maintain. I work long hours, 12 to 16 hours a day. There will be sacrifices and it's not going to be easy," she says.

She also says that when starting out as a freelancer, rejection is constant. "Move on from that rejection. Maybe it's not the client for you. Hindi madaling hanapin but you will always find the clients that are going to be happy to work with you and will appreciate your skills."

Lastly, it's important to keep learning and improving your craft. "Just make sure that what you're doing is always towards your goal. Don't stop learning. Always improve what you can. Always be creative," she shares.

Want to learn more about being a Filipina Home-based Mom? Connect with FHMoms on Facebook, Instagram, Twitter, and Youtube.

ADVERTISEMENT - CONTINUE READING BELOW

Want to start working from home? Click here for the things that you need to prepare.

Trending in Summit Network