How to Protect Yourself Financially Whether or Not Your Marriage Is in Trouble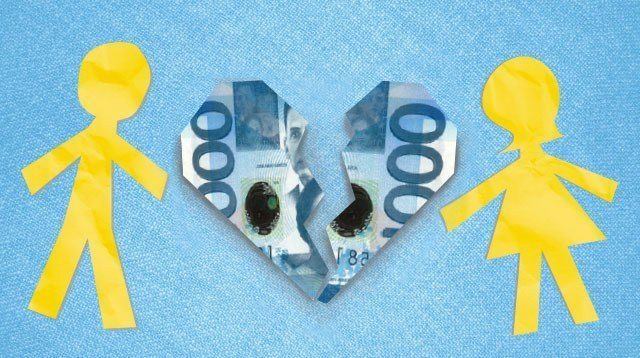 While we all wish for happily ever afters, break-ups sadly do happen.  And when they do, more often than not, it's the wives, often the non-working partner, who find themselves vulnerable. They have to cope with the emotional stress of untying the knot of years or decades of entwined lives. If you add financial insecurity to that too, it's easy to understand why some women find it hard to get back on their feet.

How to protect yourself financially if your marriage breaks down

No one wants to see a marriage come to an end, but if you begin to look at signs that yours could be headed that way, here are some pointers on how you can protect yourself financially.

Check your plastic money

Most couples share a credit line, whether only one is working or both. If you are the principal cardholder, that means the credit card account is yours, and you will be responsible for all charges made to the card by your spouse, if he is your supplementary cardholder. Find a way to split your credit lines immediately. Separation or no, talk to your spouse that having his credit card will mean a bigger credit line for your family. After all, it will now be your credit line plus your partner's.

What other parents are reading

Track expenses

During good times, it's easy to be generous to one another. If you both have sources of income, sometimes you can let it slide if she or he did not contribute to this month's expenses to the tuition fees of the children or to the recent family vacation. But it's always practical to know just how much money you require to provide for your needs, plus some want to start monitoring your expenses. Track too how much you cover and how much your partner helps.  Even if you stay together, this exercise will help you two find a more equitable way to share money responsibilities for your family.

ADVERTISEMENT - CONTINUE READING BELOW

List all income sources

Just as important as knowing the price tag on your needs is finding where the money is coming from to pay for all of them. Apart from salaries, do you have rental properties? Do you own a business and who manages it? How about dividends from investments? Maybe you receive an allowance from generous parents or in-laws? Be as thorough as possible because this can help you negotiate rightful share for you and your children if your marriage does not make it.

Organize financial records

Ideally, you should be doing this whether you have marital problems or not.  But with marriage troubles, make this one of your priorities. It's essential that you can access all banking accounts, investment certificates, insurance policies, deeds to real estate properties, car registration, and more. As you organize the financial papers, take time to check which ones are yours, his or hers, or where you have joint ownership.  With ready evidence, when negotiations happen, there is no confusion on what you are entitled to.

What other parents are reading

Consult professionals

When my husband and I bought our first property, the broker asked if I wanted the deed of sale to indicate the buyer as "spouses" (my husband's name and my name) or "my name" married to "my husband's name." I asked him what the difference was and he said it's really just your preference, so I opted for the former.

As it turns out there is a difference, and I needed a lawyer to explain it to me. With the former, the property becomes half of my husband's and half mine. In the event one of us passes away, only that half is subject to estate division. With the latter, the first name listed is the primary owner, and in his passing, the estate will be divided among all legal heirs. By a stroke of luck, we picked the same choice we would have made if we knew the facts. 

ADVERTISEMENT - CONTINUE READING BELOW

Recommended Videos

I hope my experience will show you the same lesson it taught me — professionals or subject matter experts are there to help us make informed decisions, especially during stressful times when our emotions may lead us to do something we may regret.

What other parents are reading

Prepare for the worst

Hope for the best but always be prepared for the worst, and financially, that means can you survive without your spouse's support? Expect your income to drop with the separation, and having a budget focused on needs can help you cope until things get better. Do not be afraid to ask for help. Can you stay with your parents in the meantime? Look for ways to also ensure the children do not suffer, that they can stay in school and their needs will continue to be met. It may be difficult but try to remain civil as that's one way you and your partner can sort through the financial matters.

Whether you stay married or not, being able to stand on your own feet financially is always a good idea. After all, your partner does not necessarily have to end your marriage to put you in charge. What if he or she is assigned overseas for a few months? Or an accident happens or worse, an untimely death?

We never plan for the bad times, and so it can feel completely overwhelming when they do happen. But with these six steps, the adjustment may be a little easier and kinder to you and to your family.

ADVERTISEMENT - CONTINUE READING BELOW

Aneth Ng-Lim began her career as a writer and happily returns to her journalism roots after working as a communications specialist in the government and the private sectors. While working for a bank as a consumer education head, she honed personal finance skills and increased her money smarts. A woman empowerment champion, she is a proud mom to two teenage daughters.

What other parents are reading

Celebrate your pregnancy milestones!


Enter your details below and receive weekly email guides on your baby's weight and height in cute illustration of Filipino fruits. PLUS get helpful tips from experts, freebies and more!

You're almost there! Check your inbox.


We sent a verification email. Can't find it? Check your spam, junk, and promotions folder.

Trending in Summit Network