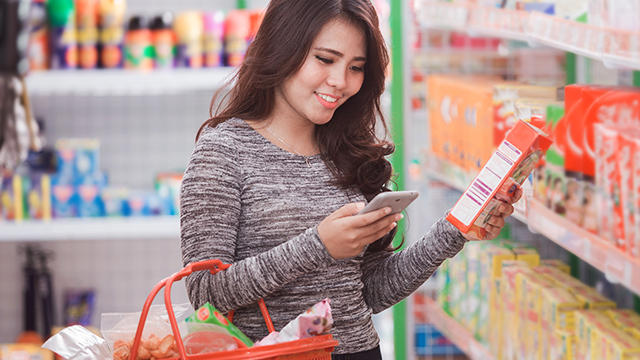 Not only do moms make a list when they go to the supermarket, but they also make sure any shopping is done within budget.
Take, for example, Kim Yu-Galang, a 33-year-old mom of one. A controller at a real estate company, Kim is experienced at handling accounting operations and making finance-related decisions every day. She takes advantage of these money-savvy skills and uses it to manage her family's finances.
Kim says she always makes it a point to have a budget for her spending, especially when it comes to grocery shopping. According to the new mom, her budget for weekly groceries depends on her family's needs for the week. "My budgeting revolves around a 'per piece' basis. I compare prices when bought individually versus in bulk," she says.
She also prioritizes the essentials, but with a few indulgences like her family's favorite drink or snacks, or even a couple of self-care items—provided they're within the budget. "I generally [buy] all the essential items we need at home, then toss in a few items for added 'happiness,'" Kim shares.
This smart-shopping mama shares her other tipid tips fellow moms can follow so they, too, can manage their grocery budget better:
1. Compare prices online vs. in-store.
With e-commerce sites, it's easy to do your shopping online, especially if you don't have the time to go to an actual supermarket. Online stores also have promos and discounts you can take advantage of.
"If you do online shopping, try to see if the prices are lower—but consider the shipping fee, of course," suggests Kim. Some items that are cheaper to buy online, she says, are diapers and baby wipes.
2. Check the shelf life.
Buying things that go to waste quickly is equal to throwing away your hard-earned cash. Extend your grocery item's utility by choosing one with a longer shelf life.
"When buying items with short expiration dates, look for [those with] the longest one you can find," Kim says. This budget-savvy mom also dishes out this supermarket hack: check the products "on the bottom rack because [these aren't] the first things you'd reach for."
3. Go for the refill option.
Don't throw away plastic or can containers of items such as dishwashing liquid, baby wash, or even powdered milk. This way, you can choose the refill packs instead of the more expensive bottled or canned versions.
"Buy the refills. They will save you a lot of money," says Kim. And Mother Earth will thank you as well.
4. Bring your own eco bags.
Aside from reducing plastic waste in your home, bringing your own grocery bags when visiting the supermarket can get you incentives, too. "Some grocery stores give you discounts for using eco bags, and some charge you for [using their] plastic bags," this mom says.
5. Go for variety.
Kim says it's best to buy in bulk, especially for items with longer shelf life. Packs also offer variety, so moms like Kim are sure that each family member can enjoy his or her own favorite filling treats.
"Packs are always cost-savers—just as long as you can consume the whole thing before they expire," she says.
Sulit supermarket finds that offer a good selection of classic baon treats include snack brand, Jack 'n Jill. With Jack 'n Jill's assortment of biscuits and cakes, moms are sure there is something for everyone in the family.
And, as a special offering this back-to-school season, you can get some of Jack 'n Jill's yummy treats in one bag: the My BFF (Baon Favorites Forever) Bundle. Grab this baon bundle at the nearest Puregold, Robinsons, Shopwise, Waltermart, Gaisano Grand, and NCCC supermarkets nationwide starting this June.
For more information, follow Cream-Oholics on Facebook.