I'm a telecommuting mom. I have a job that, with the help of technology, allows me to work from the comfort of my own home. But while you may think that telecommuting means working all day in our PJs, taking breaks on our couches, and sipping coffee whenever we please, it isn't necessarily true. 

In fact, even if I work at home, I still need to wake up at 4:00 a.m. every day and proceed to work by 6:00 a.m. When my son who is in first grade comes home by lunch, I attend to him and other household chores, but I am back at my "office desk" by 7:30 p.m. or until my son falls asleep. 

Telecommuters need to stick to a strict routine, put in regular hours each week, and we work hard to balance our professional obligations and domestic duties every day. Take my job as an instructional designer for a leading business process outsourcing (BPO) company. I create learning solutions and training programs together with a team of training specialists who are based in Australia. I have weekly deliverables, and I submit a productivity report regularly. I report to an off-shore boss with whom I have weekly touch-point meetings via Skype. Once in a while, I attend meetings and other work-related activities at the company's Makati office. The pace is hectic, just like it would be when you work at a top company. 

A work-from-home arrangement requires a great deal of discipline and excellent time management skills. It is easy to slack off because you are at home (you know the bed is just a few meters away!) but, at the same time, it can be a disaster if you don't get to accomplish your work within the time required. 



What other parents are reading
ADVERTISEMENT - CONTINUE READING BELOW
With all the tasks I need to accomplish on a daily basis, productivity apps keep me on track. The ones below are not fancy, but I cannot live without them. 

1. Microsoft Apps 
I get to access my Word, Excel, and PowerPoint files and edit documents, spreadsheets, and presentations on the go.

2. Google Drive or Dropbox 
These are my go-to solutions for cloud storage, file back-up, and file-sharing needs.

3. ColorNote 
Easy to use, it has your traditional note pad and checklist features that never go out of style.

4. Zoom 
I use this as a video conferencing and online meeting platform, especially since I work remotely while the rest of my teammates are in Australia.

5. Keeper 
This serves as my password and sensitive information manager. This is where I store personal information such as user IDs, passwords, account numbers and links to confidential information. It is a secure way of keeping my data safe and encrypted (and makes sure I don't forget). 

When you're a work-at-home mom you need to master the art of multi-tasking. I call myself a "Mama Machina," and I am a firm believer that everything has to be done right on schedule. I always keep a mental note of all the things I need to do. At the beginning of each day, I jot down all the tasks I need to accomplish within the day in order of importance. Then, I apply this super helpful principles of the four quadrants of time management.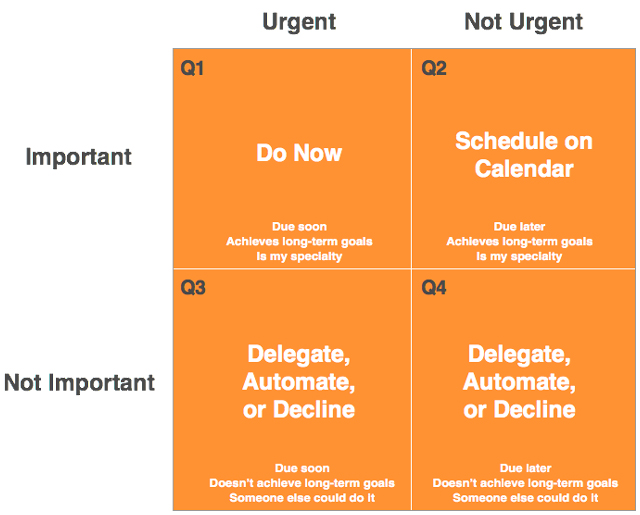 One of the perks of being a telecommuter is you can really work anywhere. At home, I have several workspaces, and where I work for a particular day or time depends on, well, how I feel (I consider that a perk, too). 

When I need to concentrate on working on a module, I work inside the master's bedroom by my dresser where there is a mirror in front of me. It allows me to read my facial expression when I am deep in thought, and it actually works for me! When I feel the need to get inspiration for the training modules that I am working on, I work in our entertainment room/library. It makes it easier for me to pick up an art book and draw some inspiration by looking at paintings. If I need to take a short break, I turn on the TV to find out what's new about pop culture. I do make sure to keep it at a minimum because it is easy to be carried away! 

My workspace is comprised of my laptop, my mouse (yes, I am mouse-dependent), a pen, my trusted notebook, my mobile phone, a pair of earphones, and my trusted iPod which houses all sorts of songs in different genres.
Wherever I end up working, all these things should be with me, or otherwise, I am unable to function/work properly.

Telecommuting is challenging on a day-to-day basis, yet I am more productive, and I feel more fulfilled. My work-from-home set-up is a far cry from the corporate life I left in 2013. My previous role as instructional design deputy manager had entailed a 40- to 45-hour work week, holding office at different sites, and following an erratic schedule that sometimes required me to work on a Saturday or a public holiday.  
What other parents are reading
On the other hand, this work-from-home life I've had for two years now has allowed me to stay at home, take care of my husband and son, and earn a living at the same time. And, yes, I don't have to go through the dreadful traffic or spend on fares commuting, or spend long hours far from house. 
Working from home is something I am thankful for and am passionate about. It is something I highly recommend to other moms who wish to earn a living while staying at home. I also hope that various BPOs can create more job opportunities for work from home individuals. I believe this will create cost savings benefits in terms of seat allocation, transportation allowances, and even office energy fees if they consider employing "remote" workers. 

In fact, telecommuting has been dubbed by Forbes.com as "The Future of Work." I believe there is an abundance of untapped talent. I hope that we all pay attention to the signs of the times and open doors to create more for opportunities for the next great talented work-from-home mom! 

This piece is a submission by Smart Parenting reader Mary Rose Claudio, an instructional designer who dreams of becoming the next big training mogul. A budding entrepreneur and a shoe-loving diva, she has a 6-year old son, Robby, and has been married for nine years to training consultant Bobby B. Claudio. 
What other parents are reading

Trending in Summit Network