These Pinays Started Profitable Home Businesses After Watching Online Tutorials

They turned challenges into opportunities and made the most out of the available resources.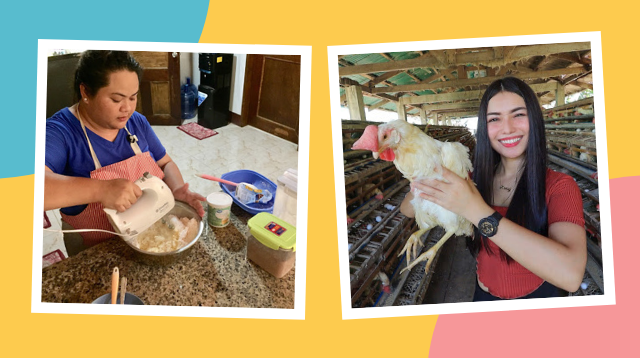 The COVID-19 pandemic has caused economic challenges for many Filipinos, with many small businesses closing and employees losing jobs. However, these challenging times also provided the push some people needed to finally do what they've always dreamed of.

For others, the pandemic provided a redirection in life and career that led to better circumstances. Take for example the three women I met at Google's online event called Digiskarteng Pinay.

How to open a profitable business in the Philippines

Their response to the challenges presented by the pandemic opened doors to the founding of succesful businesses. These young Pinays shared their stories of grit, creativity, and agility, and inspired other women with their journey.

These are the most important lessons I learned from listening to their stories. 

Play to your strength

Dielian Certeza learned how to make chicken wings online.

PHOTO BY

Courtesy of Google Philippines

Dielian Certeza 21, is a working student from Caloocan. She and her older brother help each other support the family, but she lost her part-time job when the pandemic hit.

ADVERTISEMENT - CONTINUE READING BELOW

Dielian thought of putting up an eatery that serves unlimited chicken wings, even though she doesn't have a culinary background. She turned to YouTube to learn how to cook chicken wings and make different sauces, and in May 2020, was able to launch Hot Chicks.

Now Dielian's earnings from her business are able to support her family's needs and her and her siblings' schooling. Just one more year and she will already be able to finish college! She says it's a blessing that she does not worry about money for tuition anymore and is now also able to help pay for household bills.

Her advice for other Pinays who want to start a business, especially those who are facing challenges like she did when she lost her job: "Ikalma niyo yung sarili niyo. Ikalma niyo yung puso niyo, hanapin mo kung saan ka talaga magaling, and mag-trust lang kay Lord." 

Practice until you master your craft

Juliette honed her baking skills through YouTube.

PHOTO BY

Courtesy of Google Philippines

An accountant by profession, Juliette Piquero, 31, left her job in Manila and went home to Bohol to take a career break. But then the pandemic struck and she had to stay in the province longer than she intended.

As a hobby, she decided to improve her baking skills. She baked cakes for her family's consumption, and got very good feedback and encouragement from people around her to turn her hobby into a business.

With the help of YouTube tutorials, Juliette honed her baking and cake decorating skills. In August 2020, she opened her cake store called Nenita's Cakes and Pastries on Facebook.

Aside from the income, she enjoys the recognition and validation she receives from her community and customers. She feels encouraged by their positive feedback and recommendations.

Her advice to other women who are dreaming of turning their craft into a business: "Magtiwala tayo sa ating sariling kakayahan. Huwag tayong matakot mag-try ng mga bagong craft, and 'wag tayong madiscourage kasi everything starts small naman talaga... Mahirap lang po sa umpisa, practice lang po tayo ng practice hanggang ma-master natin yung craft na napili natin."

Choose to be relevant

Tinmay Arcenas started a YouTube channel to help budding entrepreneurs.

PHOTO BY Courtesy of Google Philippines

ADVERTISEMENT - CONTINUE READING BELOW

Tinmay Arcenas, 28, is an entrepreneur from Masbate. She has a poultry farm, pungko-pungko business and a hardware store.

Tinmay also happens to have a childhood dream of being seen on screen. Because of this passion, she started a beauty and lifestyle YouTube channel 3 years ago, but this did not pick up. 

When the pandemic hit, she realized that many people lost their sources of income. She decided to make inspiring and relevant YouTube content to help people explore alternative sources of income.

She created content about their layer poultry farming business where she shared tips, and how-tos, and helped her viewers project how much potential earnings they can make from specific activities.

To date, Tinmay now has more than 40 thousand subscribers and her channel also generates income.

Use the Internet to your advantage

With the continuing lockdowns, our mobility and activities are still limited. Despite these challenges, Juliette, Dielian, and Tinmay say that there are a lot of income-generating opportunities online.

Take advantage of your smartphones! Tinmay was able to make Php15,000 in two days after selling her used clothes and bags online.

YouTube is also an invaluable resource if you're looking for business ideas. You can thoroughly learn a skill if you make the time and effort to study and practice. Think of it as a free school — "Small scale entrepreneurs like me who have no formal background in cooking can instantly feel like a chef," shares Dielian.

By watching online tutorials, you can learn at your own pace. "I used it as my reference for recipes and baking trends, which now translated to sales. It definitely helped me and my family during these challenging times," adds Juliette.

Are you still waiting for a sign whether to start your own business? Take inspiration from these successful women and start taking your own little steps to making your dream business a reality.

Looking for more work-at-home and business ideas? Click here.

Trending in Summit Network