Women Younger Than 45 Are Entitled To An SSS Disability Benefit After Hysterectomy

The SSS Disability Benefit you don't want to have to apply for, but it's comforting that you can.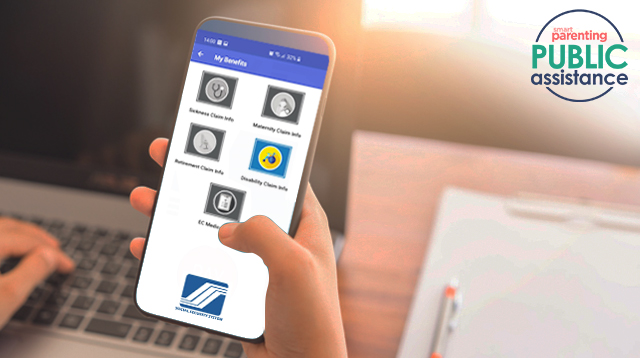 Losing the ability to provide for your family, even if it's justs a while time, is a serious concern. A woman who had just given birth is entitled to >maternity benefit from the country's Social Security System (SSS<), the state-run social insurance program in the Philippines. Among the SSS's benefits that its members can avail is its disability benefit.

The SSS Disability benefit is for members who suffer partial or total disability. A qualified SSS member may file to claim partial disability benefits after suffering fracture, amputation (fingers, big toe, hand, foot, arm, leg), hearing loss in one or both ears, and loss of eyesight in one eye.

An SSS member can file for complete or total disability benefits due to the following:

total loss of sight of both eyes/li>
loss of two limbs at or above the ankle or wrists
permanent complete paralysis of two limbs
brain injury resulting in incurable imbecility or insanity
other cases as determined and approved by the SSS.

According to SSS's& >overview of Disability Benefit, health conditions that also qualify for disability claims include but are not limited to removal of an organ, heart attack or stroke, tuberculosis and other pulmonary diseases, mental illness, type 2 diabetes, cancer, kidney diseases, renal disease, and Parkinson's disease.

What other parents are reading

Having a hysterectomy entitles a woman to claim for SSS disability benefit

Hysterectomy is a procedure in which a woman's uterus and the cervix are removed. It falls under the Partial Permanent Disability due to the "removal of an organ."

A hysterectomy is usually performed to help stop a woman from bleeding profusely due to childbirth complications. A woman may also require a hysterectomy due to gynecological issues, such as endometriosis, uterine prolapse, abnormal uterine bleeding, and gynecologic cancer, among others.

ADVERTISEMENT - CONTINUE READING BELOW

In some cases, a woman's fallopian tubes and ovaries, called salpingectomy and& oophorectomy, respectively. These procedures also involve the removal of an organ, which also entitles an SSS member to claim for partial disability benefit.

Note, however, the filing for SSS disability claim due to having a hysterectomy and other reproductive organ removal surgeries applies only to women younger than age 45.

As defined by the World Health Organization (WHO), disabilities is an umbrella term that pertains to persons with "impairments" (a problem in body function or structure), "activity limitation" (difficulty encountered by an individual in executing a task or action), and "participation restriction" (a problem experienced by an individual in involvement in life situations).

The United Nations Convention on the Rights of Persons with Disabilities (UNCRPD) also recognizes persons with disabilities as "those who have long-term physical, mental, intellectual or sensory impairments which in interaction with various barriers may hinder their full and effective participation in society on an equal basis with others."

It is considered an impairment of a woman's ability to perform a typical human activity, which is to bear a child. To this end, women older age 45 and older are less likely to conceive naturally, so they no longer qualify. 

Who are qualified to claim SSS disability benefits

Qualified SSS members should have paid at least one monthly contribution before the semester when the disability happened or when hysterectomy or other organ-removal procedures were performed. The member should file for a disability benefit within ten years from the date of occurrence of disability.

CONTINUE READING BELOW

Recommended Videos

How much is the SSS disability benefit

The amount of disability benefit an SSS member will receive depends on the degree of disability, total number of monthly contributions, and total number of credited years before the semester of occurrence of disability. A minimum of Php1,000 monthly is given to SSS members with less than 10 credited years of service (CYS); Php1,200 to members with at least 10 CYS; and Php2,400 to those who have at least 20 years of service.

How to compute for SSS Total Disability Benefit:

Monthly disability benefit x Number of SSS monthly contribution payments, or
Monthly pension x 12, whichever results in a higher amount

How to compute for SSS Partial Disability Benefit:

Monthly disability benefit x Number of SSS monthly contribution payments x Percentage of disability in relation to the whole body
Monthly pension x 12 x Percentage of disability, whichever results in a higher amount

Starting January 2017, SSS members who claim for disability will also receive an additional benefit of Php1,000 on top of the Php500 monthly supplemental allowance.

A permanently disabled SSS member is also entitled to hospitalization benefits. His qualified dependents (maximum of five) will also each receive a dependent's allowance equivalent to 10% of the SSS member's benefit, or P250, whichever is higher, until the dependent reaches 21 years old.

Only SSS members who incurred total, permanent disability are granted lifetime benefit, including a yearly 13th-month pay, until his death. Still, he may stop receiving his pension if he recovers from total disability, resumes employment, or fails to report for the annual physical examination by the SSS. When the totally disabled SSS member dies, his primary beneficiaries will receive 100% of his monthly pension, except for the supplemental allowance.

ADVERTISEMENT - CONTINUE READING BELOW

Depending on the degree of disability, a partially disabled SSS member's pension is given up to a certain number of months only. He or she is entitled to receive 13th-month pay, only if the benefit duration is at least 12 months.

How SSS members receive the SSS Disability Benefit?

An SSS member applying for disability claims may receive their benefit in two ways. First, a monthly pension is an option disabled SSS member who has paid at least 36 monthly SSS contributions before the semester when the disability occurred.

Secondly, a lump-sum amount is for SSS members who have not met the required 36 monthly SSS contributions and is payable for less than 12 months. The monthly pension may be given as a lump-sum amount if the duration of the pension is payable for less than 12 months.

You would need to submit a photocopy of either a bank passbook or ATM card with a validated deposit slip in any of the SSS's accredited banks to receive your disability benefit. If you don't already have an account, you would need to open one with an SSS-accredited bank.

How to apply for SSS disability benefit

It's routine to apply for an SSS Disability Benefit, which is at any SSS branch or representative office. If you're not able to personally apply for an SSS Disability Benefit, you can assign a representative to file it on your behalf. Here's what you'll need to furnish:

(Download the SSS Form DDR-1 here.)
SSS Medical Certificate (Download the SSS Form MMD-102 here.)
Member's photo and signature form (for initial claims only)
Other documents that may be required to support the disability claim such as records of operation, clinical and laboratory test results, x-ray, and hospital records, among others.
UMID or SSS biometrics ID card or two other valid IDs, both with signature and at least one with photo and date of birth

ADVERTISEMENT - CONTINUE READING BELOW

After submitting the requirements, a supervising physician or medical specialist at the SSS branch will inform you if you need additional medical records to support your SSS Disability claim. He or she will also conduct a physical examination and explain the details of the SSS disability benefit.

It typically takes one to two months for SSS to process a disability claim. Once approved, you'll receive a notice about the actual disability pension amount and how you can receive your benefit. 

You can better manage your SSS claims and benefnits if you register online. Click here for instructions how.   

What other parents are reading

Celebrate your pregnancy milestones!


Enter your details below and receive weekly email guides on your baby's weight and height in cute illustration of Filipino fruits. PLUS get helpful tips from experts, freebies and more!

You're almost there! Check your inbox.


We sent a verification email. Can't find it? Check your spam, junk, and promotions folder.
Trending in Summit Network