'I Can Already Pay Tuition Fees!' This Mom From Davao Pays Bills By Playing Online Games

"I paid for my hospital bills when I recently gave birth to my youngest son, and I can already pay for my eldest son's and my tuition fees, pay the bills, and also give back to my supportive parents."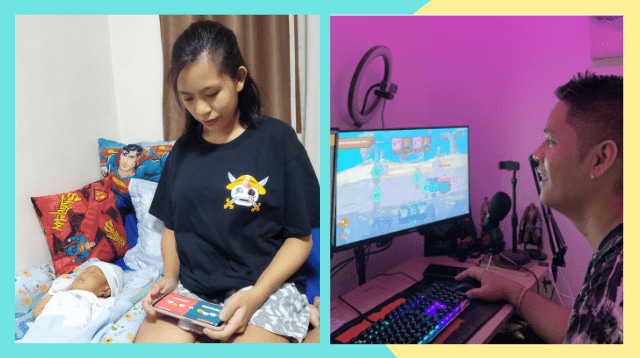 The pandemic not only reshaped our lives as we know it but it has also redefined the way we earn a living.
 
Those who have lost their jobs or sources of income when COVID-19 struck the whole world paved the way for more creative ways to earn an income without having to leave the home.

Online selling saw a major boost as well as the opening of new delivery services but perhaps one of the most unconventional means of earning is playing to earn via NFT-driven games, specifically Axie Infinity.

Interestingly, even moms are getting into the game.

How to earn from Axie Infinity

Axie Infinity is a game created by Vietnamese startup, Sky Mavis, and hosted on the Ethereum blockchain. It is a game which features cute pokemon like characters called "Axies" each with its own unique abilities.

Each player must have a team composed of three Axies. They can play it in either Adventure mode or fight it out with other players via Arena mode.

By playing either modes, a player earns what they call an SLP or Smooth Love Potion which are in essence crypto tokens. By playing around three hours a day, one can earn as much as 100 SLPs or more depending on the time invested and skill.

Crypto tokens can be converted to cash

Once earned, SLPs work like money which winning players can convert into cash or use to buy or invest in cryptocurrencies like ETH or Etherium and can be sold later for profit.

ADVERTISEMENT - CONTINUE READING BELOW

SLPs value may rise and dip like a stock.  As of this writing, one SLP costs 0.997085 or less than Php1.00. This is a 95% drop from its highest value of Php21.55.

Depending on different conditions, it's value may go up again. So, the higher the exchange rate of SLPs, the bigger the earnings.

What are Non Fungible Tokens?

Axies are no ordinary game characters. They are essentially Non Fungible Tokens (NFTs), a unique data unit stored in a blockchain. A blockchain is an online system that stores data in the form of blocks where every block is unique and has monetary value. Unlike regular online games, Axies are considered unique digital assets and therefore are NFTs.
 
To date, the price of one Axie hovers around Php35,000 up and for a game you will need three, which means you will need a capital of around Php105,000.

While practically anyone can play Axie Infinity, not everyone can afford to buy Axies. This is where gaming guilds like the Filipino-led  Yield Guild Games (YGG) come in.

What are gaming guilds and gaming scholars?

Under YGG are different managers like CryptoShanks who manage what are called scholars supported by YGG.

Under YGG's scholarship program, players are lent Axies or NFTs, allowing them to earn in-game rewards without upfront risks. For their part, YGG members like CryptoShanks manage these scholars. 

According to CryptoShanks, the scholarship program gives the majority of earnings back to the community, with scholars getting 70% while managers get 20%. Only 10% goes to the revenue pool of YGG.

CONTINUE READING BELOW

Recommended Videos

This mom from Davao claims to pay bills by playing online games

CryptoShanks manages player Lorraine Gorgonio, a 25-year old mother of three from Davao.

Lorraine Gorgonio plays Axie Infinity to support her three young children amidst the pandemic.

PHOTO BY

YGG Manager CryptoShanks

Lorraine got into the play-to-earn game at the height of the pandemic. "I tried online selling because of the pandemic and so I can have more time to take care of my children, but even with my partner's salary as a stockman, it was difficult to make ends meet. I had to keep asking my parents for financial support," she shares.

A friend referred Lorraine to CryptoShanks who also happens to be based in Davao. While Lorraine did not reveal how much she was earning per month, she claims that being a scholar with YGG was a life-changing experience for her.

"I paid for my hospital bills when I recently gave birth to my youngest son, and I can already pay for my eldest son's and my tuition fees, pay the bills, and also give back to my supportive parents," she shares.

ADVERTISEMENT - CONTINUE READING BELOW

This mom earns Php30,000 a month or more by letting her children play

Another mom interviewed by Smart Parenting but who wishes to remain anonymous said that her family invested in Axie Infinity for her two kids and husband at Php80,000 per player.

Since they paid upfront for their Axies, her husband–who is also a player–serves as her two children's manager. They started playing in September 2021 when an SLP's value played around Php15.00 to Php17.00.

She says that on an average day, each player in her family would rake in around 150-200 SLPs. "If you earn 200 SLPs, she says 100 goes to the player and 100 goes to the manager who is my husband."

Around that time they can earn as high as Php30,000 a month or more.

The mom says her kids spend as much time playing online games like minecraft or surfing YouTube anyway so why not use the same hours spent online to earn at the same time.

The money her kids earn through the game, the mom uses to spend on some items her children want her to buy.
 
With the value of SLP recently down to less than a peso, she said she is holding on to their SLPs earned. "We can either wait for it to go up or use it to invest in crypto currencies," she said.

Axie Infinity is very much like trading stocks

In a 2021 YouTube Axie Infinity video explainer by Financial expert Chinkee Tan, he says that some of his friends earn as much as 30,000 to 50,000 a month. However, unlike today, an SLP then had a value  around Php13.

ADVERTISEMENT - CONTINUE READING BELOW

Watch the video here:


 
Axie Infinity is very much like trading stocks so managers like CryptoShanks help scholars like Lorraine understand other possible opportunities in the game such as how to build their own team and breed Axies, as well as cryptocurrency and basic trading.

Before you play, know the risks

Such play-to-earn games remain to be an attractive way to earn, especially since many of us are still living with the pandemic.

However, it's good to weigh in on it carefully before taking the plunge. If you've got disposable income to spare, why not. But even then, it is still important to know the risks, advises Tan in the same YT video.  He adds that because of the popularity of the game, people should be aware of scammers and phishing sites.

Like anyone investing in stocks, he gives these three advise:

• Know what you're getting into

• Know the risks

• Know what you're going to do

He elaborates that one "needs to learn before he earns." This way one will know how to mitigate the risks especially in a time when the SLP values are low and one cannot earn as much from the game like he or she used to. 

Mr Tan also reiterates that one should never invest in something he or she doesn't understand.

To sum it up, learn before taking the leap and keep in mind that it's always wise not to make 'trading' or in this case, gaming, your only source of income.

ADVERTISEMENT - CONTINUE READING BELOW

Celebrate your pregnancy milestones!


Enter your details below and receive weekly email guides on your baby's weight and height in cute illustration of Filipino fruits. PLUS get helpful tips from experts, freebies and more!

You're almost there! Check your inbox.


We sent a verification email. Can't find it? Check your spam, junk, and promotions folder.
Trending in Summit Network